If you find the term Quadricycle unknown or new, you are not alone. In India, we have two-wheelers which includes bikes and scooters, 3 wheelers which are generally used for commercial purpose and then there are small cars followed by large cars or sedans and SUVs etc. If you notice, there is a considerable price and performance gap between a 3 wheeler and a car, this gap is filled by the segment called the "quadricycle". A quadricycle is a light weight 4 wheel vehicle with lower power and high mileage engine. You can say that it's an improved version of a 3 wheeler with one extra wheel and contains a small capacity engine which matches the light weight body well. Having a low capacity engine helps reduce emissions as well as deliver high mileage and cheap mode of transport. One of the finest examples in this segment from India perspective is the Bajaj RE60 which was showcased at Auto Expo 2012 in India. Apart from this, some of the Polaris ATVs also fall in this segment.
Updated on 23rd May 2013
After months of deliberation,  a government committee headed by Mr. Vijay Chhibber, secretary of road transport and highways has decided that quadricycles can only be used for 'intra-city transport within municipal limits', which restricts their movement on highways or, more importantly, for personal use.
The committee also asked vehicle manufacturers to follow the rules laid down in Europe for the same class of vehicle. Any changes made to the quadricycle emissions and safety standards in Europe will have to adopted by Indian quadricycle manufacturers within a period of six months. Quadricycles will be allowed to carry passengers as well as goods. Those ferrying people have to weigh less than 450kg and can seat a maximum of four, including the driver. For goods transport, the weight limit is 550kg with seating capacity for two.  But some rules that pertain to three-wheelers in India will have to be followed while buying quads in India. Things like registering the vehicle, getting a driver licence, making sure it converted to a hard-top vehicle, compulsorily installing a first aid kit and fire extinguisher, etc., will be a part of the norms for quadricyles in India, the committee has noted. These suggestions will be made into formal laws within three months, Mr. Chhibber said.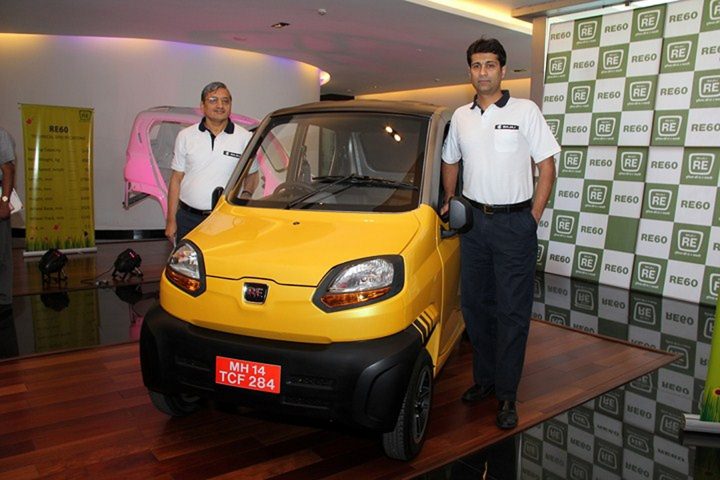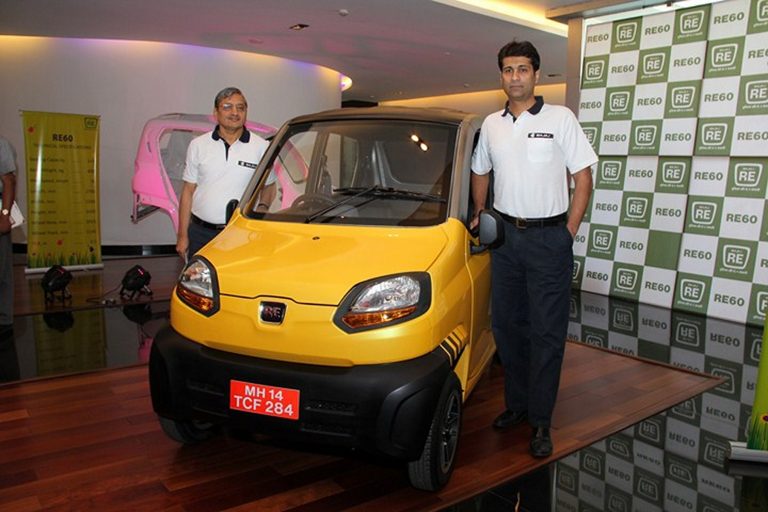 The Bajaj RE60 will certainly gain from this news. In a reply to questions by livemint, Mr. Rajiv Bajaj welcomed the move saying "Every door opens a crack before it opens wide." Bajaj is still trying to convince the government to allow quadricycles to be used as private vehicles, the same is facing stiff opposition from many car makers who see the car-like RE60 a rival for their small cars. The RE60 is expected to replace auto-rickshaws in many places across the country. It will also go head-to-head with commercial offerings from Tata (Ace) and Mahindra (Maxximo).
Bajaj's RE60 is powered by a water-cooled, 216cc, single-cylinder petrol engine which helps it reach a top speed of 70KMPH and gives it a fuel efficiency of 35KMPL. The body is a monocoque made of metal-polymer, and the quad weighs 400kg. When first unveiled at the 2008 Delhi Auto Expo, Bajaj said it was expected to cost about Rs. 1.67 lakh, the comapny hasn't commented about the prices now though. Watch this space for more updates.
source – livemint
Updated on 29th August 2012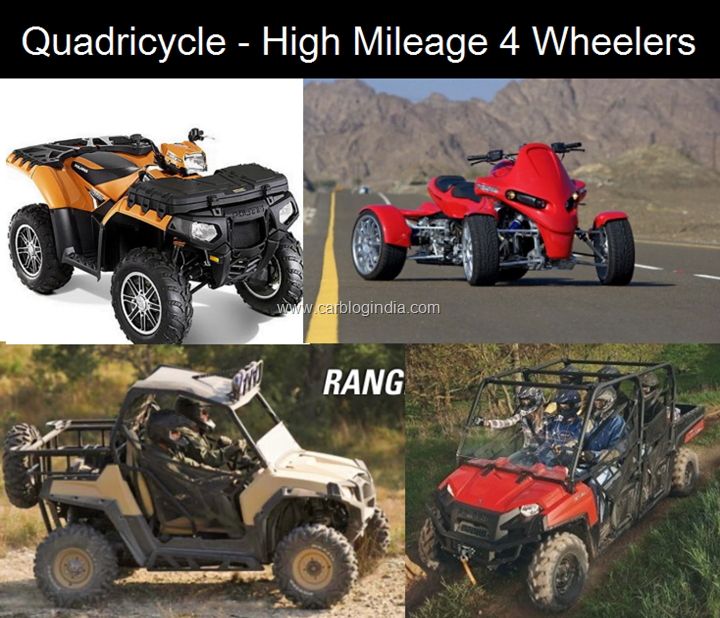 Government of India has approved this new segment quadricycle in India. Since each vehicle segment has some emission norms, safety norms and engine norms to follow, Government of India will soon announce the norms for this new segment quadricycle in India. To coin the norms and details, Ministry of Road and Transport has formed a technical committee which will look into the same and will create the needful norms. Since this segment did not exist in India before, so such vehicles could not be registered with the RTOs and could not be used on public roads as they were not street legal. This is the reason why ATVs like Polaris in India could not be driven on public roads. But once the norms are announced, eligible vehicles will be registered with the RTO and can be driven on roads in future.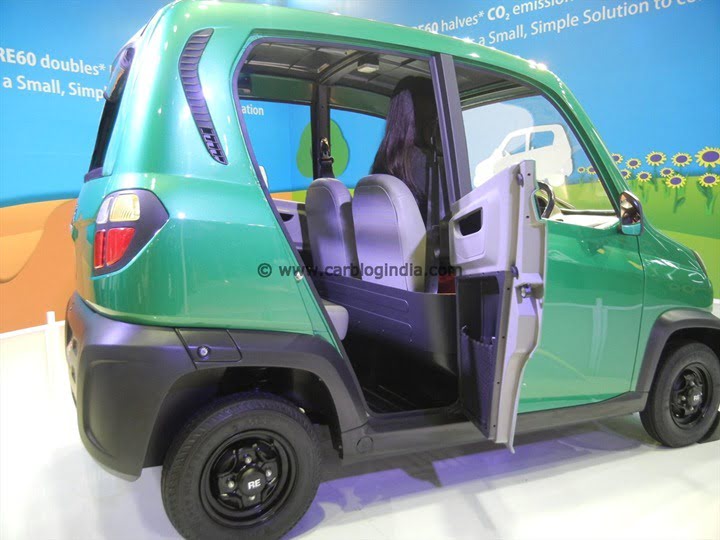 Interestingly, the quadricycle segment exists in Europe and they have specific norms for such vehicles. This segment of vehicles is usually used for adventure riding in Europe. In India, the quadricycle can easily be a high volume segment as it would attract those with lower incomes. With cost effective solutions like a quadricycle which can deliver a mileage of close to 30 KMPL and seat 4 passengers in comparatively safe and stable, it will make all the difference.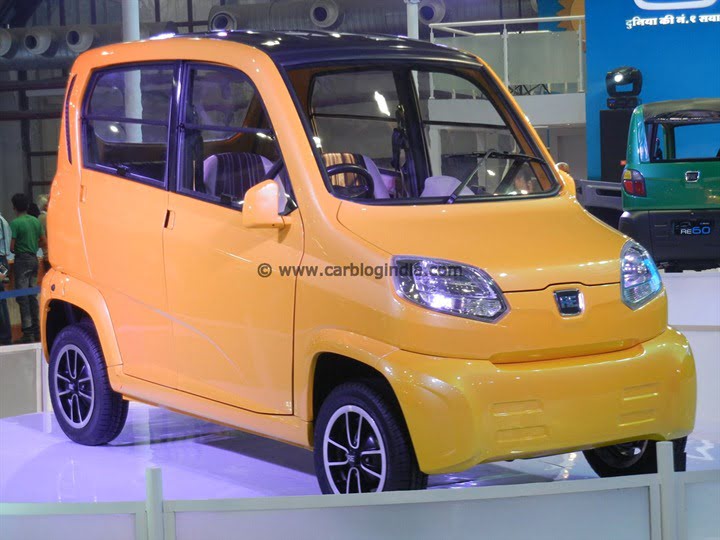 If we consider the price segment of entry level cars in India, the cheapest one can get is a Tata Nano, the base model of which costs about Rs. 1.60 Lakhs on-road for the base variant in Delhi, which is about twice or more than the price of a commuter motorcycle which usually cost around Rs. 50,000 to Rs. 60,000 in India.
A quadricycle could be used for both personal as well as commercial use for transporting goods and people in a safe and cost-efficient way. We will keep a close eye on the developments in this area and will keep you posted, stay tuned to Car Blog India for latest updates.
via- MoneyControl