Rahul Gandhi is currently walking across the country. In a new video, he has revealed that he prefers a Yamaha RD350 over Royal Enfield.
Rahul Gandhi is back in the news again. The young politician has been a constant part of national politics and viral memes in the last decade. However, he took a step back after the 2019 elections and only showed up occasionally. Now, he is back in the public consciousness and building a new image for himself. In a new interview for Mashable India, he revealed his passion for motorcycles. Apparently, the Congress member prefers a Yamaha RD350 over Royal Enfield.
You May Also Like: MS Dhoni Adds Another Yamaha RD350 to Collection, Spotted by Fans
You May Also Like: 10 Exotic Cars of Our Politicians- Modi's Maybach to Thackerey's Range Rover
Rahul Gandhi on Bharat Jodo Yatra
As you can see in the above YouTube video, Rahul Gandhi is successfully conducting his Bharat Jodo Yatra. He was joined by a Mashable India presenter for a short interview. During this conversation, Mr. Rahul Gandhi discussed old-school two-wheelers (scooters and motorcycles). He seems to be a fan of the old-school Lambretta scooter. Alongside the nostalgic value of his childhood days, he missed the easy rideability and retro styling of a Lambretta scooter.
Mr. Gandhi goes on to mention that he prefers two-stroke bikes over modern four-stroke ones. During his college days, Rahul Gandhi used to ride an Aprilia RS250 two-stroke motorcycle and was in love with the raw power delivery. The two-stroke engine of the bike offered 70 bhp of power and the crank. It offers 53 bhp of power at the rear wheel. Rahul Gandhi studied for one year at Harvard University, UK. However, he moved to the USA due to security reasons.
You May Also Like: Kartik Aaryan Spotted on his Humble Royal Enfield Hunter 350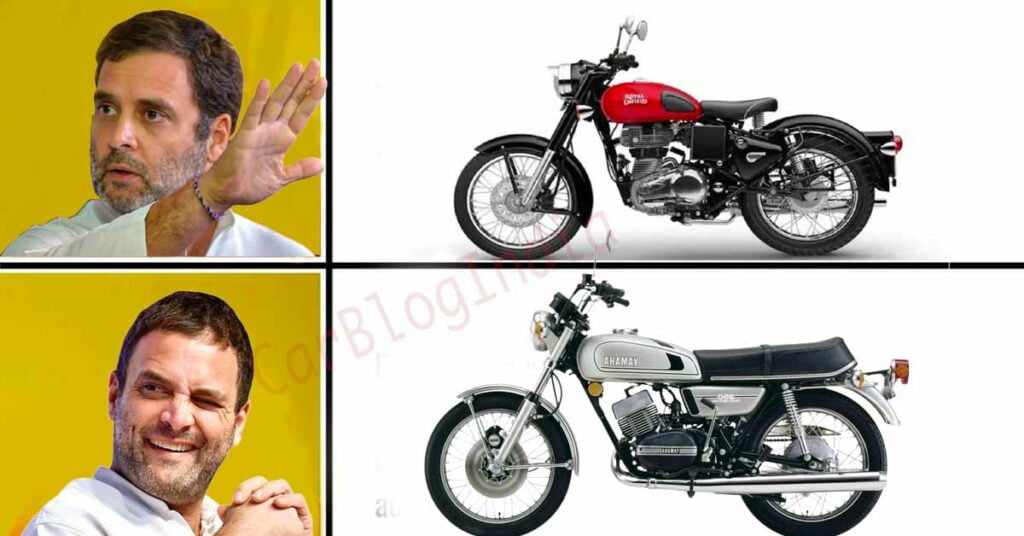 You May Also Like: This Restored Yamaha RX100 is a Beautiful Example of Classic Beauty!
Loves Cycling More Than Riding
Additionally, Rahul Gandhi also admitted that he would prefer to own an old-school two-stroke Yamaha RD350 over a Royal Enfield. Rahul Gandhi does not seem to be a fan of Royal Enfield bikes. Instead, he seems very impressed with the addictive quality of the Yamaha RD350. However, Mr. Gandhi also mentioned that the progressive power delivery of the popular Yamaha bike can also be dangerous at times. Nowadays, he loves cycling more than riding motorcycles.
Despite being such a popular figure in India, Rahul Gandhi claims that he does not own a car. So far, he has only used government vehicles for his daily commute. Despite his love for driving, Mr. Gandhi is usually chauffeured. He does not drive or ride himself due to the chaotic traffic of New Delhi. However, he admitted that he used to drive a Honda CR-V that was owned by his mother, Sonia Gandhi. Mr. Gandhi finds it difficult to pursue his passion for cycling due to the tight security levels around him every time he heads out.
Join us for FREE NEWS Updates on our Whatsapp Community or our official telegram channel.