Now, it is not every day that one gets to see any sort of competition between a Renault Duster and Audi RS Q8. But luckily, this video does that to highlight the differences between an affordable off-roader and an expensive luxury SUV with a 4 wheel drive system. The Duster was one of the first mid-size SUVs in the country and the only one with a 4×4 drive system. Now, the segment has been captured by the likes of Hyundai Creta and Kia Seltos which don't have off-roading capabilities. The other option is the hardcore off-roader in the form of Mahindra Thar, but it lacks practicality. But what happens if money is no restriction on you? Could you go off-roading in an expensive luxury SUV with a sophisticated 4×4 drive system as well? Let us find out!
Also read: First Ever Renault Kiger With 17-inch Alloys – This is IT!
Renault Duster vs Audi Q8 – Off-Roading Challenges
This video takes us through multiple off-roading challenges which are laid down for both these SUVs. The aim is to judge how well each of the SUVs accomplishes the challenges. To start with, there is an uphill slope with a slippery surface and the first one to the finish line wins. The Audi managed to power through the slope quite effortlessly. The Duster finished second. The second challenge was quite interesting. It comprises of a slushy track with a U-turn and the SUV to this mini lap quicker, wins. The Duster went through the muddy water-filled potholes easily as the driver was not worried too much about getting the SUV damaged. However, while driving the Audi, one has got to be careful about the underbelly being scratched on the uneven surface or the bumper getting brushed. Hence, it was the slower of the two by quite a margin.
Also read: This Renault Kwid Can Offer Upto 48 kmpl – Runs On Petrol and Electricity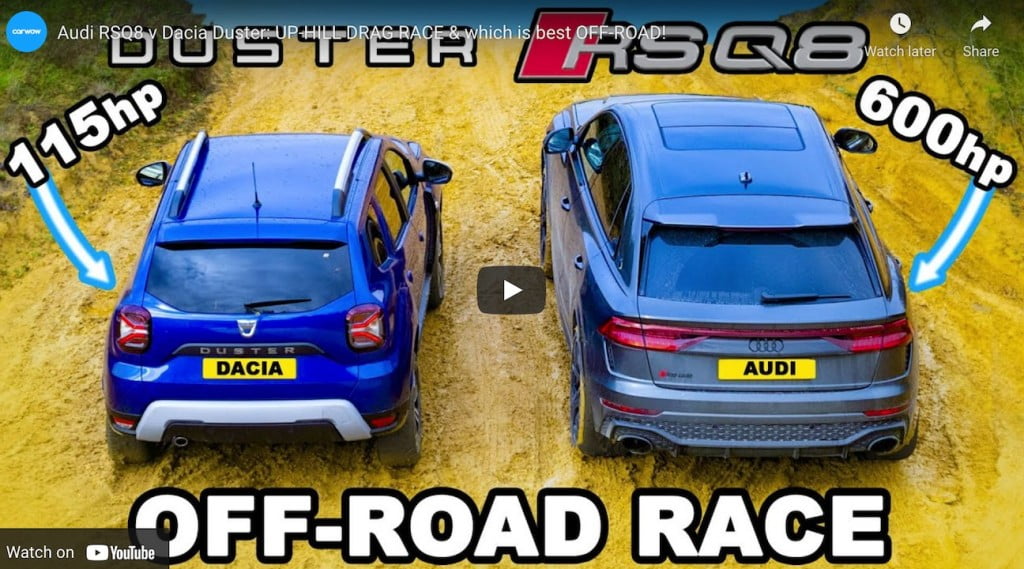 The other challenges were interesting too. There were various wheel articulation exercises. This was the perfect opportunity for the Audi to redeem itself from the defeats earlier. Its suspension setup pushes the wheels down in such situations which was supposed to be positive for the big SUV. That is exactly what happened in those challenges. The Audi stayed much stable and planted even when the inundations on the surface were too extreme. Audi performed better in these extreme off-roading conditions even with the performance tyres which is quite impressive. However, it has to be concluded that the affordable Renault Duster performed really well for its price when compared to the Audi RS Q8.
Also read: How About This Lime Green Tata Safari?