The Latin New Car Assessment Program (NCAP) recently reviewed the Renault Kwid again. The difference being that this was manufactured in Renault's Brazil plant and offered four airbags, ABS+EBD as standard. The car scored a respectable 3-stars score in terms of adult and child passenger safety in case of a crash.
Last year Latin NCAP tested some entry-level hatchbacks on offer in the Indian Market namely the Maruti Suzuki Alto 800, Hyundai Eon and India-spec Renault Kwid and all of these failed the test miserably as no safety options were on offer leading to a score of zero stars. The score translates to chances of fatalities of occupants in case of an accident or collision to be very high. The entry-level segment already suffers from quality issues pertaining to a check on the final price with India being a price sensitive market and the entry-level segment taking the brunt of it.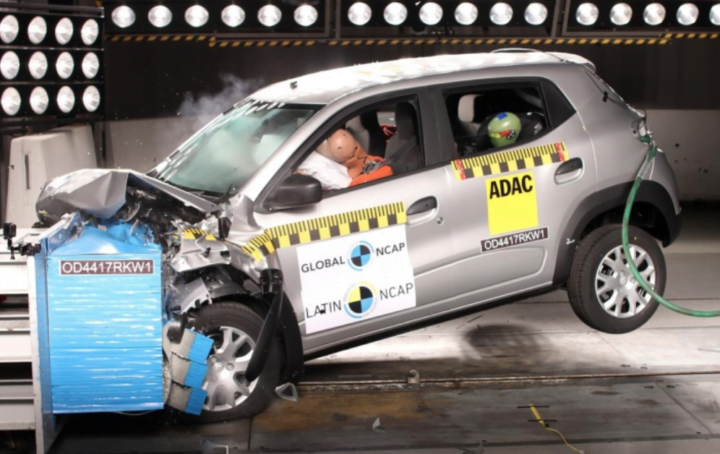 The Latin NCAP press release mentions of improvements in the overall rigidity of the chassis of the car in terms of additional structural reinforcements and better safety performance when compared to the outgoing model in India. The Indian Kwid features only driver airbag that too as an option. The Latin version of the same benefits from four airbags namely, driver, passenger and thorax airbags and ABS(Anti-Lock Braking System)+EBD(Electronic Brake-Force Distribution) in addition to the improved overall rigidity of the vehicle.
The Indian Kwid was tested by Latin NCAP again this year and it scored 1 star as the company improved the rigidity of the vehicle but only on the driver's side. Maruti Suzuki, on the other hand, offered the driver side airbag as an option and Hyundai discontinued the Eon all together and the reason for the same was not related to safety though, it was simply not a profitable product and was affecting the production efficiency of other products on offer that was much more profitable as well.
The Renault Kwid in India features an updated engine in the form of a 1.0-litre that churns out 67bhp and 91 Nm of torque. The engine is mated to an AMT gearbox which powers the front wheels. The Renault Kwid enjoys the best power to weight ratio in its segment of 97bhp/tonne. Another segment leading example for the same is the 300 litres of boot space in addition to the already spacious interior. Adding to the interior appeal is the touchscreen infotainment screen with AUX/Bluetooth/USB function and power windows for all four passengers. For more info read the latest review of the Renault Kwid Easy-R AMT