Two days back, Renault India Pvt Ltd, the fully owned subsidiary of Renault s.a.s., unveiled the Renault team car for the MRF Challenge during a special event in Greater Noida. The two race cars from team Renault will be driven by two young talented drivers Jon Lancaster and Alice Powell.
Also for this year's MRF Challenge, Renault will be the official engine supplier for the championship. The championship will feature 20 cars starting on the grid and all of them will be powered by Renault Sport supplied 2 litre engines that put out a brilliant 210 PS of max power.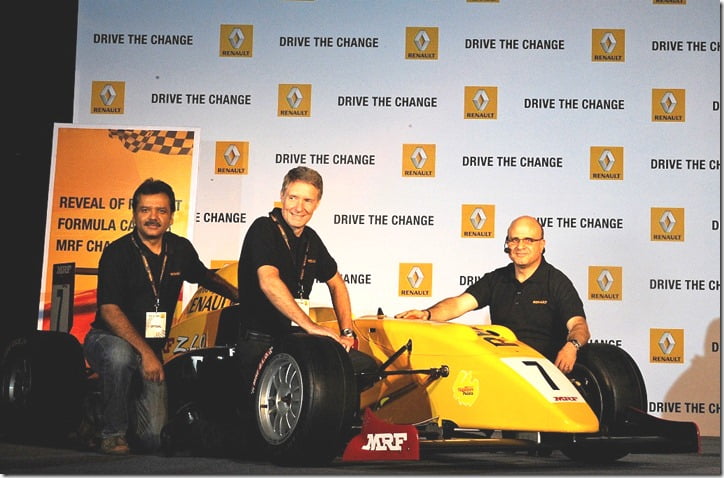 Speaking at the event, Mr. Marc Nassif, Managing Director, Renault India Pvt. Ltd. said, "Renault's 35-year association with Formula One racing has seen us design and produce some of the best powertrains that demonstrate our strong commitment to quality and innovation. Motor racing is in Renault's DNA and with this championship Renault India will for the first time support motor racing in India both as an engine supplier for the championship as well as supporting two teams.
"Our motor racing heritage has always come in handy as it has helped us to design some of the most reliable and efficient engines over time and even today the benefits can be seen in the K9K engine which is extensively used and is without a doubt one of the best suited power plants for the Indian market." he added.
Ever since Renault stepped in to the motorsport industry, the company has shown some great innovations and technological advancements. Since 1970 the company has produced some of the most powerful and advanced Formula One engines. The list includes the V6 Turbo from the 70's and 80;s, Renault V10 from the 90's, and the Renault V8.
The company has infused its expertise in the development of the engine for the MRF Challenge. The engine has been designed and built by Renault Sport in France. The 1998cc F4R832 engines feature 16-valve and 4-cylinder, and can produce a maximum power of 210 BHP at 6,500 RPM and maximum torque of 220 Nm @ 5500 RPM.