Renault Scala has been launched in total 5 variants including Petrol RXE and RXL with Manual Transmission, RXL with CVT Automatic Transmission, and two diesel variants RXL and RXZ. The Scala has been priced very aggressively starting at only Rs. 6.99 Lakhs introductory price.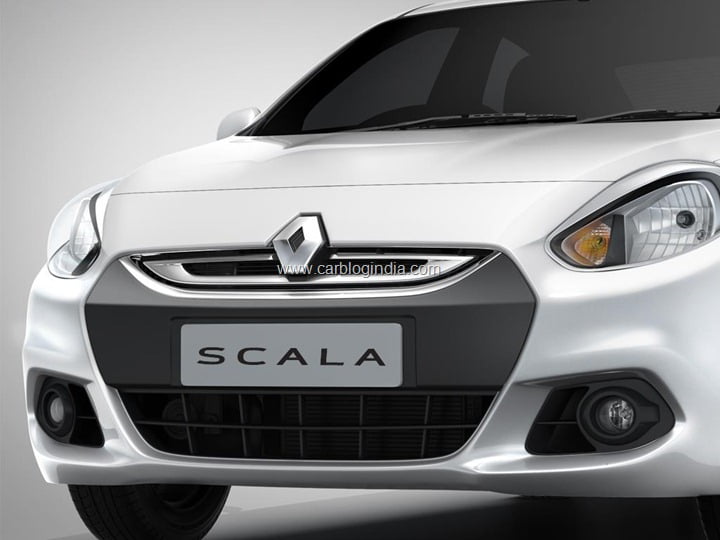 Official Price List
The official price list of Renault Scala ex-showroom Delhi is as follows:
Renault Scala Petrol RXE with MT is priced at Rs. 6.99 Lakhs
Renault Scala Petrol RXL with MT is priced at Rs. 7.85 Lakhs
Renault Scala Petrol RXL with AT (CVT) is expected to be priced at Rs. 8.50 Lakhs (Estimated)
Renault Scala Diesel RXL with MT is priced at Rs. 8.69 Lakhs
Renault Scala Diesel RXZ with MT is priced at Rs. 9.57 Lakhs
NOTE: Petrol CVT automatic will be launched later and the priced will be announced later. We share an estimated price of the automatic model above. We expect the automatic version to be launched before November 2012. As per Renault official the Scala CVT automatic will be launched in early 2013. There is fair demand of an automatic in the C segment as per Renault's customer feedback.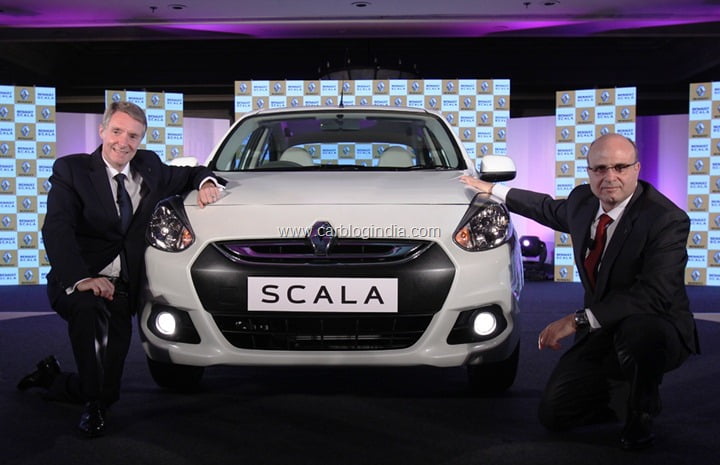 Renault Scala Exterior and Interiors Walk Around Video Review
Specifications & Features
The engine lineup includes one petrol and one diesel engine. The petrol engine is a 1.5 Litre XH2 petrol engine with 98 BHP of peak power and 134 Nm of torque and the popular 1.5 dCi K9K engine which puts out 85 BHP of power and 200 Nm of torque. Both these cars come with 5 speed manual transmission, which means the engine and powertrain is same as the Sunny. The ARAI certified mileage of Scala Diesel is 21.65 KMPL and of Scala Petrol is 16.95 KMPL.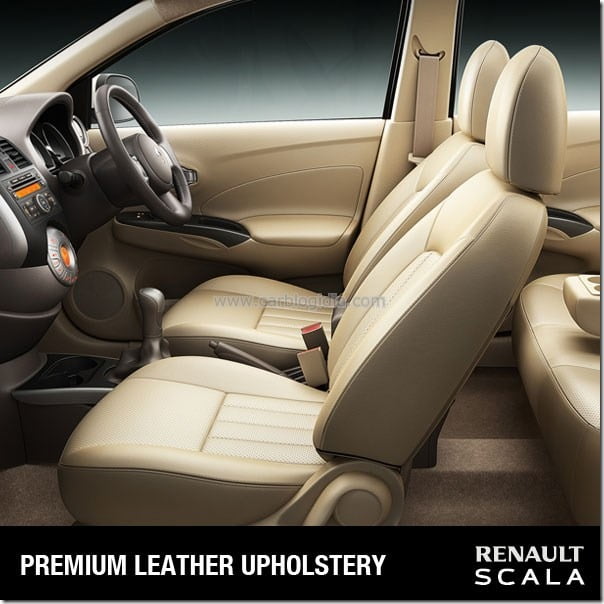 The side profile and interiors are also completely taken from Sunny keeping the exterior changes confined to front and rear of the car with new alloy wheels and cosmetic sprucing. In totality its like the Pulse from Micra transformation which adds premium-ness to the looks and feature set of the car.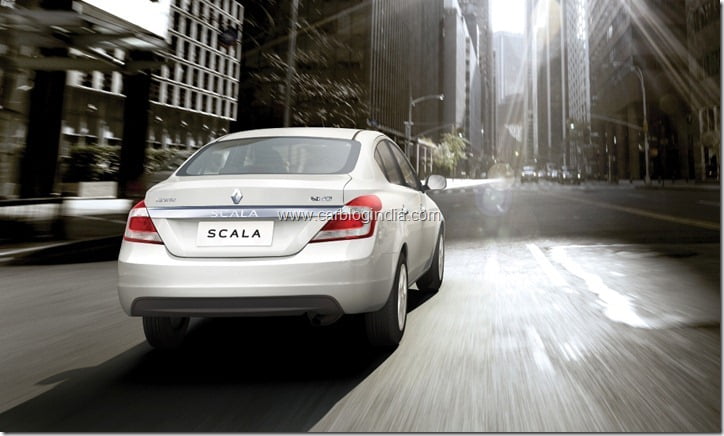 Some of the appealing features of the Scala include – 15 inch alloy wheels, smoked headlamps, aggressive and sporty styling, leather upholstery, automatic climate control, rear arm rests with cup holders, safety features like dual airbags and antilock braking system. Scala has electric power steering for easy maneuvering and high fuel economy. On suspensions setup, it uses McPherson strut suspension at front and torsion beam setup at rear. It has disk brakes at front and drum at rear. The wheel size is 14 inches steel wheel in the base RxE petrol and 15 inch alloys on RxL/RxZ variant.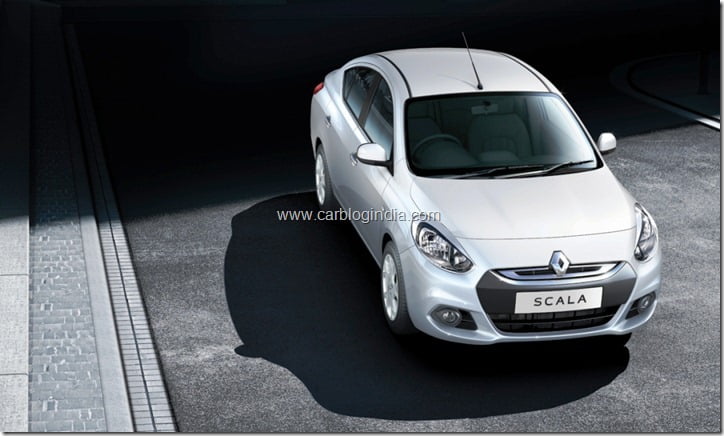 Light kerb weight of between 1000 to  1100 Kg makes the car light in weight and agile on the road at the same time very fuel efficient as well. The fuel economy of the Scala Diesel is close to 20 KMPL which makes it one of the most economical diesel sedans in this segment.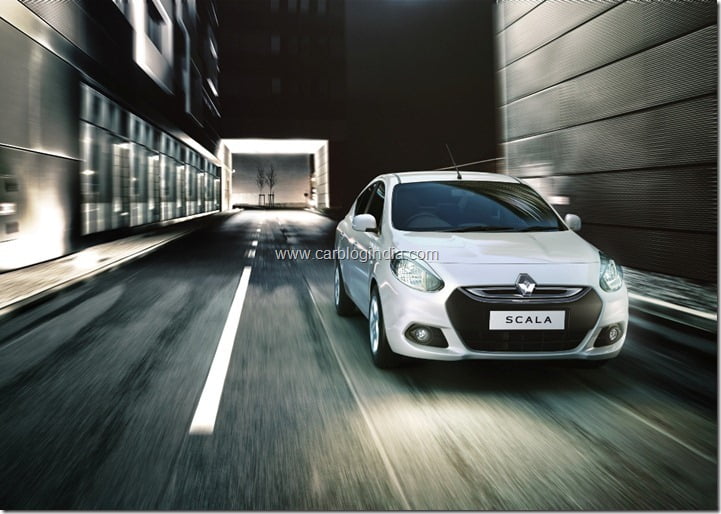 Talking of the variant lineup, the Renault Scala petrol comes with RxE and RxL variants while the diesel version comes with RxL and RxZ top end trims. It will come standard with 2+2 year (80,000 Km) warranty with Renault's Complete Care package. Prices will bee announced in first week of September 2012.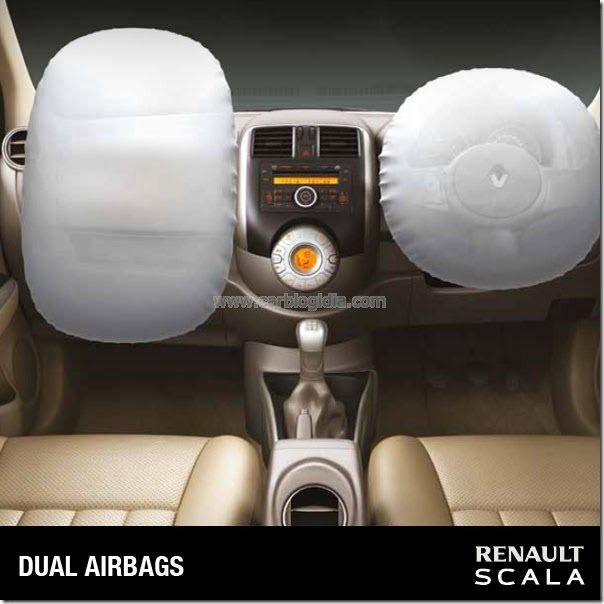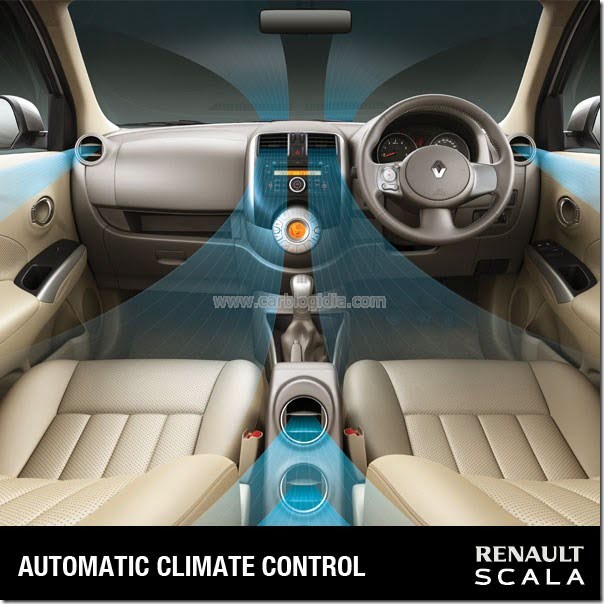 Colour Options
Renault Scala is available in 5 colours which are:
Pearl White
Solid Black
Metallic Silver
Metallic Blue
Metallic Red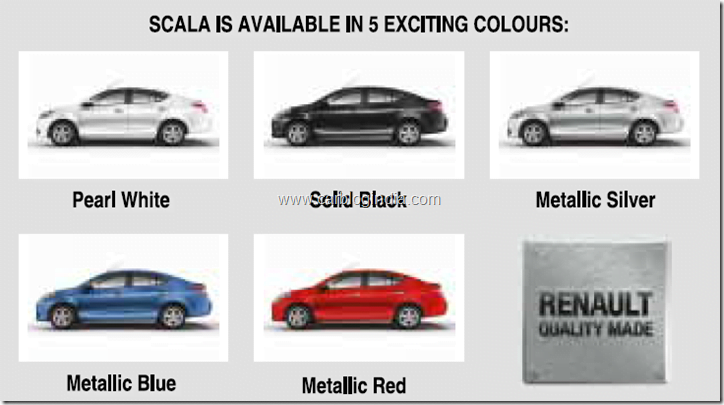 Renault Scala Brochure:
Updated on 13 August 2012:
If you are wondering why Renault Pulse and Nissan Micra look so similar then I would say these two are almost the same cars with different features and cosmetics. The same way, Nissan Sunny in India will be rebadged and sold as Renault Scala by Renault India. Since Renault and Nissan have a joint venture in India, they share car platforms and powertrains and parts for their cars. The Diesel engine unit used in Renault Scala will be a K9KE424 Renault Engine with a peak torque rating of 200 Nm and peak power 86 BHP. The fuel efficient Diesel engine of Renault Scala is capable of producing 20 + KMPL of mileage per litre of Diesel. The Renault Scala sedan in India will feature a 5 speed Manual Transmission which is standard and the chances of a 4 speed automatic can also not be ruled out as a Nissan Sunny with CVT Automatic transmission has been seen testing on Indian roads.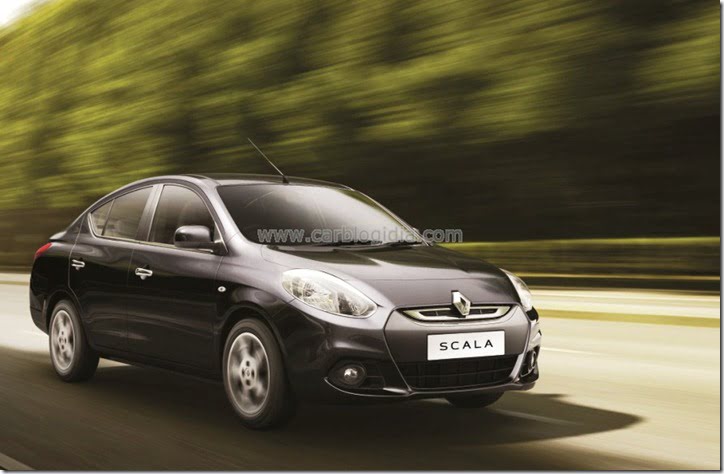 During the launch of Renault Duster in India, Marc NASSIF MD, Renault India Pvt. Ltd. revealed Renault India's near future roadmap and we got to know many juicy details during the Q&A session which we share below with you in this article. One of the most important detailed revealed the press conference by Marc is that Renault will launch its next car by Diwali in the year 2012 which is before November 2012. Marc did not name which car will be launched, but from the company's official website, we got a snapshot of the car which is planned for Autumn of 2012 in India. From the shape, it does appear to be a C Segment sedan which will sit below Renault Fluence which is a D-Segment sedan in India and it does look like Nissan Sunny in profile, although the car is covered yet it seems like its based on Sunny only.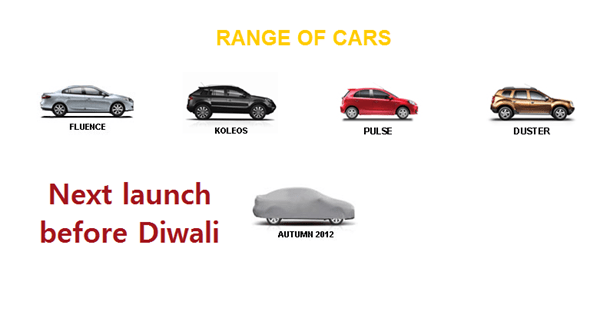 As per the media expectations and reports, the sedan will be a rebadged and better looking version of Nissan Sunny and will feature slightly modified exteriors and interiors. The feature list and variants of the Renault's sedan will be different and more premium compared to that of Nissan's so as to match with Renault's premium brand image. With its cabin space, fuel economy, premium feature, sporty looks and a reasonable price tag, Renault Scala may turn the Renault sales charts steeply upwards in the times to come. It will be interesting to see how many variants and what all features will be offered with Scala. As per the previous track record, we expected 2 to 3 variants with premium features and premium pricing will be introduced.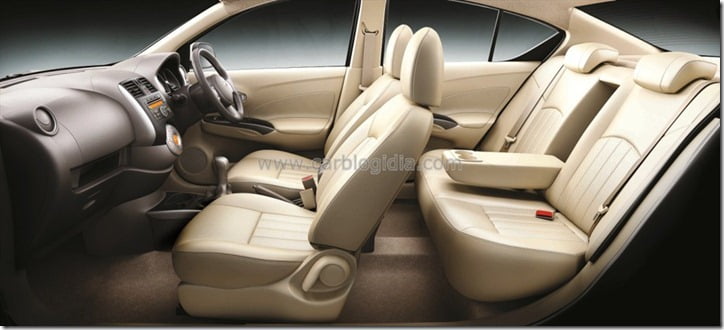 Re-badging of cars in India is gradually becoming more common with Skoda Rapid being another popular and more successful car when compared with its sibling Volkswagen Vento. Some other important detailed revealed by Renault India are as follows:
5th Car (Renault Scala) will be launched by Diwali in 2012
Duster is Renault India's 4th launch in past 12 months
Renault will increase its number of outlets to 100 before end of 2012
Renault will make India among its top 10 markets in next 3 years in terms of sales
The K9K Diesel engine has been localized to cut the cost of diesel engines used in Renault and Nissan Cars
Some more specific details revealed which are related to Renault Duster have been added to our previous story on Renault Duster Launch In India.