One would imagine that it won't be so easy to come up with a replica of the iconic Lamborghini Aventador but this video will make you believe otherwise.
We came across a popular video on YouTube that shows the making of a Lamborghini Aventador replica. Now, the Aventador is an exceptional race car that is street legal. The prime rival to its sister Italian supercar maker, Ferrari, Lamborghini has made a name for itself across the globe. This video has also been shot in Russia further highlighting its global popularity. Check out this post and see if you were able to catch the replica in the first attempt.
You may also like: Old Honda Civic Remastered to Rs 15.4 Cr Lamborghini Centenario- VIDEO
You may also like: This Rs 3.5 Cr Lamborghini Urus is Just a Toyota Fortuner Worth Rs 35 Lakh
Lamborghini Aventador Replica – Video
The YouTuber begins the video by letting the viewers know that he and his team will be taking their replica model right next to a real Aventador. Since there are no mechanicals on this car yet and only the exterior work has been done, it is transported on a flatbed truck. He gets in the real Lamborghini and is simply blown away by its performance. Talking to the owner, he learns that the Aventador has the real racing DNA, unlike other cars that have just one sports mode. That is what sets the Lamborghini apart from the crowd. He parks the two Lambos side by side for comparison.
The YouTuber notices that the overall silhouette of the replica that his team has designed looks fairly similar to the original car, especially on the front. The sharp creases and body design makes it look like the real deal. It is only when one takes a closer look, the gaps in the panels and some fine design elements are revealed. The rear glass housing is quite flawed in the case of the replica. What is more interesting is that some areas of the original car also lack fit and finish. The replica model has a bit different dimensions when it comes to the doors and glasses that are needed to be fixed.
You may also like: This Rs 2.7 Crore Maserati Gran Cabrio is Actually an Old Honda Accord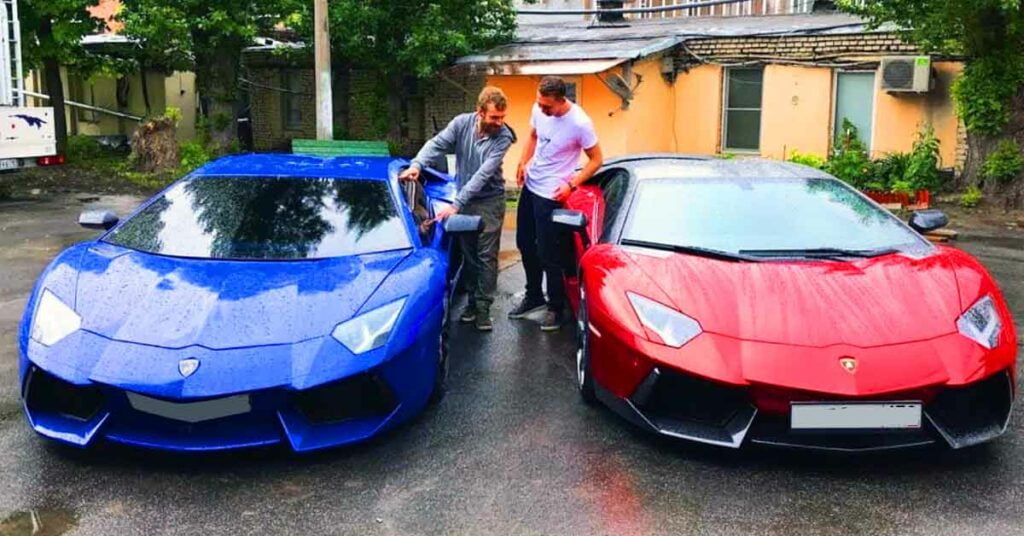 You may also like: Rs 5.6 Cr Lamborghini Aventador Hits Toyota Fortuner, Tosses it 5 ft in Air!
The headlamps are almost spot on and the wheel arches along with the taillamps and rear diffuser. All these elements could lead one to believe that this is the real Aventador. Do let us know your feelings about this impeccable replica of the Lamborghini Aventador shown in the video.
Join our official telegram channel for free latest updates and follow us on Google News here.