A new Royal Enfield model has been spotted on Indian roads. Instead of a powerful engine, it is powered by pedal power.
Royal Enfield is one of the most popular motorcycle brands in India. The company's bikes continue to remain aspirational for many. The Royal Enfield Classic 350 is also one of the most modified RE models in the country. We have seen its many iterations in the last few years. Now, a new customized RE has been spotted. This version looks quite far from the original bike. While most Royal Enfield bikes come with powerful petrol engines, the new version is powered by pedal power.
You may also like: India's First Willys Jeep in Rat Rod Avatar – VIDEO
You may also like: Royal Enfield Bullet 350 Once Costed Just Rs 18,700; Bill From 1986 Goes Viral
You may also like: Royal Enfield Bullet Silencer vs Wine Glasses – Yet Another Weird Experiment!
Merely a Bicycle with Royal Enfield Classic 350 Panels
As you can see in the video above, the Royal Enfield motorcycle looks familiar from a distance. However, on a closer look, it reveals manually powered paddles instead of an engine. This video has been shared by kamal__official08 on their Instagram page. It shows a driver and pillion on a Royal Enfield Classic 350. However, it is just a bicycle with a Royal Enfield body on it. Several parts from the original motorcycle have been integrated with the bicycle. It is probably the only Royal Enfield that runs with pedals.
In terms of design, the new bike features the original metal frame. It has been cut under the engine. Instead, a V-shaped frame has been attached to it. This helps to fit a bicycle with a pedal. It uses a regular chain that connects the sprocket on the rear wheels. The original sprocket of the Classic 350 was replaced with a unit from the cycle. However, the modified bike uses the headlamp, front forks, fuel tank, and seats from a Classic 350 motorcycle. Even the spoke wheels at both front and rear are the same.
You may also like: Sardarji Pulling Wheelies on Royal Enfield Bullet on Public Roads is Insane! [VIDEO]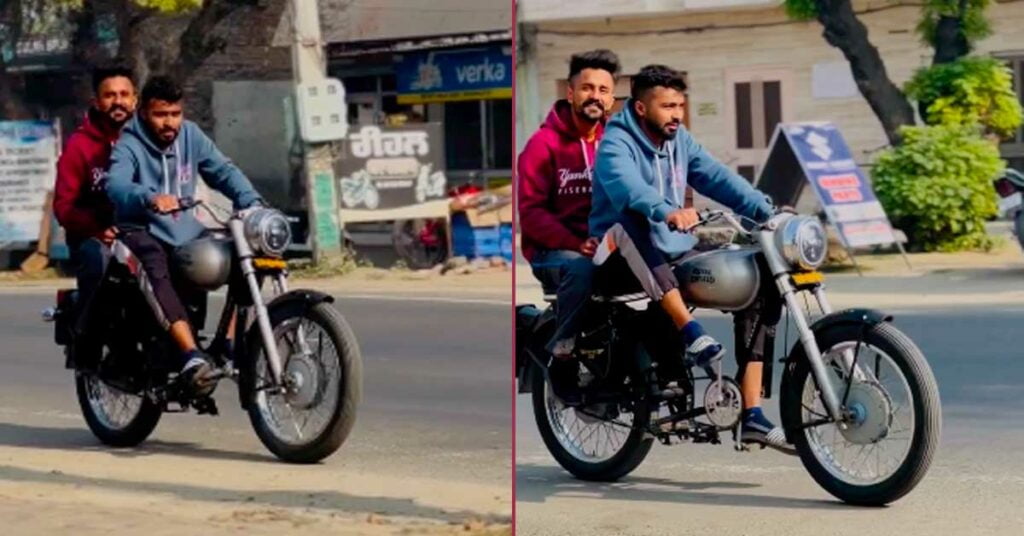 You may also like: Varun Dhawan and Kriti Sanon Seen on a Royal Enfield Bullet
In the above video, you can see that the rider can use the new bike effortlessly. The seating position is similar to the motorcycle. The pedal has been smartly positioned. The engine area is just empty. The rear panel carries the regular Classic 350 look, complete with round tail lamps and a mudguard. Overall, the new bike stands apart from the multiple modified Royal Enfield bikes we have seen on Indian roads. Previously, someone from Kerala attached the front end of an old Bajaj Chetak scooter to his cycle.
Join our official telegram channel for free latest updates and follow us on Google News here.