It has come to light that a Royal Enfield Bullet 350 and a Classic 350 went up in flames in cities of Solapur and Bhubaneswar yesterday
As a prolonged heat wave sweeps the entire nation, various incidents of vehicles catching fire have come to light. So far, the vehicles that have been most affected are EVs, especially from a select group of brands. However, while electric vehicle manufacturers have been receiving a lot of flak for rolling out 'half-baked' products susceptible to catching fire, similar incidents have been seen even in conventional vehicles. Only a few weeks back, we reported how a Royal Enfield Classic 350 exploded like a bomb outside a temple and now, 2 more similar incidents have come to light. One of these involves a Classic 350 while other a Bullet and both the mishaps happened yesterday.
You may also read- Brand New Royal Enfield Explodes Like a Bomb Hours After Delivery
You May Also Like: WATCH Bullet Standard 350 Vs Electra 350 In A Highway Race
These incidents took place in Solapur and Bhubaneswar. The above video starts with visuals of a burning Royal Enfield Bullet 350 that exploded in a parking lot in Solapur. As per the commentary, this incident is similar to what happened to a Classic 350 that blasted near a temple a few days back. This time around, the motorcycle was in a parking lot when it suddenly caught fire and exploded like a bomb. Thankfully, no one was hurt in this accident as people were far from the parked motorcycle.
You May Also Like: Royal Enfield 650cc Cruiser Spotted In Blacked-out Theme
The second incident involves a new-gen Royal Enfield Classic 350 that was parked on a roadside after the rider realized the engine bay had caught fire. Thankfully, unlike the Bullet, this Classic didn't blast and the fire was restricted to the engine. In most likelihood, the vehicle caught fire due to an engine oil leakage. Fortunately, even in this incident, there were no reported injuries. The video above even shows a fire brigade that rushed to the vacated road to put off the fire. This mishap took place in Bhubaneswar. Luckily, this motorcycle didn't suffer as much damage as the other vehicle that caught fire.
You May Also Like: WATCH Making of Fully Faired Royal Enfield 650 Interceptor – VIDEO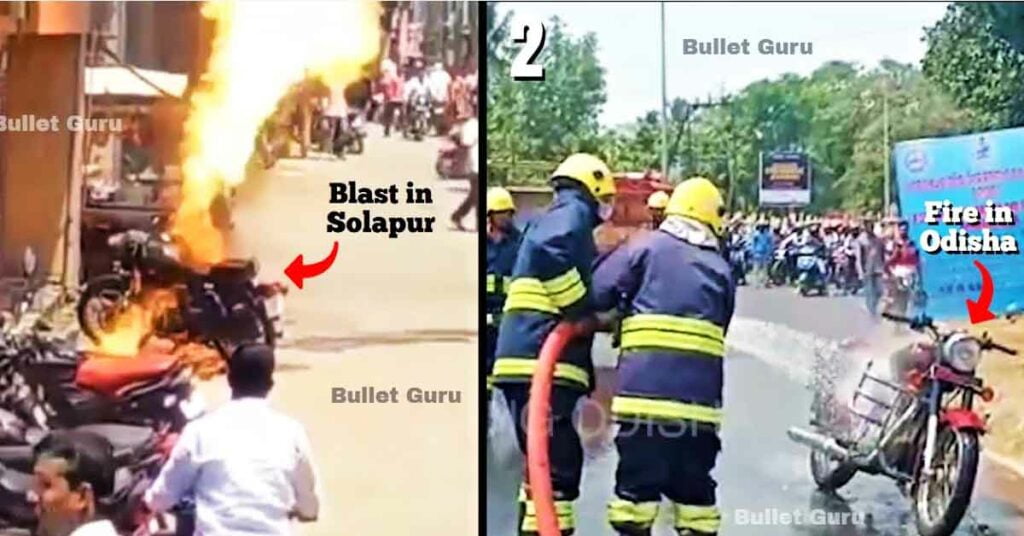 In order to prevent similar incidents happening to your vehicle, it's recommended to park your vehicle in a shade and not under direct sunlight. With temperatures soaring to unprecedented levels this year, there are high chances of petrol fumes of minor leakages leading to a fire. It's also important to ensure that your vehicle is in good shape and hence, periodic maintenance shouldn't be missed at any cost. Also, aftermarket fitments with poor quality wiring can also lead to such incidents. Finally, have short breaks on long rides to help your vehicle's engine cool down.
Join our official telegram channel for free latest updates and follow us on Google News here.