Just days after a few electric scooters caught fire in many parts of India, a new Royal Enfield caught fire and exploded in AP
Merely days after a few electric scooters caught fire in some parts of the country, a new Royal Enfield Classic today caught fire in Andhra Pradesh and exploded like a bomb. The incident took place in Anantapur district and the entire video was coincidentally captured on video, which went viral soon after the mishap took place. It's being said that the motorcycle was brand new and was parked outside a temple where it exploded.
You May Also Like – Waiting for Yezdi? How About Royal Enfield Classic 650 Instead?
You May Also Like: WATCH Bullet Standard 350 Vs Electra 350 In A Highway Race
The Royal Enfield Classic which caught fire belonged to one Ravichandra, who is said to have ridden 387 km from Mysore to reach the Nettikanti Anjaneya Swamy temple in the Guntakal Mandal after buying the new vehicle. The motorcycle is said to have caught fire immediately after the owner entered the temple to offer his prayers. Meanwhile, the people standing nearby were shocked as the motorcycle got engulfed in flames and ended up exploding with a huge bang.
The onlookers doused the fire by pouring water on the motorcycle. The reason for the brand new Royal Enfield Classic catching fire is yet to be ascertained. Fortunately, there have been no loss of life or injury in this mishap. This is surely among rare incidents of a Royal Enfield model catching fire for no apparent reason. However, this is the second such incident in the country of a two-wheeler catching fire.
You May Also Like: WATCH Making of Fully Faired Royal Enfield 650 Interceptor – VIDEO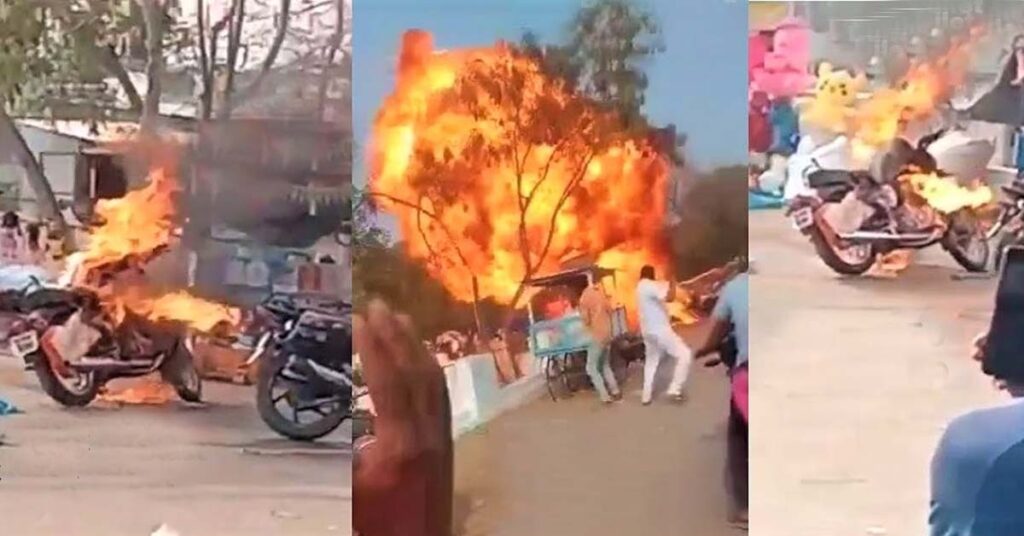 You May Also Like: Royal Enfield 650cc Cruiser Spotted In Blacked-out Theme
Earlier, an electric scooter from Pure EV caught fire near Chennai, thereby raising concerns over the safety offered by electric scooters in summer season. Even the earlier mishap was caught on camera and the video showed a brand-new electric scooter with an 'L' sticker pasted on its front fascia being reduced to nothing. As we said, the cause of the Royal Enfield Classic catching fire is yet to be figured out but we're really happy no one was hurt in this mishap.
Join our official telegram channel for free latest updates and follow us on Google News here.