One Rafique from Bihar is in news for his huge weight of 200 kg. Recently, he tried moving a Royal Enfield, which was caught on camera by a reporter
We often come across strange incidents that leave us pretty bewildered. What you see on this page today is something similar. Now, Royal Enfield is a motorcycle that has performed many roles – from being the choice of the Defence to a favourite of many tourers. However, the video you see below shows a Royal Enfield in a rather unconventional situation!
You may also like: Viral Video Shows Bride Riding Royal Enfield Bullet to Her Wedding Venue
You may also like: GMC Yukon Denali Seen in India – Has Huge Road Presence
200kg Man Rides Royal Enfield
This video is about one Rafique from Bihar. Now, this man is someone who can probably be referred to as the real life Hulk. The reason for this reference is his body weight of a whopping 200 kg. This makes him almost 50 kg heavier than the famous wrestler Khaki. Rafique might not be the heaviest man alive today but he's certainly an exception. A reported who visited his village quizzed him on various aspects, right from how he feels about his condition to how well he can perform some common tasks. In line with this, he was asked to see if he can ride a Royal Enfield motorcycle.
The 30-year-old reveals that he has tried riding motorcycles earlier, too. He has tried to use a Hero Splendor, a highly commonly commuter in most towns. However, that motorcycle failed to take his weight and its suspension bottomed out. However, when he got onto the RE, its suspension, while getting compressed, didn't bottom out. Next, he was asked to move the motorcycle a bit, which he successfully manages to do. All the by-standers stood there amused at how the motorcycle could move in spite of the rider's weight. What's also worth noting here is that in spite of being sad about his condition, Rafique seems to be a well-natured and a humble person who laughs off the challenges he faces.
You may also like: Indian Truck Driver Makes Rs 1.5 Lakh in 4 Days in Canada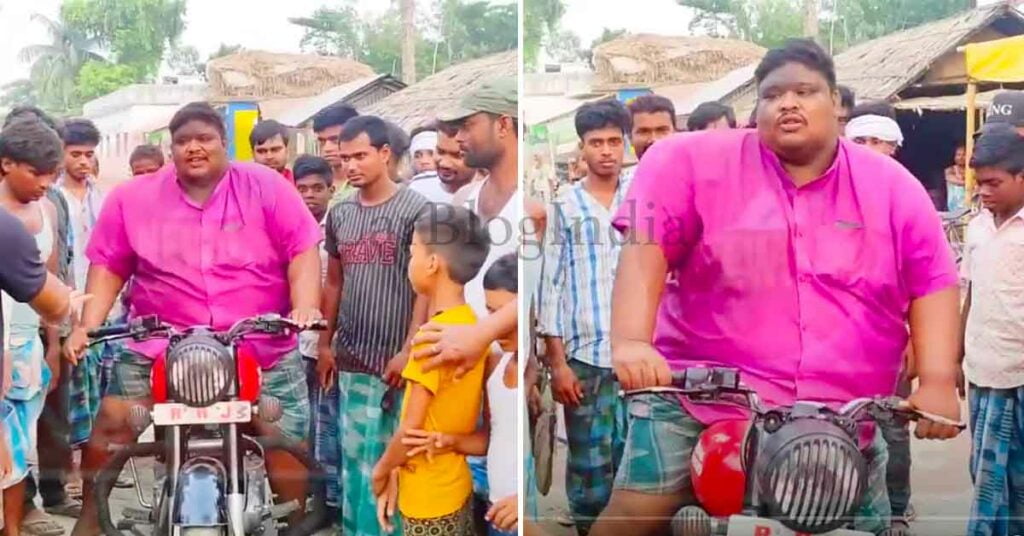 You may also like: Here's How Much Indian Uber Driver Earns in Canada
Payload Weight Capacity
A Royal Enfield 350cc can carry a total weight of 225 kg. In such a scenario, Rafique's weight falls under the maximum payload capacity of the motorcycle. This is how the motorcycle could effortlessly carry the heavy person for a few seconds. Also, given that the motorcycle was ridden for only a very short period of time, it would have probably worked fine even if Rafique was a bit heavier. However, long term usage is something that's not advisable. The excessive weight of this guy will surely lead to faster wear and tear of parts, thereby causing huge maintenance issues. For now, we wish this Bihar resident all the best and hope he continues to be his jolly-natured self.
Join our official telegram channel for free latest updates and follow us on Google News here.