Having a dashcam is very important as it can save you and your car in various conditions. Here is an example where the driver of this Tata Altroz had an accident without his own fault.
Tata Altroz is the safest hatchback of India, securing a strong 5-star safety rating in the global NCAP crash test. It has a strong build quality and that is evident from a couple of accident videos of it that we have seen. Here is another example where the owner hit a herd of cow, leading to the instant death of one. However, he had a dashcam installed which kept him out of any legal trouble.
Here, you can see that the owner is easily cruising on a country two-lane road. Suddenly, he comes near to a herd of cattle which is on his right side. Just the next second, he hits one of the cow from the herd. Whole accident is recorded on the dashcam and you can see it completely. Suddenly, the cow came near to the Altroz and the driver could not control it. Having a dashcam saved him and he can show how it was not his fault.
Also Read: Tata Altroz Diesel Is The Most Fuel Efficient Hatchback In India
While he was passing that herd, on the left side, the owner of the cattle was walking. So, he could not swerve towards the left and unfortunately, could not do anything. He infact saved the life of the owner. If you run over an animal and caught, you will be held legally. You can also have an FIR registered against yourself if you are found guilty. However, in this case, the owner was helpless and that's why will avoid any legal trouble.
As for the Tata Altroz, it has received a significant yet limited damage. On the driver side, the headlamp and side fender has received some damage. The bonnet has also received a dent and its shape has been disfigured. The front bumper and alloy wheels have suffered no impact due to this. Also, the car has managed to limit the impact to the fenders only, without damaging the doors. The bill for this damage will not be that huge, but will surely take some time.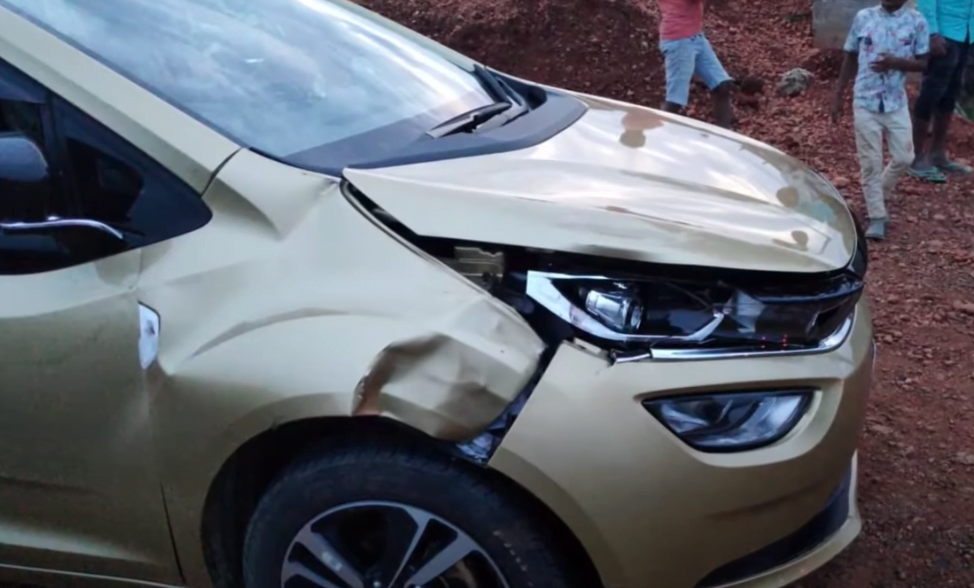 Tata Altroz gets a 1.2 Litre petrol and a 1.5 Litre diesel engine, both as of now, paired with a 5-speed MT. The petrol engine comes from Tiago, producing 86 PS and 116 Nm of peak torque. Diesel unit is good for 90 PS and 200 Nm of peak torque. The prices of Altroz commence at Rs 5.29 Lakhs going up to Rs 9.29 Lakhs (Ex-showroom). Soon, it will get an automatic gearbox and possibly, a turbo petrol motor as well.