Here is a quick drag race between the Ford Ecosport and the much more powerful Mahindra Scorpio. Check out the complete video!
Ford Ecosport is one of the best driving machines in the sub compact SUV space. The tall boy is known for its enthusiastic diesel engine and impressive handling quality. On the other hand, Mahindra Scorpio is more of a lifestyle SUV. It is known for its comfortable cabin and a quirky/brute appeal. Let's see how both these SUVs fare against each other.
As you can see the race, in the first attempt, Mahindra Scorpio has the initial leverage. For a good couple of seconds, it manages to stay ahead of the Ecosport. However, once when both of them reach the third geard, the latter quickly sprints ahead only to leave the Scorpio in the dust behind.
Also Read: Maruti Vitara Brezza Vs Ford EcoSport Drag Race – Results Will Shock You!
The same also happens in the second attempt where Scorpio has the initial pickup but loses to Ecosport when the speed goes up. In both the attempts, the Ford is the clear winner. Some of you might wonder how is this possible since Scorpio has a bigger engine and is more powerful. Let's get down to the explanation.
Scorpio gets a 2.2 Litre turbo diesel engine that produces 140 BHP and 320 Nm of peak torque. Ecosport gets a 1.5 Litre diesel engine that produces 100 BHP and 215 Nm of peak torque. Both come mated to a 6-speed manual gearbox. Because of more power, Scorpio easily manages to accelerate faster than the other.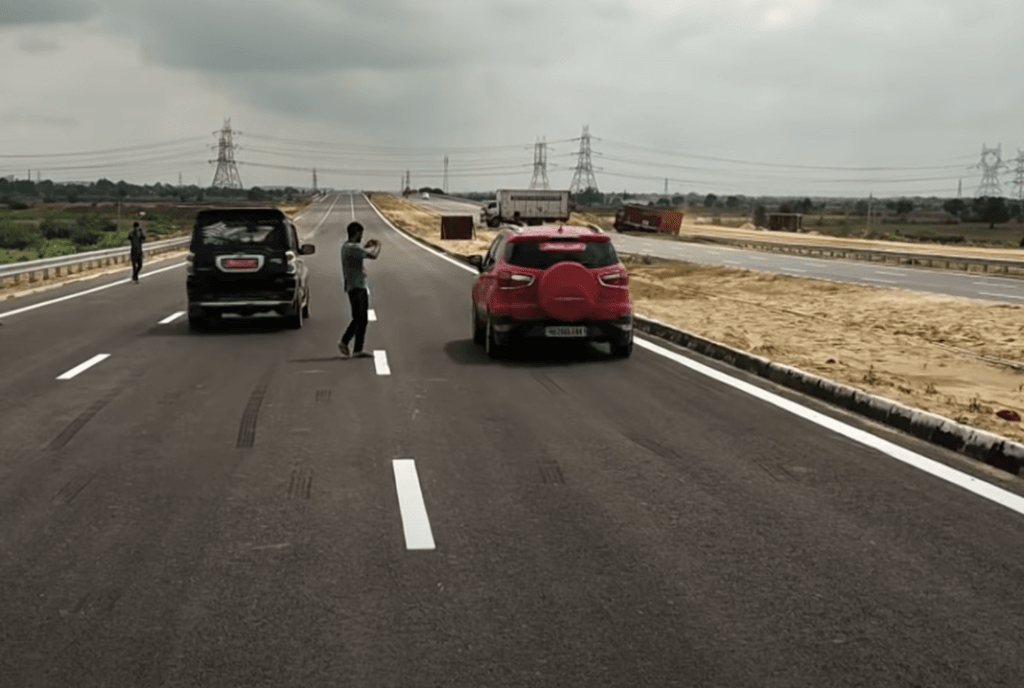 However, since the Ecosport is lighter, it gains up speed easily in the second and third gear. Possibly, it might also get longer gear ratios which help in pulling the car to more desired RPM. If we put the power to weight ratio of both aside, Scorpio offers 76 BHP per tonne whereas EcoSport offers 82 BHP per tonne.
Also Read: Maruti WagonR Vs Baleno Drag Race – The Result Will Shock You!
As for the Mahindra Scorpio, it also gets aftermarket alloy wheels which make the car heavier and slower too. With the normal factory fitted wheels, it could have done a little bit better. But still not faster than the Ford Ecosport.