Check out this drag race between Kia Seltos and Toyota Fortuner, where you can see the former easily winning. Both of them here get the diesel-auto combination.
Among the most popular cars in the Indian market, we have the Kia Seltos topping all the charts. It is still one of the best selling SUVs for the past few months. On the other hand, here, we have Toyota Fortuner which might not be that good in crunching numbers. But, it has far more popularity and a loyal fan following. What happens when we put both the SUVs against each other? Let's find out.
On one hand, is the Kia Seltos Diesel Automatic with a 6-speed torque converter unit. It gets a 1.5-litre diesel engine that is good for 115 PS and 250 Nm of peak torque. Fortuner gets a 2.8 litre diesel engine that produces 174 BHP and 450 Nm of peak torque, paired with a 6-speed AT. Both automatic and both diesel engine. But a huge power difference. But still, Seltos manages to win easily.
Also Read: Kia Seltos Vs Audi A6 Quick Drag Race – See Who's The Winner
In the first round, Kia Seltos takes a very quick and easy lead and throughout the race, maintains the lead. There's atleast a car length difference between both of them. The second round sees Fortuner taking an early start and for a couple of seconds, it manages to maintain its lead. However, Seltos soon overtakes it again and manages to win the race. And not just by a split second, but by a huge difference.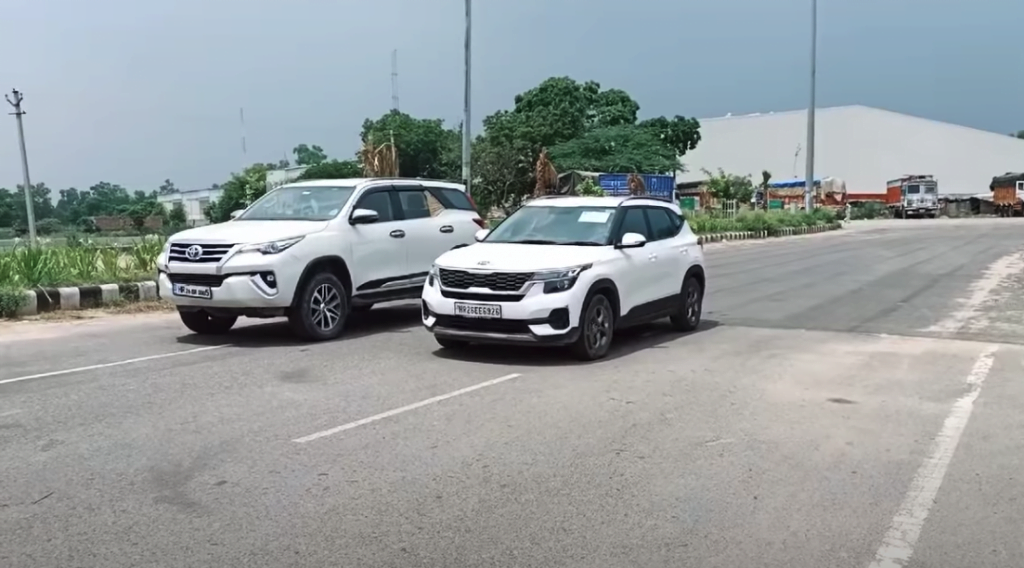 Here, the power to weight ratio plays a major role in Seltos winning the race. The latter is almost double in terms of weight and despite having more power figures, its power to weight ratio falls under 100 PS! As for Seltos, its power to weight ratio is still nearly 130-140 PS per tonne, which helps it in accelerating quicker. However, in terms of top speed, Fortuner will emerge as the clear winner.
Also, another thing that plays a small but significant role is the tuning of the torque converter gearbox. In Seltos, the gearshifts are faster as compared to the Fortuner. If the gearbox is tuned to change gears at a higher RPM or slowly, that affects the in-gear acceleration of the car.