Terms like Downsizing and Turbo Charged Petrol Engines are something that has become the new norm nowadays. Almost every new car launches with at least one turbo petrol engine variant. Although this did not happen overnight, this technology is only now beginning to trickle into the mass-produced hatchback segment in India. The new i20 is a recent addition to the small turbo petrol engines family. The Hyundai Grand i10 Nios is the smallest hot-hatch with 1 Litre turbo petrol engine making 100 PS and 175 Nm of Torque. What makes this technology so unique and appealing? Let's find out.
What is the need for downsizing and turbo-charging?
With emission regulations becoming ever more stringent and prices of diesel and petrol almost similar, the shift towards petrol and hybrid engines is imminent. It is well known, that diesel exhaust is a major contributor to air pollution around the globe. The diesel exhaust gas treatment technology is very expensive. In such scenarios, the smaller displacement Turbo-charged petrol engines have come as a boon, with a lot of car manufacturers doing away with their diesel engines completely. For example, the largest car manufacturer in India, Maruti Suzuki has currently no diesel engine in its lineup. Ford has joined hands with Mahindra to get its diesel engines.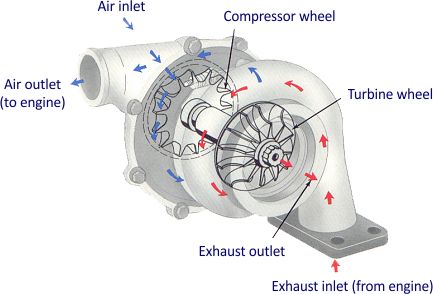 Image Source: Turbo-Charger
How do downsizing and turbo-charging work?
Downsizing (using less cubic capacity, e.g. 1-litre engine instead of 1.2 or a 1.5 litre and less number of cylinders) with Turbo-Charging has numerous advantages over a naturally aspirated petrol engine. Downsizing essentially refers to reducing the number of cylinders in engines and powering it with a turbocharger. As a result of this, there is no compromise in power. When less number of cylinders used, the power losses due to moving parts and pumping losses also reduce. This further improves the efficiency of an engine. Also, during highway cruising, an engine does not require all cylinders firing. Since the number of cylinders in a downsized engine is already less, the performance and efficiency of the cylinders are optimum.
Also Read: List of Affordable Turbo-Petrol Sedans in India
A Turbo-Charger is fitted at the exhaust side of the engine, to suck in a major part of exhaust gases. This spools up the turbine, which in turn makes the compressor rotate. Resultantly, more compressed air makes its way into the cylinder for combustion. More fuel can be sprayed into the engine producing more power. This produces a turbo boost, which enhances the dynamic aspects of driving by creating a more fun to drive experience. The term Turbo-lag refers to the gap in the response of boost because of insufficient exhaust pressure for the turbo to spool up.
In higher segment cars, this Turbo-lag is sufficiently contained with a help of a twin-turbo setup. As the name implies, there are two turbo-chargers: Small and large. The purpose being, smaller turbo-charger is able to spool up at low RPMs with lesser exhaust gases, almost eliminating the turbo-lag completely. The larger turbo-charger spools up at higher RPMs when more exhaust gas pressure is available. This covers up the entire RPM range and the performance of a car is greatly enhanced.
The Future Of Small Turbo Charged Petrol Engines
It is pretty clear at this point in time, that the downsized turbo petrol engines are here to stay and take the industry forward. They have made way to almost every segment in India making them fairly affordable as well. There are essentially no reasons not to ride this wave and contribute your bit towards cleaner air quality. With even the big SUVs now being powered by Turbo Petrol Engines, the market has perhaps spoken. Petrol engines, hybrid petrol engines and EVs seem to be the way forward.