The first public road trials of the chassis of its next generation Audi A8 have commenced. Although there really isn't that much to see here, the prototype caught on camera takes the shape of an average current generation A8 and only the miss-fitting suspension gives it away. Attached to every wheel, the latest generation of more compact testing sensors measure different parameters coming from what's most likely an all-new engine. They will undoubtedly be more efficient and should include at least one plug-in hybrid unit, as promised by company officials. Although it may be a little premature to be talking about the looks and specs in depth, we can make informed guesses based on the last version of the Sport Quattro Concept that The Laserlight will make it to the A8.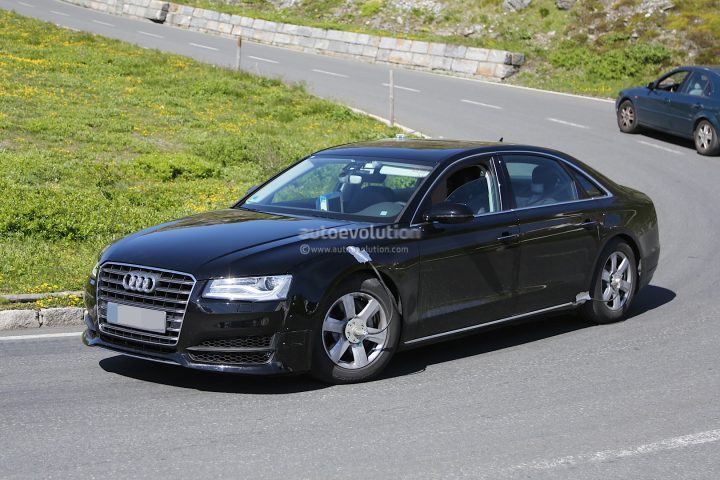 So maybe as seen on the Laserlight, the Gear Selector, MMI system and the radio control might or might not be housed into one unit. But if the R8 LMX -the production model of the Laserlight- is anything to go by, the Laser High Beam system seems to be our safest bet to be found on the upcoming R8 even though the test mule sports the old Bi-Xenon lamps. As for the platform,There have been reports that Audi may adopt the sportier MSB platform being developed by Porsche for the 2017 Panamera. But We expect an evolved version of Audi's standard, the MLB. Nicknamed the MLB Evo, this new architecture will be lighter than its predecessor and should make full use of aluminum and carbon fiber reinforced plastic.
The engine lineup should be similar to the current A8's offerings, meaning V-6 and V-8 units. A W-12 engine is also likely to be offered once more, and we should see a plug-in hybrid option and possibly even an all-electric option. Overseas markets should also receive a four-cylinder option.
Going by the current test mule and reports circulating the interwebs, expect the next generation Audi A8 could be launched either in late 2016 or early 2017.
Source: Auto Evolution