Electric cars are fast getting popular but one of the biggest limiting factors to their popularity is their high sticker price. Finally, though, we have an EV that is much more affordable than even the least priced electric car today. Available at an ex-showroom price of Rs 4.5 lakh (ex-showroom), the Storm R3 is more affordable than a top-spec 800cc Maruti Alto or even a base-spec WagonR. Bookings for the R3 are underway and the upcoming model helped its carmaker garner over Rs 7.5 crore in bookings in a matter of just 96 hours.
Strom R3 Range, Running Cost, Interior & Other Specs
The Storm R3 is actually a three-wheeled electric car. It's powered by a 15kW AC induction motor that outputs a peak torque of 90 Nm. The motor comes mated to a single-speed transmission and there are three drive models to choose from- Eco< Normal and Sports. There's also regenerative braking to juice up the battery pack on the go and even here, there are three modes – aggressive, normal, off. The motor gets its power from a 48v lithium-ion battery pack that is claimed to have a life of over 1,00,000 km. It offers a maximum driving range of 200 km and takes 3 hours to charge fully. Also, as per the company claimed figures, it costs as low as Rs 0.40 per km to run this vehicle. Top speed has been electronically governed at 80 kmph.
The peak torque of 90 Nm starts looking quite lucrative as soon as you register that the kerb weight is merely 550 kg. The R3 offers a boot space of 300-litre, while a storage compartment at the front has a 100-litre capacity. As we said, the Storm R3 is a trike. It has two wheels at the front and one at the rear. It's a compact vehicle with small dimensions, two doors and just two seats. It is targetted at professionals, small families and intra-city taxi operators in the last-mile connectivity business. To put things in perspective, the R3 is as compact as a Bajaj Qute. While the front-end still looks like it belongs to a compact city car, the side profile is where things take a very unconventional approach. This is mostly due to the three-wheel layout.
Inside, the Storm R3 can seat two people in reasonable comfort. It benefits from a stylish dashboard with a triple-screen layout. What's more, the driver's seat is 12-way adjustable and both the occupants have a 3-point seatbelt. Highlights of the equipment list include aircon, electric windows, smartphone connectivity, voice and gesture controls, 20 GB storage for audio unit, navigation system, and 4G connectivity with vehicle health monitoring (SOC, brake pads, motor and power electronic status, etc).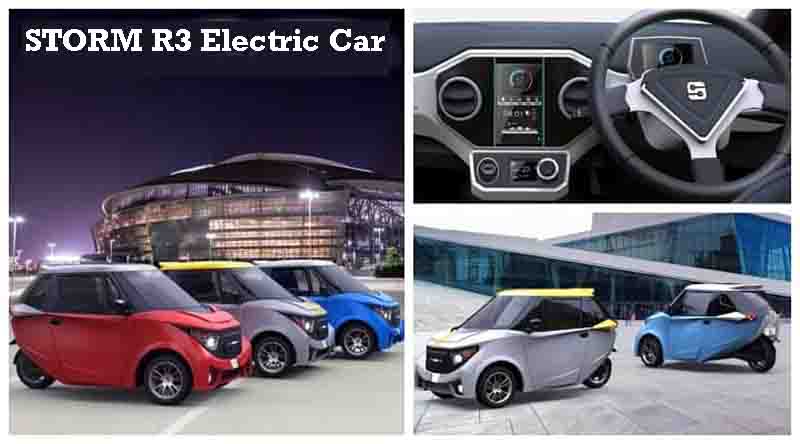 Storm R3 Bookings
Bookings for the cheapest electric car in India have been underway since a few months now. So far the company has not revealed the number of bookings it has received to date but the interested can pre-order their R3 for Rs 10,000. Merely days after the commencement of the bookings earlier this year, the carmaker announced it has garnered USD 1 million (Rs 7.5 crore) from the booking amount it has collected for the vehicle. In the initial stage, the new model will be available only in Mumbai and Delhi NCR (Mumbai, Thane, Navi Mumbai, New Delhi, Gurugram, Noida).
So, will you choose the Storm R3 over a Maruti Alto or a WagonR? Stay tuned to CarBlogIndia for more updates on India's most affordable electric car.
Join our official telegram channel for free latest updates and follow us on Google News here.