Here's a video where you can see two biggies in the off-roading circle including Suzuki Jimny and Renault (Dacia) Duster going against each other.
The fourth-generation Suzuki Jimny has gained immense popularity around the world in very few time. A small boxy SUV with good looks and affordable price tag is wanted by many. In the international markets, there is another capable off-roader that is affordable. Its the Dacia Duster or our very own Renault Duster.
In the European countries, both the SUVs cost under 20,000 pounds making them the cheapest and best options. We are yet to get the Jimny in India but is expected to be priced between Rs 8 to 10 Lakhs. In this video, you can see both the SUVs going through a couple of tests before we get to know which one is more worthy.
Also Read: This Is How The 5-Seater Maruti Suzuki Jimny Might Look Like
First up, Suzuki Jimny is comparatively smaller and comes with a more flexible suspension. The global-spec Jimny gets 4WD, hill descent control, traction control and a low-range transfer case. Over there, it is built on a ladder-frame chassis with 3-link axle and coil spring suspension. However, we will not be getting these features in the India-spec Jimny.
As for the Duster, it also gets the latest AWD, traction control and hill descent control. Compared to the Jimny, the approach and departure angles of the Duster are not that impressive. Where Jimny manages to overcome a big hurdle, Duster might just get its bottom scraped.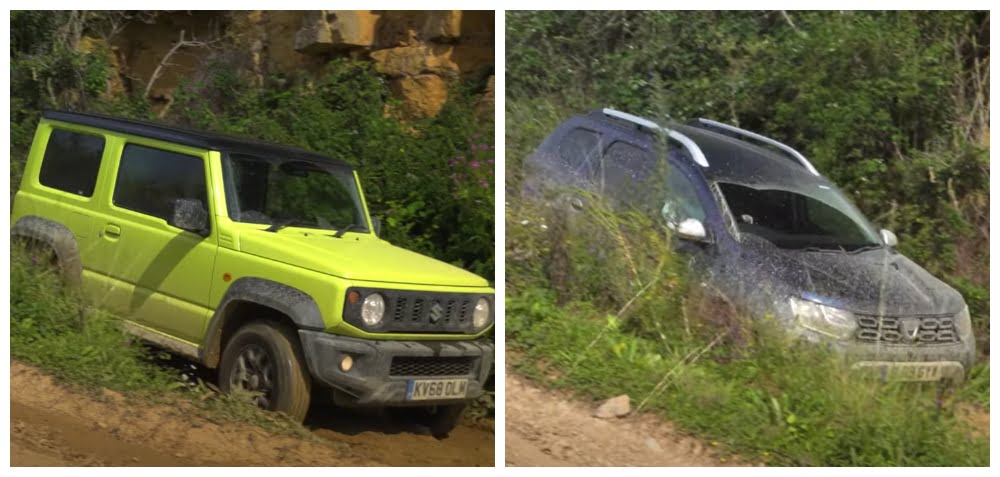 As you go towards the end of the video, you will get the verdict that Jimny is more suited for off-roading. However, Renault (Dacia) Duster comes out as a better car when it also comes to your regular driving. The speaker says that Jimny has many flaws when it comes to your on-road driving. Also, Duster has a torquey diesel engine whereas Jimny goes with a humble petrol unit.
Also Read: Renault Duster Turbo To Be More Powerful Than Seltos, Creta And Hector
Maruti is likely to launch the Jimny towards the end of this year or early 2021. It will get the same global-spec 1.5 Litre four-cylinder petrol engine that produces 104 BHP. Unlike the 3-door version in the global markets, the India-spec will be a 5-door version.