Drag races are increasingly becoming the norm to test the performance of bikes these days. Here is one with the Suzuki V Strom SX 250 and Yamaha R15V4.
This drag race between Suzuki V Strom SX 250 and Yamaha R15 V4 leads to shocking results. While this competition might seem a bit illogical at first, considering the vast difference in the specifications of the two motorcycles, the YouTuber mentions that people want to see how well their bike performs irrespective of which segment it belongs to. In this case, the R15 is more of a sports bike, while the Strom is more of an adventure bike. Nevertheless, let us check out how well each of these performs.
You may also like: Honda H'ness 350 vs RE Bullet Electra 350 Drag Race
You may also like: Drag Race- KTM RC200, RS200, Bajaj F250, N250, Yamaha R15
Suzuki V Strom vs Yamaha R15V4 Drag Race
The YouTuber finds an empty stretch of road to conduct this drag race. However, we would like to caution our readers to not perform such stunts on your own. Now, we can safely assume that the YouTuber and his team must have taken all the necessary precautions. In the first attempt, the Suzuki zips past the Yamaha and stays ahead for a long time. Finally, the wind blast gets too strong causing the R15 to overtake the Strom after a long time. At the end of round 1, the R15 emerges victorious.
You may also like: Bajaj Pulsar F250 vs Yamaha R15M Drag Race – Guess Who Wins
A similar trend followed in the second round as well. To maintain consistency and accuracy of the results, the riders were swapped this time around. Just like the first round, the Strom has a big acceleration advantage in the beginning. This time, the riders were racing in the direction of the wind. Having stayed ahead throughout the duration of the race, R15 still managed to overtake the Strom by the end of the race emerging as the undisputed winner. The wind-blast management of the R15 is much superior to the Suzuki which is normal for a sports bike.
You may also like: Can 2022 KTM RC125 Win a Drag Race With RE Bullet 350?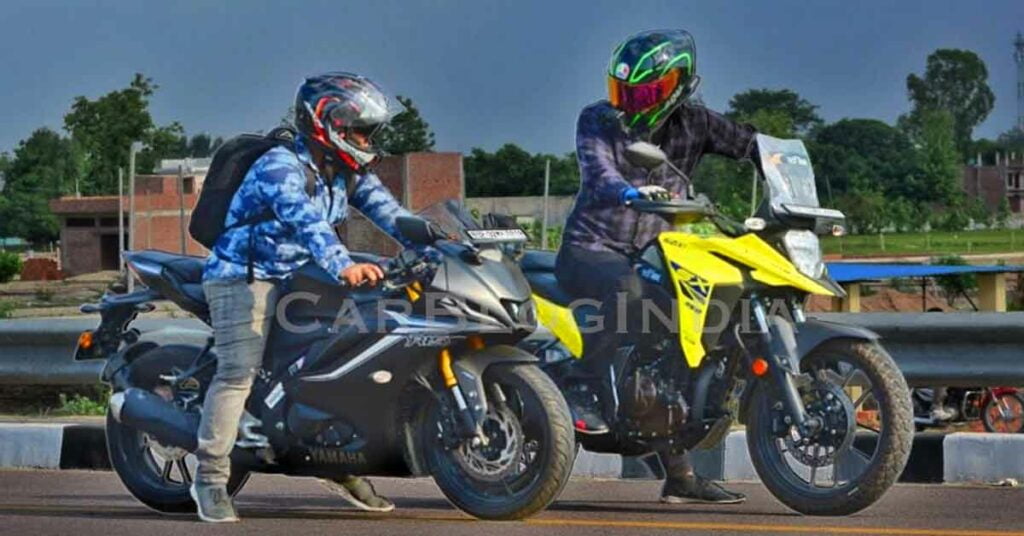 Specs Comparison
The Suzuki V Strom SX 250 comes with a 249-cc single-cylinder oil-cooled engine that produces 26.5 PS and 22.2 Nm of peak power and torque. This engine is mated to a 6-speed gearbox and comes with a dual-channel ABS for both wheels. On the other hand, the Yamaha R15V4 comes with a 155-cc single-cylinder liquid-cooled engine that outputs 18.4 PS and 14.2 Nm of peak power and torque mated to a 6-speed gearbox. It is impressive to see the R15 beat the Strom despite a huge advantage in terms of specs.
Join our official telegram channel for free latest updates and follow us on Google News here.