These YouTubers have taken the concept of drag race to another level by conducting a simultaneous race between 5 popular bikes in our market.
A bunch of YouTubers got together and decided to drag race 5 bikes at the same time including KTM RC200, Bajaj Pulsar F250, N250, RS200 and Yamaha R15. Now, all these bikes, excluding the R15, possess almost similar engines with almost identical power outputs. This is what makes this race so interesting. People looking to buy any one of these could get a fair idea of the kind of real-world performance to be expected from these bikes. Let us check out who came out on top in this unique competition.
You may also like: Bajaj Pulsar F250 vs Yamaha R15M Drag Race – Guess Who Wins
You may also like: Can 2022 KTM RC125 Win a Drag Race With RE Bullet 350?
Drag Race – RC200 vs N250 vs F250 vs RS200 vs R15
All the YouTubers are creating this video with each one having his own bike. For reference, apart from the R15, all the other 4 bikes produce power in the range of 24-25 PS. The Yamaha R15 produces only 18.4 PS power which is also evident from the way it performed. In the first attempt, 3 out of 5 riders began the race early which was a bit unfortunate. However, soon enough all the bikers were within a short distance of one another. Only the R15 struggled a bit. Eventually, the F250 and N250 twins managed to clinch the top spot.
You may also like: Yezdi Scrambler vs Royal Enfield Scram 411 Drag Race
In order to make the results more consistent and accurate, the bikers decided to switch the bikes for Round 2. However, this time around, the race began fairly. We were able to witness the true performance comparison of all the 5 bikes. It became evident that the Pulsar 250 twins were ruling the roost from the beginning to the end. The initial push by the Bajaj Pulsars is quite impressive leaving behind the competition.
You may also like: KTM Duke 250 vs Bajaj Pulsar N250 Go Head to Head in a Drag Race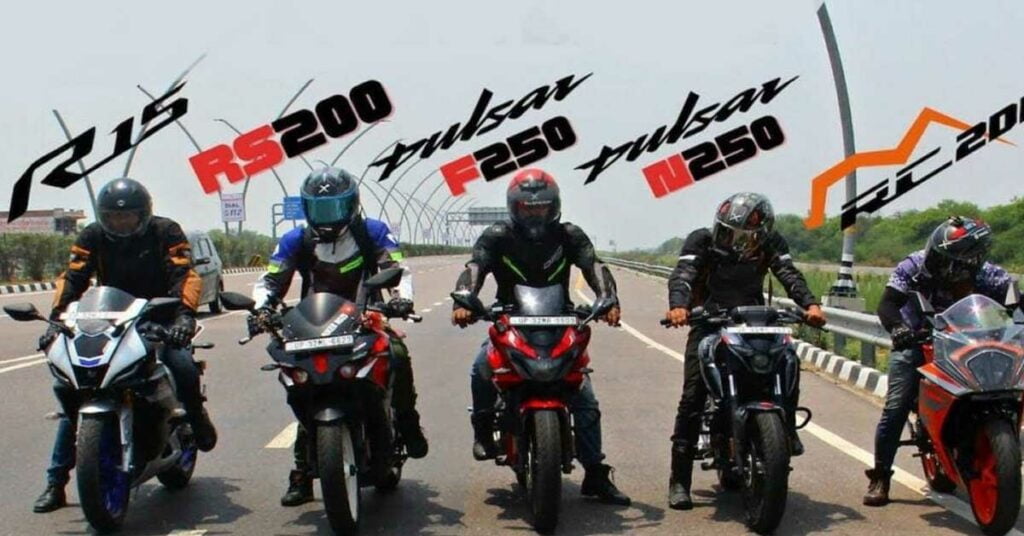 Finally, the F250 and N250 managed to become victorious with the KTM RC200 finishing a close 3rd due to its great performance at high speeds. The Pulsar RS200 performed according to its capabilities and the Yamaha R15 came in last, unsurprisingly. Still, the fact that it was able to compete with the other bikes with larger engines is commendable. But this mega drag race between RC200, F250, N250, RS200 and R15 unequivocally indicates the sheer performance level of the Pulsar bikes.
Join our official telegram channel for free latest updates and follow us on Google News here.