Drag racing two bikes side by side is one of the most effective ways to test the real-world performance if done in a safe environment.
A famous YouTuber has brought a drag race or acceleration test of the Yezdi Scrambler and RE Scram 411. These two bikes are, essentially, similar in the sense that both these are designed to carry the light-weight bike design with plenty of rugged elements to even tread off-road. The Scram 411 is based on the adventurous Himalayan and Yezdi has revived itself to begin its second innings with products like the Scrambler. Let us check out who comes out on top in this drag race.
You may also like: 2021 Royal Enfield Classic 350 VS Meteor Drag Race!
You may also like: Yezdi Roadster Challenged by Bajaj Pulsar N250 in Drag Race – VIDEO
Yezdi Scrambler vs RE Scram 411 – Drag Race
The YouTuber mentions that they plan to test the performance of these two bikes on the expressway. However, we would like to ask our readers to not perform such stunts on public roads for your safety. The YouTuber and his team must have taken all the safety precautions. For the first attempt, the Scrambler lags behind a bit but the rider mentions that he has missed a gear and decided to do the race again. In the second attempt, both the riders achieved near-perfect launches. The bikes remain close to each other for quite sometime before the Scrambler starts to take a decisive lead and the Scam 411 limping behind. The Yezdi won this first round quite comfortably.
You may also like: WATCH Yezdi Scrambler Vs Royal Enfield Meteor 350 In A Drag Race
Specs Comparison
For the second attempt, the riders are switched to ensure consistent results despite the different driving behaviours of the riders. However, what did not change is the result. The Scrambler trounced the Scram 411 quite confidently. The 411-cc engine of the Scram 411 outputs 24.3 PS and 32 Nm of peak power and torque. This engine is mated to a 5-speed manual gearbox. The price range from Rs 2.03 lakh to Rs 2.08 lakh, ex-showroom.
You may also like: KTM Duke 250 vs Bajaj Pulsar N250 vs Yamaha FZ25 – Drag Race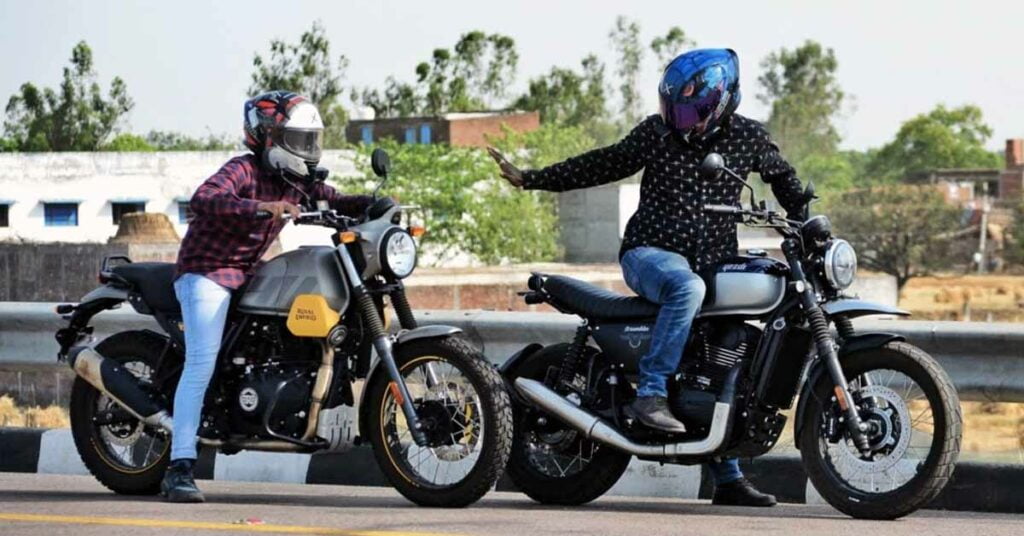 On the other hand, the Yezdi Scrambler is powered by a 334-cc liquid-cooled engine that produces 29.1 PS and 28.2 Nm of peak power and torque. This engine is mated to a 6-speed engine. The prices of the Scrambler range between Rs 2.04 lakh and Rs 2.10 lakh, ex-showroom. The advantage of the power is what led Scrambler to dominate Scram 411 so convincingly. Let us know what you think about this drag race between the Yezdi Scrambler and Royal Enfield Scram 411.
Join our official telegram channel for free latest updates and follow us on Google News here.