The drag Race method is becoming the go-to technique for users to test the real-world performance of their motorcycles.
Now, a drag race between a Royal Enfield Bullet and KTM RC125 may not seem all that interesting at first glance, but you would be surprised to see the results. The Bullet is an iconic tourer bike in the country that has been around for decades. It has not lost its charm at all and continues to reel in new customers. On the other hand, a lot of younger generation riders are impressed by the design and performance of the RC125 despite having a smaller engine. Hence, a competition of some sort between these two is warranted.
You may also like: Ola S1 Pro vs KTM Duke 390 Drag Race
You may also like: Bajaj Pulsar N250 vs Yamaha R15 V3 in Classic Drag Race
RE Bullet vs KTM RC125 Drag Race
For this race, there are two YouTubers shooting this video for their respective channels. One is prepared to ride the Bullet first and then they would switch to make the results more consistent and accurate. In the first round, the bikes launched at almost a similar level. However, the Bullet began to develop a short lead from the RC125, which is quite interesting. Then, for the longest time, the KTM was not able to catch hold of the retro cruiser. It is only after around 120 km/h speed, that the RC125 was able to overtake the Bullet.
You may also like: Yezdi Scrambler vs Royal Enfield Scram 411 Drag Race
For the second attempt, the bikers switched their rides and began the race. Just like the previous round, the Bullet launched cleanly and took off leaving the KTM behind. You can hear from the commentary of both the YouTubers that they were not expecting the Bullet to be this quick. Nevertheless, the Bullet was ahead until around 120 km/h after which the KTM started getting the advantage of its fairing to beat the wind blast. In the end, KTM was ahead in the long run but the Bullet was a clear winner from the start until the speed of 120 km/h.
You may also like: KTM Duke 250 vs Bajaj Pulsar N250 Go Head to Head in a Drag Race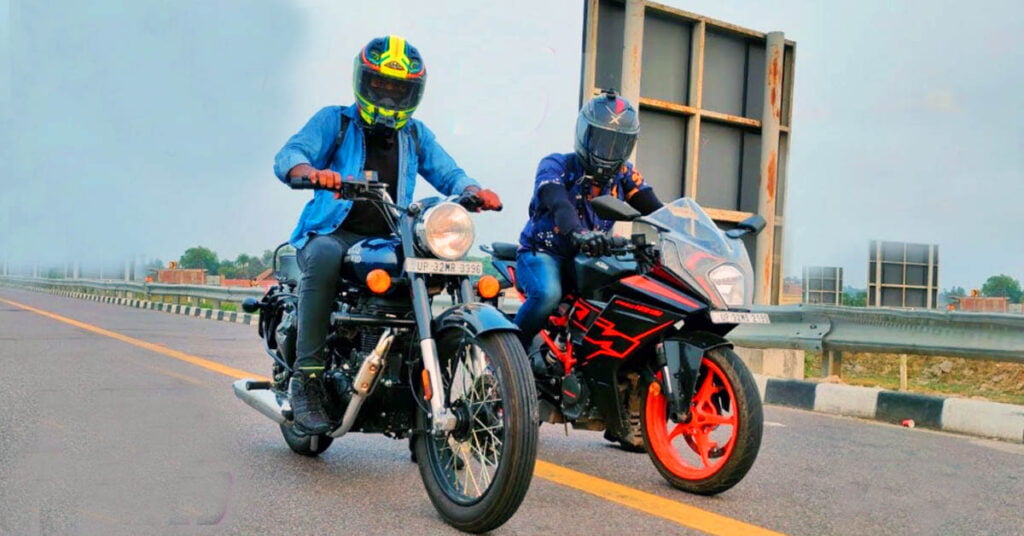 We would like to advise our readers to not perform such stunts on the road yourself. The YouTubers may be professionals and they must have taken all the safety precautions before attempting such activity on a highway. But you would be risking your lives, as well as the lives of others if you do this on your own. Do share your thoughts about this unique drag race between the RE Bullet and KTM RC125.
Join our official telegram channel for free latest updates and follow us on Google News here.