This drag race throws up some interesting observations regarding the functionality of fairing in motorcycles which decides the winner in this case.
A YouTube video shows a complete drag race between a Bajaj Pulsar N250 and a Yamaha R15 V3. Both these are quite popular options in the segments. Pulsar has various iterations that make it eligible to compete against almost all the entry-level products in the market. That is what makes it so popular. On the other hand, a few bike enthusiasts choose to buy a Yamaha product due to its sportier looks and impressive riding characteristics. Which one will come out on top in this drag race?
You may also like: Yezdi Scrambler vs Royal Enfield Scram 411 Drag Race
You may also like: KTM Duke 250 vs Bajaj Pulsar N250 vs Yamaha FZ25 – Drag Race
Bajaj Pulsar vs Yamaha R15 V3 – Drag Race
The YouTuber often shoots such videos where he drag races popular bikes to show their real-life performance on the highways. However, we would like to warn you to not perform such stunts on the roads. These could be highly dangerous. The YouTuber must have taken all the safety precautions as he keeps doing these activities regularly. In the first attempt, both the bikes started off head-to-head but the N250 took a slight lead due to its better acceleration. But the gap between the two was never too much. At high speeds, the fairing of the R15 helped come at the same level as the N250. In the end, there was no single winner in this race.
You may also like: Yamaha R15 vs Ola S1 Pro – One of a Kind Drag Race
In the second round, the riders were swapped to maintain consistency of the results and the bikes began racing with less wind blast. This time around, the bikes were able to achieve a top speed of 150 km/h which was electronically limited. In the first attempt, the top speed was around 141 km/h for both bikes. The second round saw both the bikes side-by-side yet again. The initial push by the Pulsar is quite strong but the fairing of the R15 helps it in high-speed scenarios. Ultimately, the R15 triumphed due to a better performance in the face of wind blast.
You may also like: 2021 Royal Enfield Classic 350 VS Meteor Drag Race!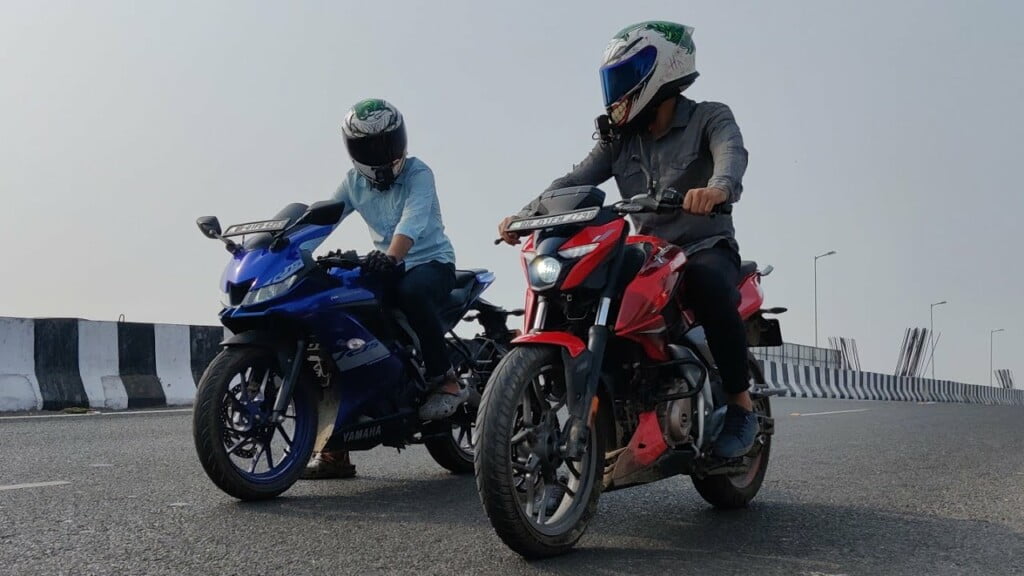 This drag race between the Pulsar N250 and R15 V3 brings out the impressive initial acceleration of the Pulsar and the high-speed stability of the Yamaha. Let us know which among these is your favourite and why.
Join our official telegram channel for free latest updates and follow us on Google News here.