Drag races between various bikes is common but such a race between various powertrains is something that we don't see all that often.
This is a unique drag race between a Yamaha R15 and an Ola S1 Pro. Now, we understand that this might not seem like an obvious rivalry but we have heard so much about the instant torque boost which is an inherent characteristic of EVs. Additionally, the Hyper mode of the Ola S1 Pro is quite famous for being exceptionally quick. Hence, it makes sense to test it against the popular R15 which is the go-to motorcycle for people looking for a mild performance bike.
You may also like: Ola S1 Pro Owner Shares HONEST Review of e-Scooter
You may also like: Ola S1 Pro vs Ather 450X – Drag Race In All Drive Modes
Yamaha R15 vs Ola S1 Pro – Drag Race
The YouTuber decides to performance this drag race on a busy road. We would like to urge our readers not to perform such events on roads. It could jeopardize the safety of not only the racers but also of other people. These people must've taken some safety measures that one might not be able to see on the video. Let us begin with the race. In the first attempt, the Ola S1 Pro is put in Normal Mode. As a result, the result is quite one-sided with the R15 simply destroying the S1 Pro. It is nowhere to be seen right from the beginning.
In the second round, the electric bike is put in Sport Mode improving the throttle responses. In this round, the S1 Pro barely manages to keep up with the R15 for a brief moment in the beginning but the R15 loses the S1 Pro soon. There is no match after the initial few seconds. In the final attempt, the S1 Pro races in its most aggressive Hyper Mode. Surprisingly, the e-scooter takes a lead after a few moments and went on to win the round. However, it was later discovered that there was some problem with the R15 and they have a rematch.
You may also like: WATCH Top Speed & Acceleration Test of Ola Electric Scooter in All Modes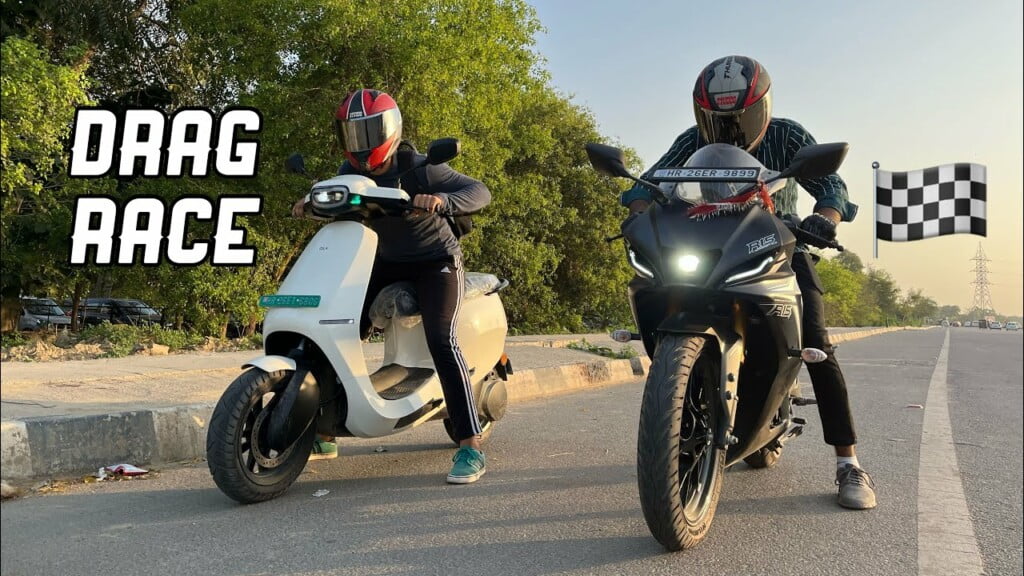 You may also like: Yamaha RX15 Is The Best Of Both The Worlds!
In the rematch, the Ola scooter displayed a strong performance but lost in the end. This signifies that while these two are no direct adversaries, the Ola could still be quite a challenge for a lot of budget bikes to overcome, especially in its Hyper Mode.
Join our official telegram channel for free latest updates and follow us on Google News here.