Ola Electric Scooter has created a lot of buzz around its performance and price. But how does it ride in various driving modes in terms of top speed and acceleration?
This video represents the acceleration and top speed tests of the Ola Electric Scooter. The video has been uploaded by a YouTuber and the tests have been performed on a highway. Ola Electric comes as an attractive offering after applying the government schemes and subsidies to the price. However, there were a few reservations from the industry experts and owners alike where the scooter doesn't perform well. Be that as it may, this video brings the top speed and acceleration numbers to the fore quite vividly.
Also Read: Ola Scooter Suffers from Broken Suspension While in Use
Also Read: Ola FutureFoundry Engineering & Design Centre Set Up in the UK
Ola Scooter Top Speed & Acceleration Tests
In the first attempt, the YouTuber puts the e-scooter in Normal Mode and achieves 0-40 km/h in 5.9 seconds and 0-60 km/h in 8.15 seconds with the top speed of 80 km/h. In the second run, the YouTuber puts the scooter in Sports Mode and gets a 0-40 km/h sprint in 4.7 seconds, 0-60 km/h in 6.11 seconds and a top speed of 95 km/h. For the final attempt, the scooter is in Hyper Mode where 0-40 km/h comes up in 3.10 seconds, 0-60 km/h comes up in 5.12 km/h and the top speed achieved is 115 km/h. All these figures are directly taken from the information screen installed in the Ola Scooter itself.
Also read: Ola S1 Pro Owner Puts ARAI Claim to Shame!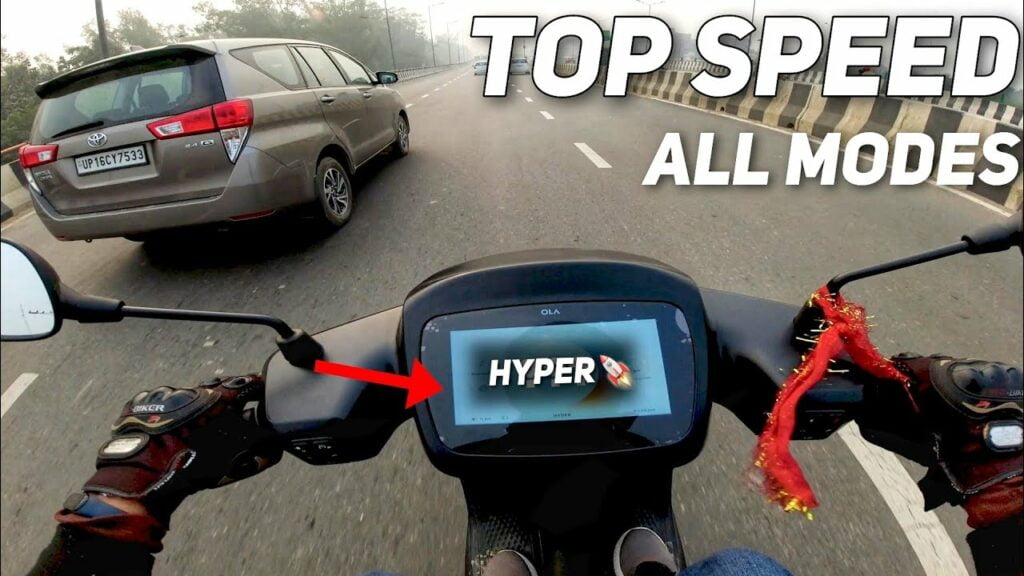 Specs
The Ola S1 has a battery pack of 2.98 kWh while the S1 Pro has a 3.97 kWh. Both these are good for 11.4 hp and 58 Nm of peak power and torque respectively. The 0-60 km/h is achieved in 7 secs for the S1 and in 5 secs for the S1 Pro. The regular home charger takes around 4 hours 48 mins to charge the battery completely in S1 and 6 hours 30 mins for the S1 Pro. The range of the S1 is a healthy 121 km and the S1 Pro is an impressive 181 km. The price of the S1 is Rs 99,999 and the S1 Pro is Rs 1,29,999. The sale is exclusively online and the scooters will be delivered to you at your doorstep. After the Fame – II subsidies, the prices of both these products will be reduced significantly. Check the subsidies in your state to avail all the discounts.
Also read: Good News for Buyers of Ola S1 – Free Upgrade to S1 Pro
Join our official telegram channel for free latest updates and follow us on Google News here.