An Ola S1 Pro user claims to have broken the ARAI claim of 181km range. The Ola co-founder claims that it can even got 200km.
Last month, Ola Electric finally started the delivery process of their much-anticipated S1 and S1 Pro electric scooters in India. Ever since it was first announced, the electric vehicle has been in news for a while now. Several segments claimed that the actual real-world range of the Ola S1 is much lower than the advertised ARAI range. Now, user reviews have started coming out. The Ola S1 Pro scooter is touted to deliver an ARAI-certified riding range of 181 km. However, a user shared online that his vehicle reached the 187km mark. Let's take a look at how Ola Scooter Buyer Puts ARAI Claim to Shame!
Also Read- Bad News for Buyers of Ola S1 – Deliveries to Now Start in Late-2022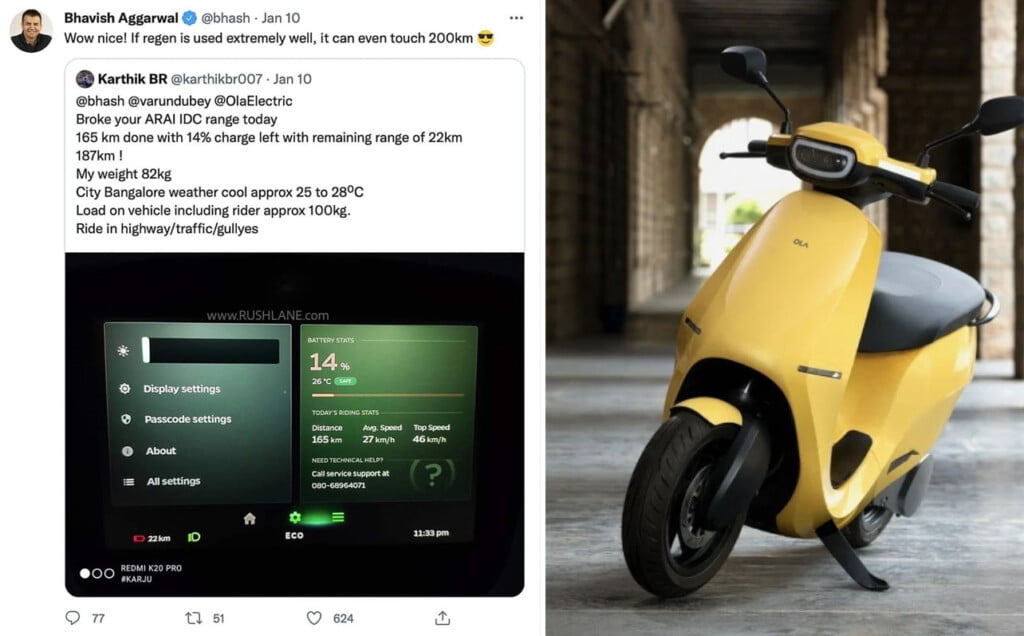 Also read: With Claim of 10 Million Capacity, Why Just 111 Ola Scooters Were Sold in…
An Ola S1 Pro user, Karthik BR shared his experience of driving the electric scooter on Twitter. As you can see in the image above, he claims that his unit broke the ARAI IDC range. They manage to get up to 165km done with a 14% charge left. The vehicle has the remaining range of 22km, bringing the total to 187km. However, it is to be noted that the range shown is not always what you get with electric vehicles. So, please plan your trip accordingly as the speed also slows down after the charge drops below 15%.
Also read: More Issues With Ola Electric Scooters Come To Light With New Deliveries!
Bhavish Aggarwal (co-founder, Ola Cabs) acknowledged the tweet and further claimed that the vehicle can even touch 200km if the regen is used extremely well. Regenerative braking can make a significant difference to the range in city traffic conditions or going downhill. As is the case with most electric vehicles, weather conditions, road quality, and weight on the vehicle affect the distance it can travel. In this case, the Ola S1 Pro was driven in the cool weather of Bangalore city (25-degree to 28-degree). The load on the vehicle was approx 100kg. We can conclude that in normal conditions, users can safely travel up to 165km on a single charge.
Also read: WATCH First OLA S1 Pro Real-World Range Test Ever
The Ola S1 has a battery pack of 2.98 kWh while the S1 Pro has a 3.97 kWh. Both these are good for 11.4 hp and 58 Nm of peak power and torque respectively. While the Ola S1 is touted to offer a range of 121 kilometers, the Pro model's range is rated at 181 kilometers. The electric scooter comes with a portable 750W charger that takes around 4 hours 48 mins to charge the battery completely in S1 and 6 hours 30 mins for the S1 Pro. Users can get up to 75 kilometers of range in just 15 minutes of charging. Ola claims that it is in the process of setting up its 'Hypercharger' network across the country. The Ola S1 comes with a starting price of Rs 99,999. On the other hand, the price of the Ola S1 Pro starts at Rs 1,29,999.
Also read: Ola Electric Scooter Faces Quality Blips and Aftersales Service Issues!
Join our official telegram channel for free latest updates and follow us on Google News here.