Ola Electric has become a mystery for a whole bunch of people after the deadline to commence deliveries of the electric scooters was missed multiple times.
It would be shocking for a whole lot of people to find out how many electric scooters were sold by Ola in December 2021. Ola had created a lot of buzz around the launch of S1 and S1 Pro electric scooters. There were effective and innovative marketing strategies adopted at the time of launch. The booking process was also quite unique which attracted a ton of potential customers. The familiarity of the Ola brand also played a crucial role in people being so welcoming of the new two-wheeler manufacturer. However, at the end of it all, Ola missed the deadlines multiple times and in December, it sold a mere 111 scooters although the claimed manufacturing capacity of Ola is a whopping of 1 Crore annually.
Also read: WATCH First OLA S1 Pro Real-World Range Test Ever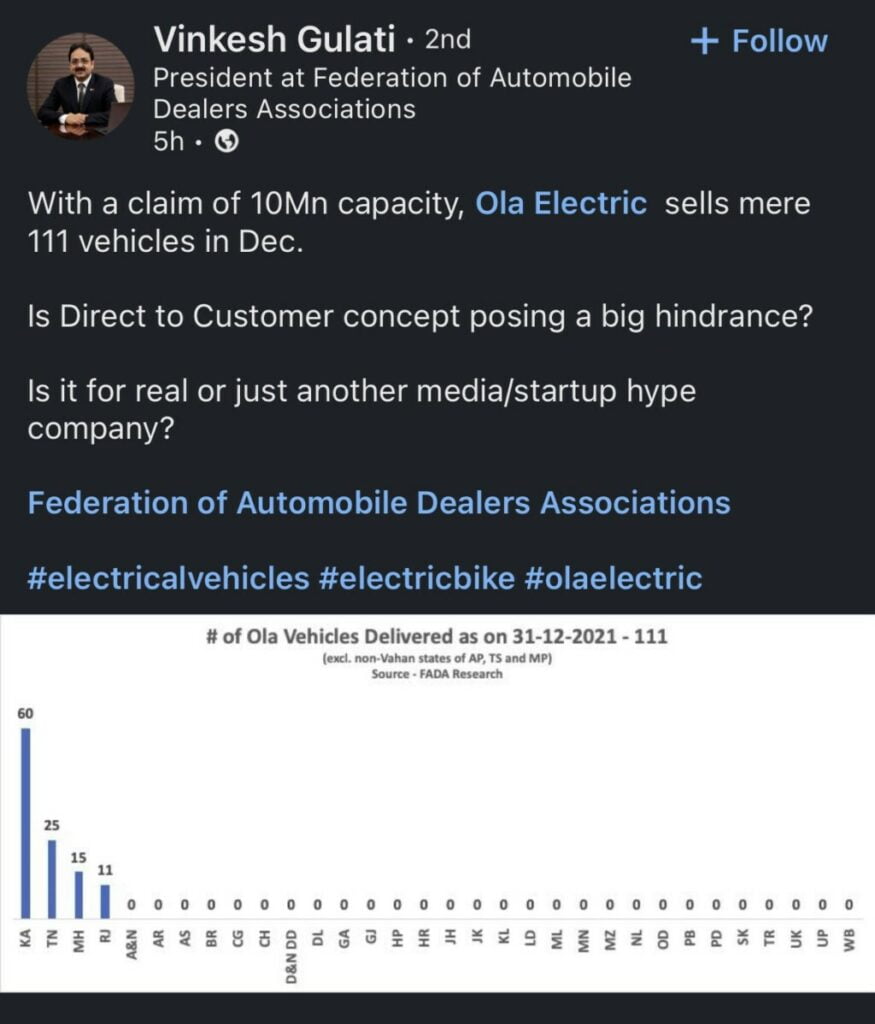 Ola Electric Scooters Sold in Dec 2021
According to the Federation of Automobile Dealers Association, out of 111, 60 scooters were sold in Karnataka, 25 in Tamil Nadu, 15 in Maharashtra and 11 in Rajasthan. With such a huge production capacity, why is it that Ola is struggling with deliveries direct to consumers? Recently, Ola mentioned that the semiconductor supply shortage was also one of the reasons for the delay in the deliveries. There were plenty of issues with the scooter itself that was highlighted during the media drive phase. The bike had software issues and components were malfunctioning as well. After the deliveries, the customers complained about range, malfunctioning and aftersales service support to add to the misery of Ola. All in all, Ola will have to sort a lot of things out to ensure smooth sailing in times to come.
Also read: Ola Electric Scooter Faces Quality Blips and Aftersales Service Issues!
S1 and S1 Pro
The Ola S1 has a battery pack of 2.98 kWh while the S1 Pro has a 3.97 kWh. Both these are good for 11.4 hp and 58 Nm of peak power and torque respectively. The 0-60 km/h is achieved in 7 secs for the S1 and in 5 secs for the S1 Pro. The regular home charger takes around 4 hours 48 mins to charge the battery completely in S1 and 6 hours 30 mins for the S1 Pro. The range of the S1 is a healthy 121 km and the S1 Pro is an impressive 181 km. The price of the S1 is Rs 99,999 and the S1 Pro is Rs 1,29,999. The sale is exclusively online and the scooters will be delivered to you at your doorstep. After the Fame – II subsidies, the prices of both these products will be reduced significantly.
Also read: Watch Ola Electric Scooter Performing Stunts Like a PRO!