In a cool video showing off the capabilities of the Ola electric scooter, some professionals are seen performing stunts on the two-wheeler. Ola scooter has been the talk of the Indian electric vehicles ecosystem for quite some time now. It promises to be a great mobility solution for a sustainable future. Many people are already impressed by the capabilities Ola electric scooter and this short video will further boost their trust in the product. Ola has entered the EV market will two products, namely the S1 and S1 Pro. Let us take a look at what the stunts team has come up with.
Also read: After Ola CEO, Now Ather Owns Rajiv Bajaj In Reply to His Cheeky Comment!
Ola Electric Scooter Riders Perform Stunts
The video encompasses a plethora of stunts by professionals. We urge all of you to not try these yourselves. These stunts are performed in a controlled environment with proper safety measures in place. The initial few seconds of the video show the bikers going over a platform at some speed. That is a more regular part of the stunts. But then as the video clip progresses further, the stunts start getting much more serious. The two stuntmen are able to do a wheelie, a stoppie while standing on the seat of the scooter. Thereafter, there is a toned-down version of a round drift as well with smoke coming out of the tyres. The tyre marks are engraved on the road below. These few stunts clearly showcase the capabilities of the Ola electric scooter.
Also read: Ola Electric Scooter Dealership Allotment Fraud Comes to Light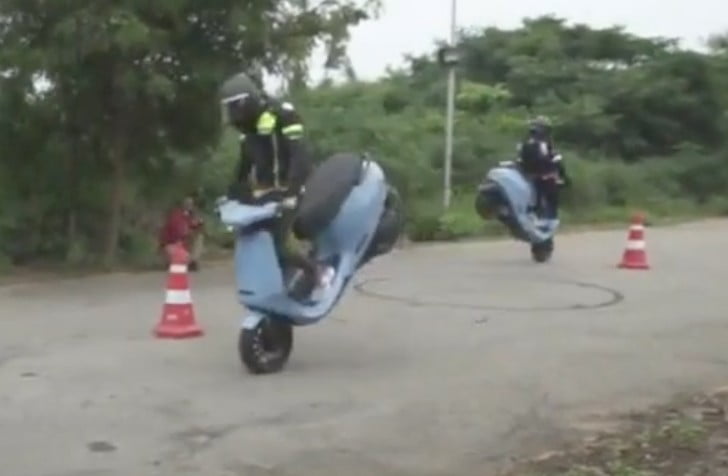 Specs
The Ola S1 has a battery pack of 2.98 kWh while the S1 Pro has a 3.97 kWh. Both these are good for 11.4 hp and 58 Nm of peak power and torque respectively. The 0-60 km/h is achieved in 7 secs for the S1 and in 5 secs for the S1 Pro. The regular home charger takes around 4 hours 48 mins to charge the battery completely in S1 and 6 hours 30 mins for the S1 Pro. The range of the S1 is a healthy 121 km and the S1 Pro is an impressive 181 km. The price of the S1 is Rs 99,999 and the S1 Pro is Rs 1,29,999. The sale is exclusively online and the scooters will be delivered to you at your doorstep. After the Fame – II subsidies, the prices of both these products will be reduced significantly. Check the subsidies in your state to avail all the discounts. Ola has announced that it will take further orders once it fulfills the deliveries of the current lot.
Also read: Ola Electric Scooter To Get Rs 50,000 Discount Right From Launch
Join our official telegram channel for free latest updates and follow us on Google News here.