Ola Electric had created a lot of buzz around the arrival of S1 and S1 Pro electric scooters in the market. However, they missed the delivery deadlines a couple of times. But the problems have persisted even after the deliveries.
The deliveries of the Ola Electric scooters have officially commenced and so have the issues. The two-wheeler segment entrant had promised a world to the customers. The plan was to launch modern electric scooters and grab a chunk of market share before the space gets too crowded. However, it missed the deadlines to start deliveries multiple times. When the deliveries finally began, the customers shared their horror stories on social media regarding the issues faced by them in the brand new Ola Electric scooters. We had previously reported some of these stories already. Here are some new ones added to that list.
Also read: WATCH First OLA S1 Pro Real-World Range Test Ever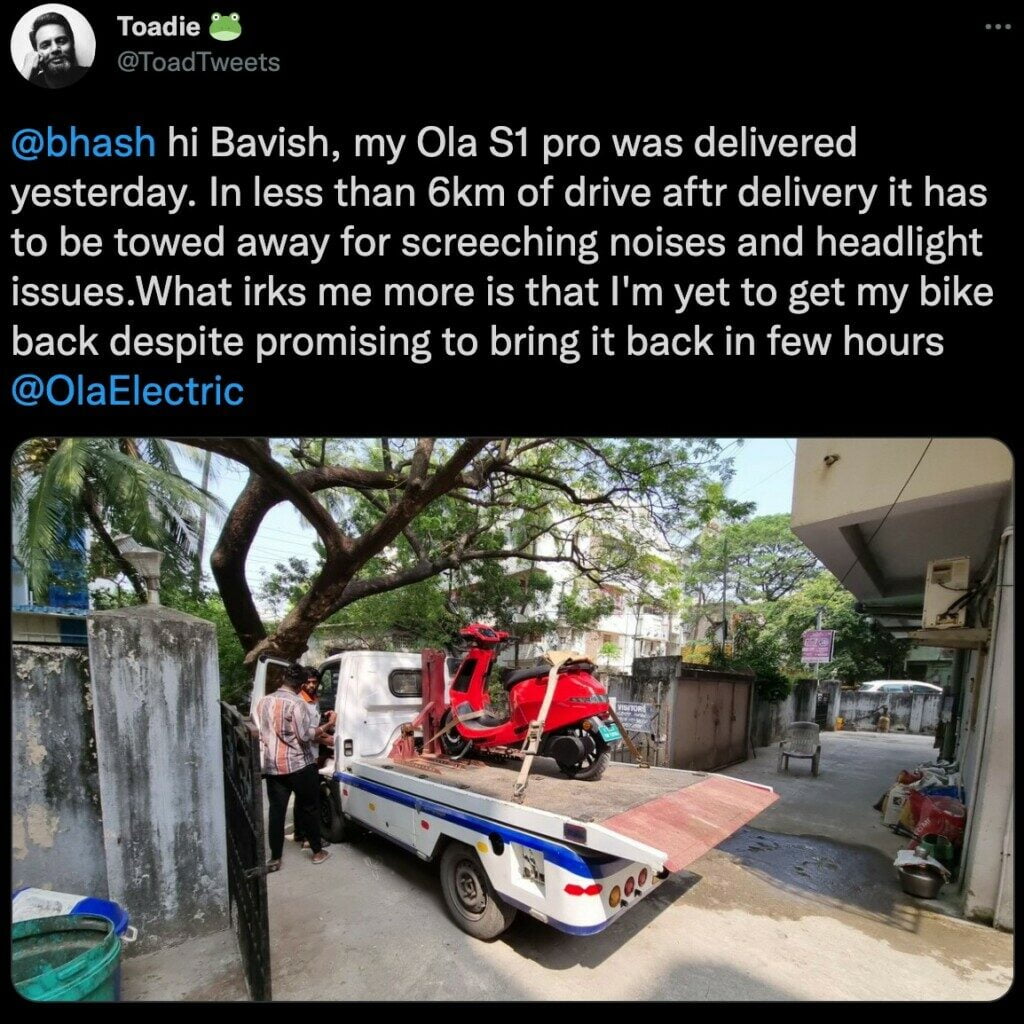 Ola Electric Issues After Deliveries
Bhavish Aggarwal, CEO at Ola Electric, tweeted that all the scooters that were booked have been dispatched by the company. These two-wheelers will be reaching the delivery centres soon and some of them have already been delivered to their rightful owners. He mentions that the registration process has taken a bit longer time than he had initially anticipated. On the other end of the spectrum, the Ola scooter owners who have received the bikes are taking to social media to voice their concerns regarding the problems in brand new bikes. We had reported about the guy whose bike had to be towed away after driving just 6 km and when it came back, it had scratches on the body and a broken number plate. Another man had dents and cracks on the body of the Ola Electric at the delivery.
Also read: Ola Electric Scooter Faces Quality Blips and Aftersales Service Issues!
In yet another such case, the electric scooter owner paid Rs 7,471 for the insurance. However, when he received the documents, the amount mentioned in that was Rs 6,695. This is quite bizarre and he writes to the manufacturer. But he is awaiting a response from them. All these instances will most likely throw off a lot of potential buyers and even the ones who have booked the bike, might not be too comfortable hearing about it. The bike had already registered many discrepancies during the media drives with software and throttle response. Many people are also complaining about the range of the EV. We hope that Ola sorts out these issues as quickly as possible before the customers start losing faith in the bike maker completely.
Also read: What Ather CEO Said About Market Valuation Will Shock You!
Join our official telegram channel for free latest updates and follow us on Google News here.