The trend of petrol vs electric drag races continues and we have quite distinct produce this time around, and not just from the powertrain perspective.
This video captures a drag race between the popular KTM Duke 390 and the Ola S1 Pro. Now, we understand that these two products only have one thing in common: they are two-wheelers. All the others things about these two products are completely different. Hence, this makes for an interesting competition to understand which product is suitable for a certain type of application.
You may also like: Honda Activa 5G vs Ola S1 Pro – Petrol vs Electric Drag Race
You may also like: Yezdi Scrambler vs Royal Enfield Scram 411 Drag Race
Ola S1 Pro vs KTM Duke 390 – Drag Race
The YouTuber hails from Himachal Pradesh which is why there are the trademark twisting roads where the bikers have gathered. To be honest, this video doesn't necessarily feature a full-blown head-to-head drag race but it gives us an idea of what to expect from the peppy electric scooter and the petrol-powered muscular KTM Due 390. Moreover, the YouTuber gives us an idea of the running cost comparison of both these two-wheelers, which is quite fascinating.
You may also like: Yamaha R15 vs Ola S1 Pro – One of a Kind Drag Race
The YouTuber rides his Ola S1 Pro through the tiny streets of a small town. With him are his friends on the KTM Duke 390. The winding sections of the road are not the best stretches to check out the top speeds or perform a drag race. Nevertheless, it captures the everyday conditions where most people will find themselves. The KTM Duke, as its owner mentions, gives a mileage of roughly 23 km/l. That is not bad considering it is a bulky bike designed for maximum performance. The YouTuber calculates the running costs to be somewhere around Rs 6 per km.
You may also like: Ola S1 Pro vs Ather 450X – Drag Race In All Drive Modes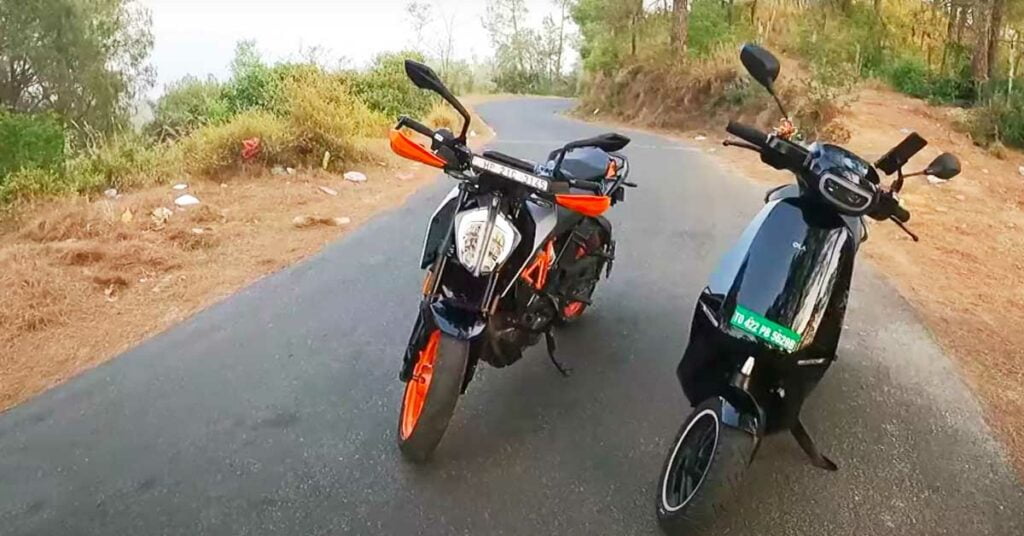 On the other hand, the running cost of the Ola electric scooter is a mere Rs 0.10 per km, according to the electricity rates in Himachal Pradesh. It must be mentioned here that the power rates in the mountain state are considerably low compared to the metro cities resulting in a massive difference in the overall running costs of automobiles. An EV could be a great alternative for people who travel short distances every day, while something like a KTM Duke 390 could serve well for people looking for highway trips.
Join our official telegram channel for free latest updates and follow us on Google News here.