The concept of drag racing two automobiles have become increasingly popular lately to determine the one with the better performance.
Here is a class drag race between a Honda Activa 5G and an Ola S1 Pro. The two scooters represent petrol and electric powertrains respectively. Activa is arguably the most popular scooter in the country. It has been a segment leader for the longest time. Ola S1 Pro is an electric scooter that has been making a lot of buzz around the EV space in the country. Let us see how do these two scooters perform in a drag race.
You may also like: Ola Electric Scooter Gets Move OS 3, 50 New Features Unlocked!
You may also like: Yamaha R15 vs Ola S1 Pro – One of a Kind Drag Race
You may also like: Ola S1 Pro vs Ather 450X – Drag Race In All Drive Modes
Honda Activa 5G vs Ola S1 Pro – Drag Race
The YouTuber plans to perform the drag race with all three modes in the S1 Pro. In the first attempt, the S1 is put in normal mode. As a result, the Activa is able to run ahead quite effortlessly and the gap created by it is considerable. They perform the race again, but the result remained the same. For the 3rd take, the S1 Pro is put in Sport mode. This time around, the Ola beat the Activa by the end while the beginning was almost neck-to-neck. The Sport mode unleashes more power compared to the Normal mode in the S1.
For the next two attempts, the S1 is put in its sportiest settings with Hyper mode. In this mode, there is all the power available making the race almost boring. The Activa was no competition to the S1 Pro in the Hyper mode and it lost to the latter both times quite comprehensive.
You may also like: Ola Allegedly to Sue if Owner Doesn't Take Down Social Media Posts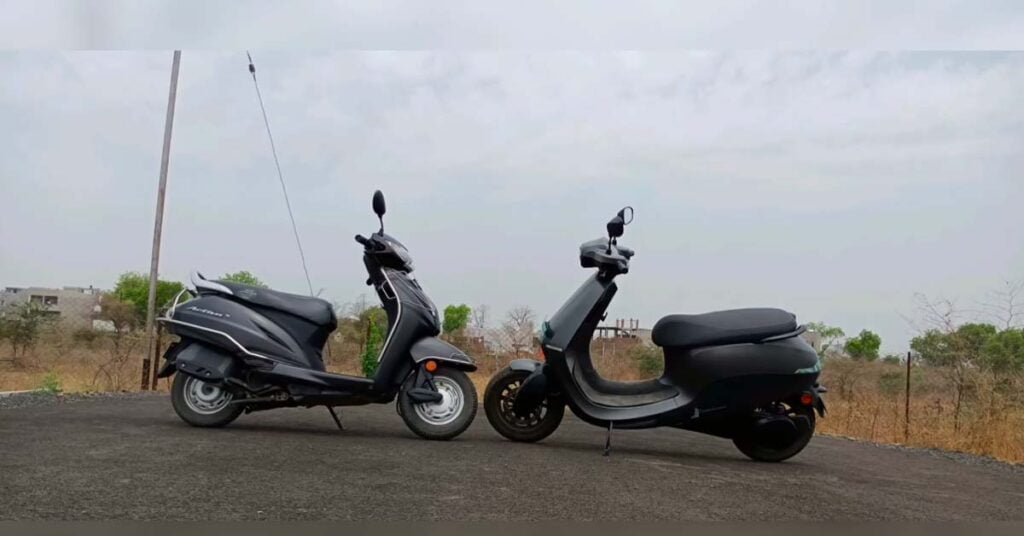 You may also like: WATCH Honda Activa Hybrid Kit Installation and Ride Impression
Specs Comparison
The Honda Activa 5G comes with a 109-cc engine that produces 7.96 PS and 9 Nm of peak power and torque. The scooter weighs 109 kg and the company claims a top speed of 83 km/h. On the other hand, the Ola S1 Pro comes with an electric motor that outputs 11.5 PS and 58 Nm of peak power and torque. It weighs 125 kg and reaches the top speed of 115 km/h in Hyper mode. The price of the Ola S1 Pro is Rs 1.10 lakh while the Activa 5G ranges between Rs 48,000 to Rs 58,000. Let us know your thoughts about this classic drag race between the Honda Activa 5G and Ola S1 Pro.
Join our official telegram channel for free latest updates and follow us on Google News here.