The Ola Electric vs Balwant Singh saga has taken a new turn with the EV company asking the customer to remove 'negative' posts from social media within 24 hours.
The rift between Ola electric and Balwant Singh from Guwahati deepens with the company asking the consumer to remove all 'negative' posts from social media within 24 hours. By now, everyone must have been acquainted with the case where the son of Balwant Singh, Reetam Singh was involved in an accident on his Ola S1 Pro electric scooter. Balwant Singh claimed that the crash occurred due to faulty brakes of the scooter. In response, Ola shared the data while analysing the ride of the customer stating that Reetam was overspeeding throughout the night. The accident happened because he applied brake suddenly at high speed and was not able to control the scooter.
You may also like: After Privacy Violation, Ola Electric Uses Dubious Twitter Handles Against Owner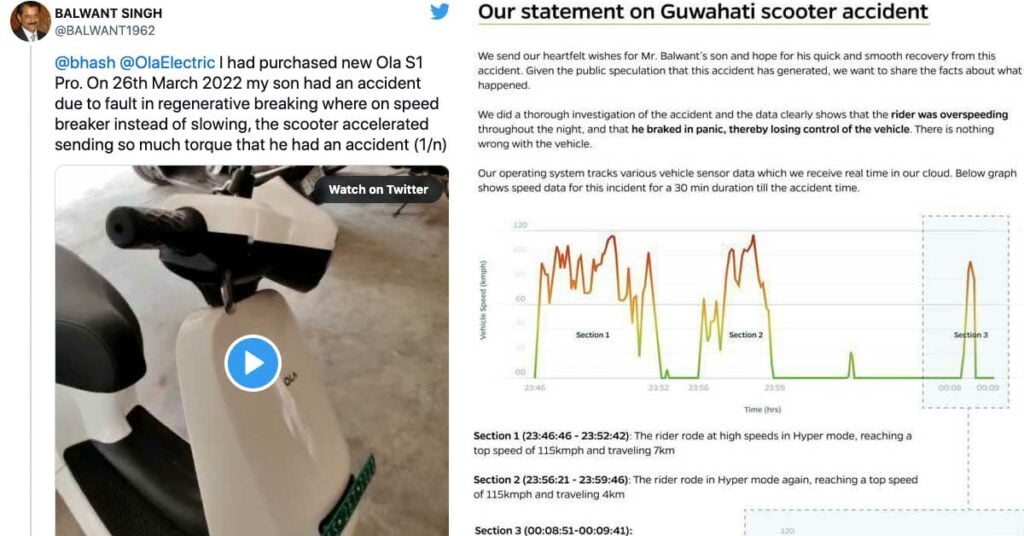 You may also like: Ola Electric Receives Flak For Not Respecting User Privacy
Ola Electric vs Balwant Singh
Balwant Singh took this as a breach of trust by sharing this data publicly. Ola had shared this data via Twitter. Its point is that they didn't reveal any personal information via this tweet. Additionally, Balwant Singh is the one who took to social media to share the details of his son's crash. As a result of this back and forth between the two, the internet is full of news pieces floating around this case. Needless to say, Ola Electric has suffered a lot of negative press because of this. Balwant Singh had served a takedown notice to Ola electric asking it to take that telemetry data down which reveals the details of his son's driving on the night of the crash.
You may also like: Aggrieved Ola S1 Pro Owner Gets His Scooter Towed by Donkey
In the latest development, Ola electric asks Balwant Singh to withdraw his case and delete the 'negative' posts from social media. It sees all this as defamatory and in order to protect its image and counter alleged baseless allegations, Ola has asked his take down all the negative comments within 24 hours. Moreover, Ola also said that they are willing to hold a peaceful discussion in order to come to an amicable solution.
You may also like: Ola S1 Pro Aces Hill Ride with Family, Runs 26km on 0% Battery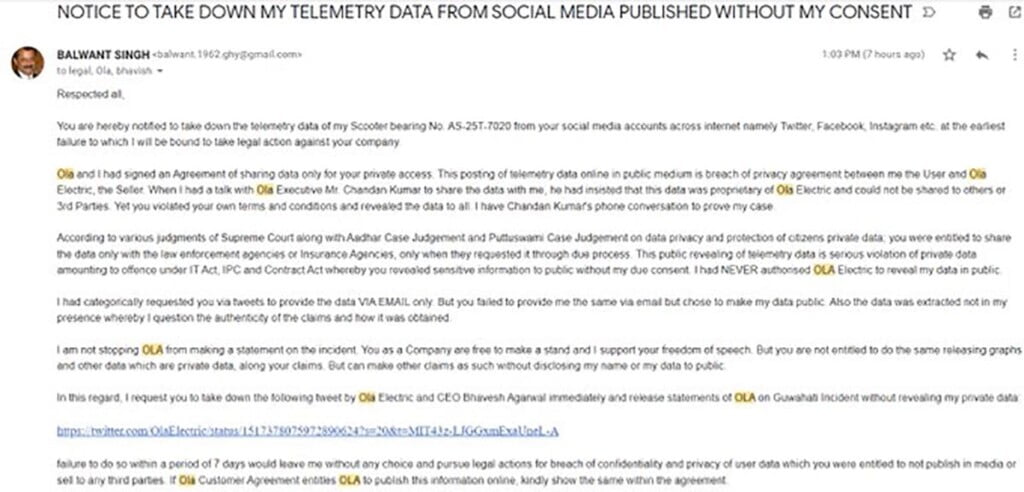 Now, whether Balwant Singh agrees to this demand by Ola electric or continues to fight on, remains to be seen. But one thing is for sure, the laws around data privacy can't be shoved under the rug anymore. The government will need to act upon it with everything going digital.
Join our official telegram channel for free latest updates and follow us on Google News here.