Ola electric is again in the news, albeit for all the wrong reasons. It has reportedly prepared an army of fake social media accounts to drown the criticism after an S1 Pro owner met with an accident.
As reported by Mint, in response to Balwant Singh's accusation of violating user privacy in the case of his son, Reetam Singh's accident, Ola Electric has seemingly set up an army of fake Twitter accounts to drown the criticism. Reetam sustained severe injuries when he met with an accident on an Ola S1 Pro. His father raised the issue on social media claiming that the electric scooter accelerator when his son applied brakes due to malfunction just before a speed breaker. However, Ola responded by citing overspeeding as the reason for the crash and claimed that the e-scooter was faultless after analysing the user data. That is what Balwant Singh reported as violating user privacy.
You may also like: Ola Electric Receives Flak For Not Respecting User Privacy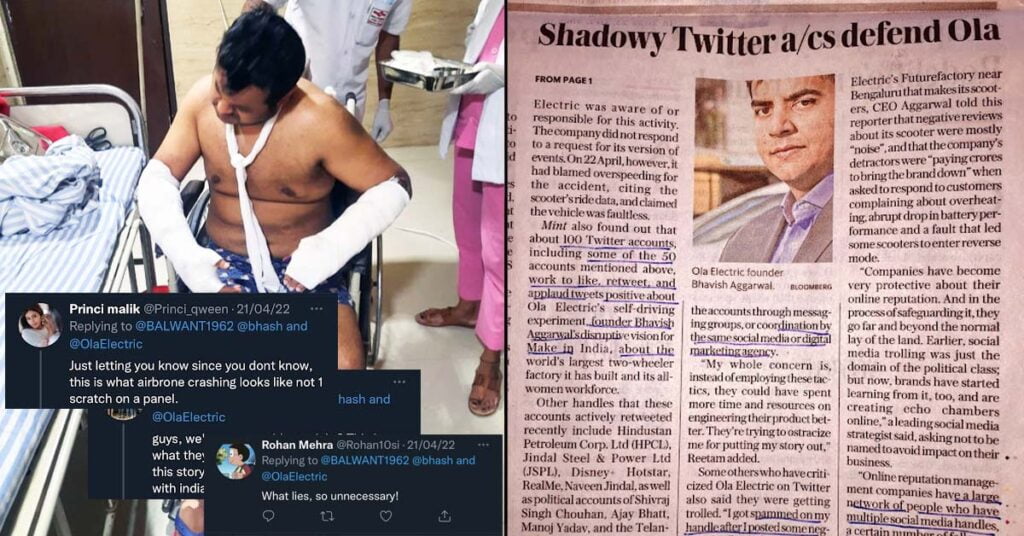 You may also like: Aggrieved Ola S1 Pro Owner Gets His Scooter Towed by Donkey
Ola Electric Uses Dubious Twitter Accounts
As per the investigation by Mint, they have documented over 50 troll accounts on the internet. The aim of these accounts is to promote the brand's positive image and cover up any negative news pertaining to the brand. In response to Balwant Singh's tweet, Princi Malik said, "just letting you know since you don't know, this is what airborne crashing looks like not 1 scratch on a panel." This tweet had an image of an accident that another user confirmed was from a crash with a Maruti Dzire. Another response came from Rudra saying, "guys, we've seen accidents right? This is what they look like when they happen as per this story! How can we play such games with indian brands, being indians?" He also shared an image of a random crash.
You may also like: 1,441 Units of Ola S1 Pro Recalled for Diagnostics and Health Check
In this age of social media, there are quite a few online reputation management agencies that are hired by big corporates to bury any negative information about the company. They have people with multiple fake accounts on various social media platforms, which they use to retweet, like, share, promote, and trend topics to divert the negative news. With so many accounts, it is easy to cover up anything on the internet. That is the world we live in and this practice is followed by a lot of big conglomerates.
You may also like: Ola S1 Pro Aces Hill Ride with Family, Runs 26km on 0% Battery
The most shameful act has been the fact that u wrote that u will provide all the support to my son in that fake report and till date u havent come to provide any medical assistance to him. Are these customers liars as well? Stop abusing ur customers!https://t.co/0HHF8dhWEU

— BALWANT SINGH (@BALWANT1962) May 4, 2022
In fact, things become clear once someone goes through these tweets. Most of these troll tweets are identical with a minor change in the language. At times they also use the same image or video and revolved around the same point. We just hope that this unfortunate incident between Ola and Reetam Singh/Balwant Singh gets sorted out soon and there is an action against these fake Twitter accounts.
Join our official telegram channel for free latest updates and follow us on Google News here.