On a hill ride with a pillion, an Ola S1 Pro managed to run 26km with in zero percent battery consumption.
The Ola electric scooter has become quite popular in the Indian market. The Bengaluru-based company claims that it is ramping up production to meet the high demand for this scooter. The company even announced a new limited edition S1 Pro with a glossy bright orange color. However, the Ola S1 Pro has been facing many controversies of late. This includes the actual real-world range of the S1 Pro. Now, a new video has shown the amazing capability of the electric scooter. A new by ANIL LKY captures a couple ride from Shimla to Chandigarh. During this, the Ola electric scooter managed to run 26km with almost negligible consumption.
You may also like: Ola Electric vs Chetak Electric vs Ather Electric – Hill Climb Test
You May Also Like: WATCH First OLA S1 Pro Real-World Range Test Ever
As you can see in the above YouTube video, a family took a trip to Shimla on their Ola S1 Pro. During the return, the electric scooter showed amazing results. With a total weight of around 154kg, the battery was at 42% during the first 11 km. Since the vehicle was going downhill, the battery consumption was almost zero. Even after 15km, there was no battery usage. After 17km downhill, the range on the EV was 62km and the available battery was 44 percent (an increase by a small percentage).
Even after 22km, there was no change in the battery status. Overall, the Ola S1 Pro manages to cover almost 26km with zero battery loss. However, after this, the battery loss started happening. The EV traveled 34km with just 4 percent battery loss in Normal mode. After 42km, 33 percent battery was left. The vehicle had a 25 percent battery left after a 50km travel. Conversely, during the initial uphill ride, the EV lost 57 percent abttery. Tell us what you think of the Ola S1 Pro performance.
You May Also Like: Yamaha R15 vs Ola S1 Pro – One of a Kind Drag Race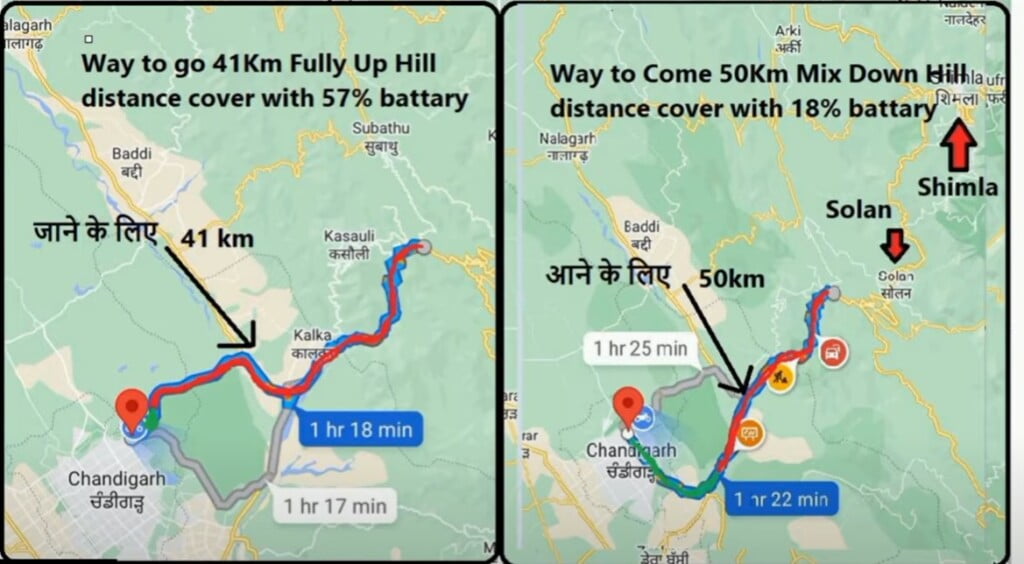 You May Also Like: LML and eROCKIT to Sell Human Electric Hybrid Bike in India
The Ola S1 Pro is powered by an 11.4 HP electric motor that offers 11.4 hp and 58 Nm of peak power and torque, respectively. It comes with a 3.97 kWh battery pack. You can go from 0-40 km/hr in 3 seconds. The Ola e-scooter is touted to offer a range of 181 kilometers and has a top speed of 115 km/hr. It comes with three riding modes – Normal, Sport, and Hyper. The portable 750W charger takes around 4 hours 48 mins to charge the battery completely in S1 and 6 hours 30 mins for the S1 Pro. You can get up to 75 kilometers of range in just 15 minutes of charging.
Join us for FREE NEWS Updates on our Whatsapp Community or our official telegram channel.