This Honda Activa is a unique scooty that has a petrol-electric hybrid powertrain. The kit has been retrofitted to the Activa in the aftermarket and could also be done as a DIY project.
The video of a Honda Activa 5G being converted into a petrol-electric hybrid has gone viral. The affordable and simple technique to install the electric motor into the scooty in the aftermarket or yourself could be the solution to tackle the hike price of electric scooters in the market. The automobile industry is invariably heading towards electrification to keep up with the stringent emission regulations. The high initial cost and lack of charging infrastructure continue to be great problems in the mass adoption of EVs in India. Could this be the ideal solution?
You may also like: Ola S1 Pro vs Ather 450X – Drag Race In All Drive Modes
You may also like: Bajaj Avenger Petrol-Electric Hybrid Modification Costs Just Rs 28,000
Honda Activa Petrol-Electric Hybrid
The famous YouTuber captures every aspect of the conversion on tape so that you could follow it if you decide to do it at home. To begin with, the front panel and the body covers are removed. He removes the accelerator wire first of all and replaces it with the new one that comes with the electric kit. Then the rear wheel of the Activa is removed and fitted with the electric motor. The process is fairly straightforward but you could take the help of a local mechanic too because he/she will have the tools readily available. Once the electric motor is fitted, the electronic controller is fitted to the engine area using clamps. The wires from the accelerator and other areas are connected to it.
You may also like: Honda Activa 7G About to Launch? – Myth Busted!
In addition to that, the YouTuber installs relays and other electronic components that come as a part of the kit. The main feature of this scooter is the fact that it operates as a hybrid. Hence, a switch is inserted near the handle from where the driver could easily switch between a petrol-only or electric-only operation. After the installation, the YouTuber took the Activa for a ride across various terrains. He concluded that the scooty was able to achieve a top speed of around 60 km/h on the highway and around 35 km/h on rough terrain. The battery is placed inside the boot.
You may also like: SCARY- OLA S1 Pro e-Scooter Goes Into Reverse Mode At 102kmph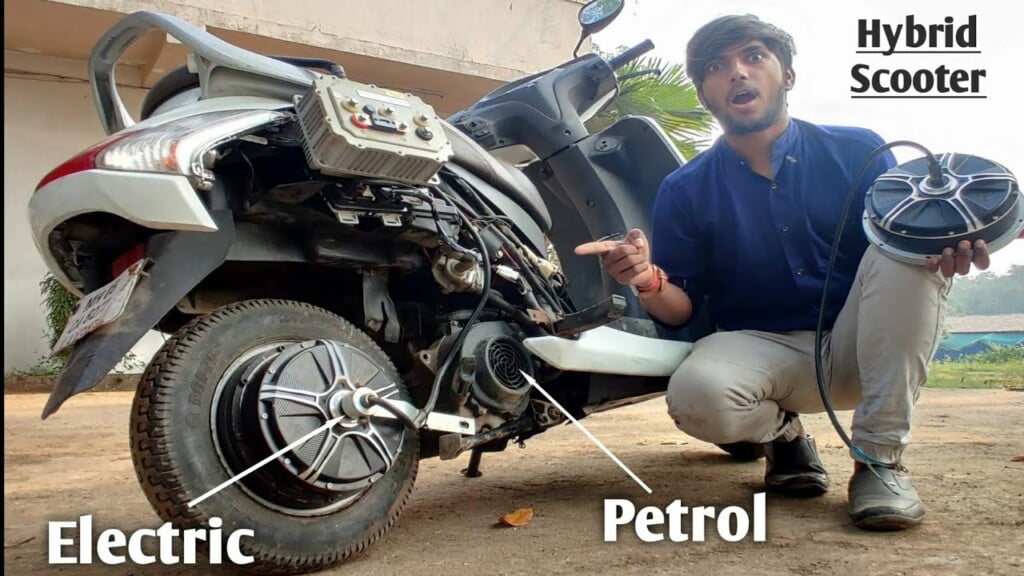 This would bring down the initial cost of an EV and bring ultra-low running costs. One could easily charge the battery on a daily basis and use the e-scooter for short trips to the office every day. Compared to the petrol prices, EVs could be charged at a much less expense and no pollution is being emitted from such vehicles.