Maruti Suzuki unveiled the Maruti Ertiga at the 2012 Auto Expo held in New Delhi and it was the center of attraction, but there was another car which blew us away with its looks at the very same stage. We are talking about the Maruti XA-Alpha concept SUV which shared the stage with Ertiga at the exhibition but since it was all about the latter then, XA-Alpha did not get much visitors. But surely it did tell us what the company's future products could look like.
Lately some drawings of a new SUV have emerged and surprisingly the car in the scanned images resemble the Maruti XA-Alpha concept. Although it is not confirmed yet, it does bring some hope to Suzuki fans in Japan. Japanese auto magazine Mag X has reported in their previous edition, that this could be the next generation 2014 Suzuki Jimny. As per what Mag X has been saying, there will be two version of the 2014 Jimny; a global version and a JDM (Japanese Domestic Market) version. The Japan specific version of this car will feature three doors, thereby following the kei car standards to enjoy maximum tax benefits.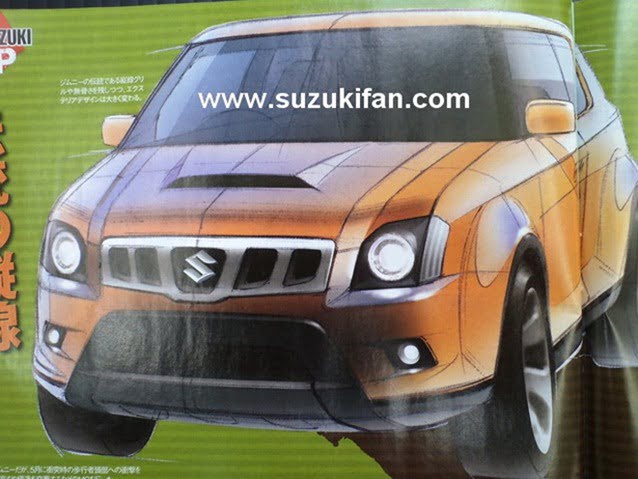 The Global model on the other hand will be a 5 door SUV based on the platform of 2011 Maruti Swift. It will completely replace the Jimny, that was last changed in 1998, on the global level. Proportion wise it will be 3.99 m in length and 1.65 in width. The car will be powered by engines having capacity over 1.2 litres.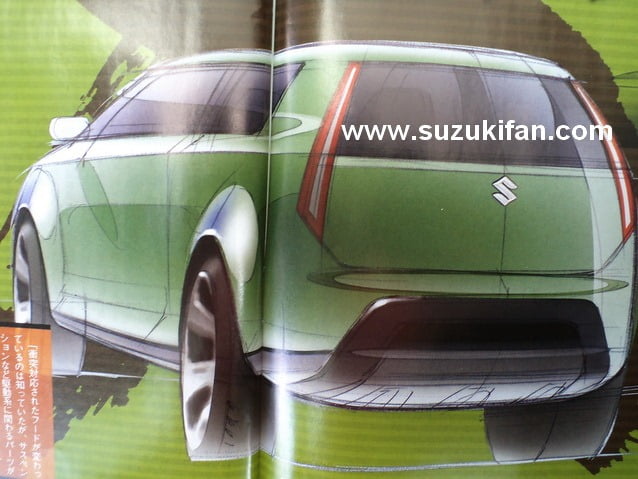 The Japanese version of the Jimny will be powered by a 660 CC turbocharged petrol engine and will measure 3.4 meters in length. Both the version will be completely identical in term so design and technology, though the respective wheelbases could differ in length.
Once the global version makes a debut internationally, the Japanese version will be launched in the domestic market. It seems to be ambitious project and it could to come India too. Pricing would be very affordable as it is a sub-4 meter car and Maruti will definitely like to give other cars a tough competition in this segment as well. Some of the cars which are present or coming in this segment include Duster, EcoSport, Quanto, Rio etc. We will keep you updated with the latest developments on Maruti XA-Alpha, stay tuned to Car Blog India.
Source – SuzukiFan