The only premium hatchback with a 5-star Global NCAP safety rating, Tata Altroz, puts the build quality of a brick wall to test. Now, we understand that this is not the ideal advertisement to flaunt the safety rating of your car but this certainly drives the point home. There have been many unfortunate incidents on the road in which the Altroz has kept the passengers safe. The build quality of Tata Motors' products is generally high and the Altroz is no exception. Such instances have boosted the sales of the Altroz quite significantly too. Altroz is clipping on the heels of the Hyundai i20 for the second spot on the list of highest-selling premium hatchbacks in the country. In fact, it has beaten the mighty i20 a couple of times now. Anyway, let us discuss the details of this particular incident.
Also read: Overloaded Tata Altroz Crashes, Keeps 3 Kids & 3 Adults Scratchless!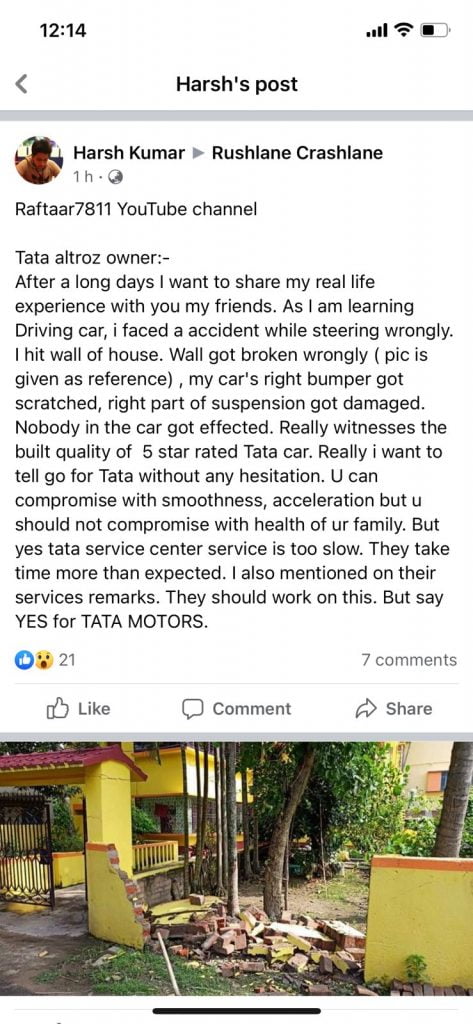 Tata Altroz Build Quality
The owner of this Altroz has been learning how to drive. In one event, he reported that he turned the steering wheel the wrong way and hit a brick wall. The impact must've been strong as the wall fell on the ground. Or maybe, the wall was not completely constructed. In any case, the impact must have resulted in quite a hefty damage to the car. However, it wasn't the case. The images clearly indicate that the damage to the premium hatchback was restricted to a mere scratch. The owner also claims that there has been little impact on the suspension. However, everyone inside the car was safe. This is yet another instance where Altroz has done a great job at keeping the occupants safe. We must also urge people not to learn to drive alone but to attend a proper driving school. If you want to practice, you must do it with a professional driver so that such cases could be avoided.
Also read: Tata Altroz XZ vs Honda WR-V Drag Race – Who Comes On Top?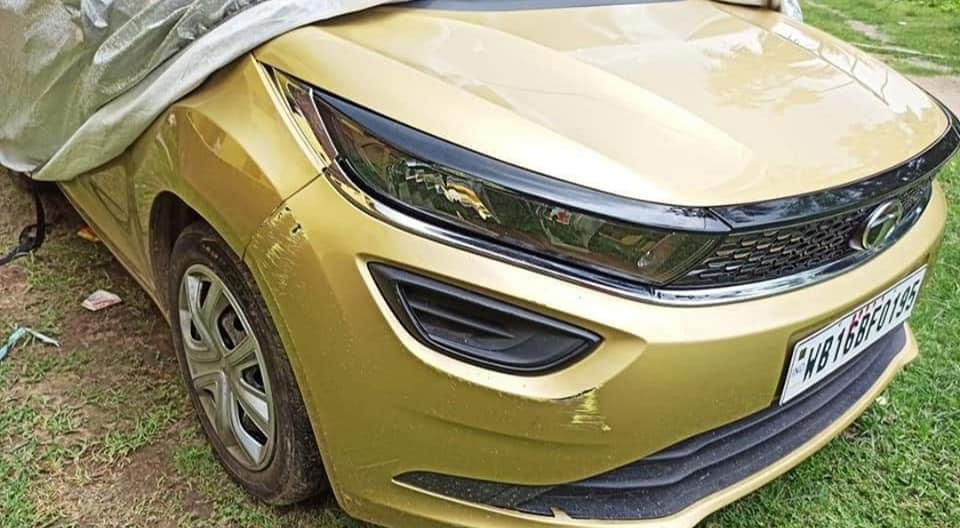 Tata Altroz
There are three engine options on offer including a 1.2-litre naturally aspirated petrol engine making 86 PS and 113 Nm, a 1.2-litre turbo petrol engine making 110 PS and 140 Nm and a 1.5-litre diesel engine making 90 PS and 200 Nm of peak power and peak torque respectively. There is the option of a sole 5-speed manual gearbox with all the variants of the Altroz. The prices of the Tata Altroz range from Rs 5.84 lakh to Rs 9.59 lakh, ex-showroom. The 5-star NCAP rating is justified by this build quality test of the Altroz.
Also read: India's First Tata Altroz XZ With Aftermarket CNG Kit – This is it!