What happens when a car with 5-star NCAP rating gets into a pretty serious road accidents but its airbags don't deploy?
Tata Motors is known for making rugged and sturdy products. The company's most famous vehicles have received quite high GNCAP safety ratings. For example, the Tata Altroz got 5-stars on the Global NCAP crash test. It received adult occupant protection score of 16.13 points (out of a total of 17 points) and a 3-star rating for child occupant protection, with a total score of 29.00 points out of a total of 49 points. So what happens when a Tata Altroza gets in a real accident? And in this case, why didn't its airbags deploy?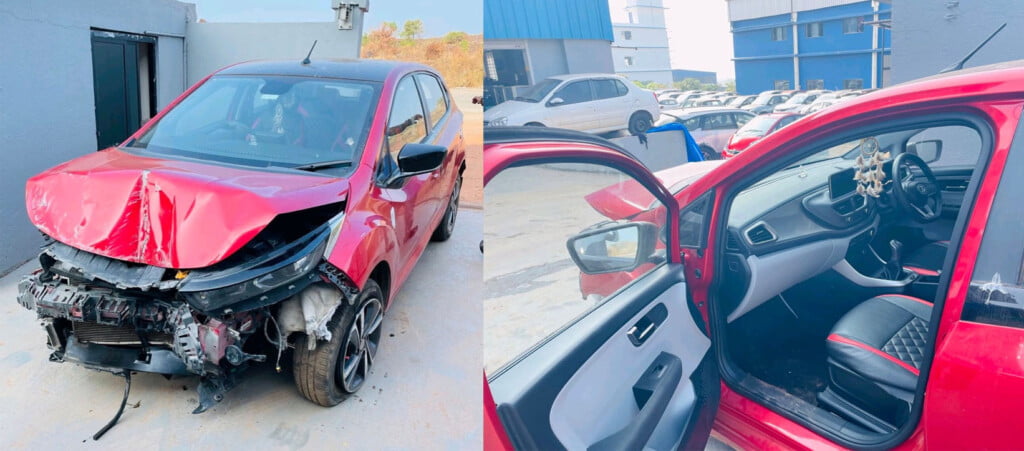 A Tata Altroz owner recently met with a massive accident that heavily damaged the front of the car. However, he was quite disappointed that the airbags didn't deploy. He shared the whole story as a warning to future Tata customers. This incident occurred on 25 December 2021, when the owner was traveling back from Goa. During the journey, he lost control over the vehicle and hit an electric pole with a significant force. However, the front driver and passenger airbags did not open. Fortunately, the a front passenger was not present in the car and the driver had a seat belt on. He escaped the accident with a badly bruised knee and minor scratches. The car was eventually towed away and is awaiting repairs. The whole incident left the owner quite angry and confused since the Tata Altroz has a Global NCAP 5-start rating and comes with dual front airbags as standard.
So why didn't the airbags deploy? Is it because of a faulty airbag sensor, defective electrical components, airbag module defects, or severed wiring? In the above-mentioned case, we don't know the exact reason for the airbags not deploying. At a glance, it may seem that a car is not safe if the airbags don't employ during an accident. But sometimes it might be for the best interest of the owner. Having said that, if your car airbags didn't deploy during a crash, you can surely register a complaint against the manufacturer.
Also read: Meet India's BEST LOOKING Tata Altroz Ever!
While product failures are also a possibility, there are many other reasons that can result in this outcome. For example, the type of accident plays a huge role. Whether or not an airbag will deploy depends on the area of impact. For example, frontal airbags may not deploy in the event of a side-impact crash as the airbag sensors may not be triggered. Similarly, accidents at lower speeds may not trigger airbags as well. The force of impact also plays a big role. You may not get airbags if accidents lack major deceleration from front to rear. Most airbags are set to deploy at certain speeds after the sensor is triggered. This means they won't deploy if you are on roads with bumps/ potholes or you hit a curb, parking block, or sign.
Also read: Check Out Tata Altroz vs Maruti Baleno in Classic Drag Race

Meanwhile, the Tata Altroz comes with three engine options – a 1.2-liter naturally aspirated petrol engine that offers 86 PS and 113 Nm/ a 1.2-liter turbo petrol engine 110 PS and 140 Nm and a 1.5-liter diesel engine making 90 PS and 200 Nm of peak power and peak torque respectively. All the variants come with a 5-speed manual gearbox. The Tata Altroz comes with a price tag of Rs 5.84 lakh – Rs 9.59 lakh, ex-showroom. It competes with the likes of Maruti Baleno, Hyundai i20, VW Polo, and Honda Jazz.
Also read: Tata Altroz Sedan Could Be Perfect Successor to Indigo Manza
Join our official telegram channel for free latest updates and follow us on Google News here.