The premium hatchback segment is dominated by Maruti Baleno in India. The Tata Altroz is coming close by selling massive units month after month.
This video represents a drag race between the Tata Altroz and Maruti Baleno. The drag race trend is really picking up among the YouTuber community. They often decide which car is better by performing a race. However, we must warn our readers to not try such stunts on roads. It could lead to some dangerous consequences. The YouTubers take care of a lot of things and ensure safety while performing such activities. They bring the results for you so that you don't have to do such performance tests yourself. Let us check out which hatchback came out on top in this drag race.
Also read: Toyota Glanza Hits Divider And Overturns; Keeps Passengers Safe!
Tata Altroz vs Maruti Baleno – Drag Race
The YouTuber starts the video by explaining that the Altro is a diesel variant while the Baleno is the petrol one. He begins the race in his Altroz and his friend drives the Baleno. In the first attempt, he zips past the Baleno from the starting line itself. He was never behind during the race. He was quite surprised to see the performance of the Baleno. However, it was quite natural because the diesel version of the Altroz makes significantly more power and torque compared to the petrol unit of the Baleno. The YouTuber then switched cars and drove the Baleno alone on the highway. He reports that the high-speed stability of Baleno is not great. Also, the engine takes forever to reach high speeds. The Altroz feels much more planted at high speeds and also reach the top speeds quite quickly.
Also read: Owner of 5 yrs Old Maruti Baleno Reveals Truth of Build Quality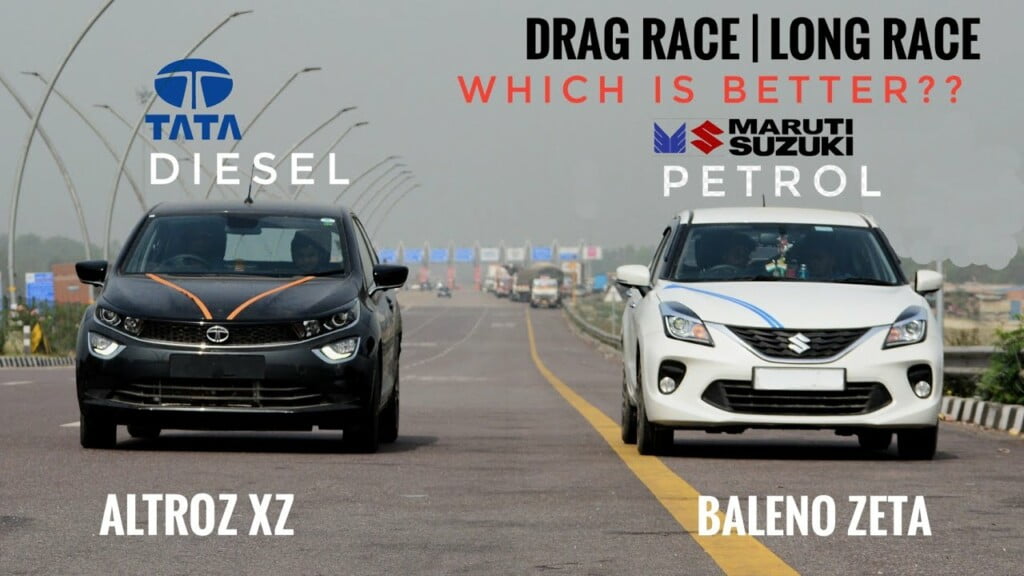 Specs Comparison
The diesel Altroz comes with a 1.5-litre unit that produces 89 hp and 200 Nm of peak power and torque. Altroz comes with the sole option of a 5-speed manual gearbox. It retails from Rs 5.89 lakh and goes all the way up to Rs 9.64 lakh, ex-showroom. The Baleno, on the other hand, comes with a 1.2-litre petrol engine that makes 83 hp and 113 Nm of peak power and torque. This engine comes mated to either a 5-speed manual or a CVT automatic gearbox. It ranges between Rs 5.99 lakh and Rs 9.45 lakh, ex-showroom. Do let us know how did you like this drag race between Altroz and Baleno.
Also read: Meet India's BEST LOOKING Tata Altroz Ever!
Join our official telegram channel for free latest updates and follow us on Google News here.