Unfortunately, the cases of drunk driving happen all too frequently for our roads to be safe and this is the latest example of it.
Here is yet another instance of a Tata Altroz saving its occupant despite driving drunk and being at fault. It may sound counterintuitive but such people are not worthy to be allowed to drive on the roads. Drunk driving is a serious offence and must be discouraged vehemently. The issue is the fact that even though the driver is drunk, other people have to face the consequences as highlighted by this video.
You may also like: 5 Tata Altroz Concepts We Want to Turn into Production Reality
You may also like: Tata Altroz's Impeccable Crashworthiness Leaves Haters Fuming
Tata Altroz Driving Drunk
This video has been uploaded by Nikhil Rana to raise awareness regarding road safety and the consequences of driving drunk. The visuals in this video clip show an Altroz damaged heavily in Orai, Uttar Pradesh. According to the information available with Nikhil, the driver of the Altroz was driving drunk and there were 3 other occupants in the premium hatchback. In that condition, he must have been overspeeding when he lost control and hit a bicycle whose rider sustained injuries, a panipuri car, an auto-rickshaw before coming to a halt by bumping into a tree.
You may also like: Tata Altroz Coupe SUV Makes For A Great Nexon Alternative
The severity of the impact is visible in these images. The front end of the Altroz experienced broken headlights, deformed bumper, grille and bonnet, the entire front end has been crumpled. However, no person in the Altroz got seriously injured. This is a testament to the build quality of the Altroz. This incident highlights the 5-star safety performance that it received at the GNCAP. It is the only 5-star safety rated car in the segment.
You may also like: Watch Tata Altroz Phoenix Edition EXCLUSIVE Detailed Review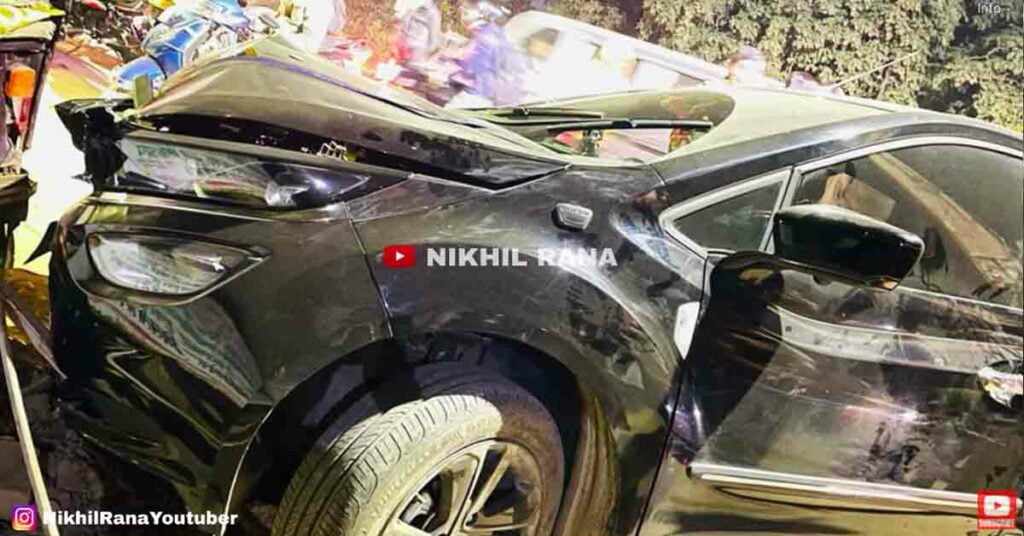 This unfortunate incident sheds light on the fact that drunk driving is a grave issue and could hurt the other people on the road too. It is a punishable offence and must be reported if one finds anyone violating this law regarding it. Another pertinent issue to make our roads dangerous is overspeeding. Most incidents happen due to the drivers losing control of the car at high speeds. We must always drive within the speed limit so that even if some idiot loses control of the car, you could prevent yourself.
Join our official telegram channel for free latest updates and follow us on Google News here.