Overspeeding is the main reason for almost all major and minor accidents on roads.
In such scenarios, there is almost nothing that the safety equipment can do about it.
That is why driving within the speed limit is of utmost importance.
In this video, an overspeeding Tata Altroz is shown after it jumps a divider and hits the bus in the opposite lane. Altroz is the only 5-star rated hatchback in the country. It attracts tons of customers due to this very reason. In addition to that, it features modern functions and striking looks establishing it as a worthy product in the premium hatchback segment. However, there is nothing that the safety rating can do if the drivers drive carelessly and at high speeds. Here is what could happen in such cases.
You may also like: Chevrolet Tavera Tests Build Quality of Tata Altroz
You may also like: Tata Altroz CNG Variant Caught Undergoing Emission Tests by ARAI
Overspeeding Tata Altroz Jumps Divider
The video has been uploaded by Nikhil Rana on YouTube. He keeps posting such content to raise awareness among Indian car buyers regarding the importance of road safety. This time around, he showcases an accident of an Altroz where 4 passengers couldn't make it. May their souls rest in peace. This horrendous crash has been reported from Ankola in Karnataka. The Altroz was at such high speed that it jumped over the road divider and collided with a local bus coming from the opposite lane.
You may also like: Tata Altroz Skids in Rain and Falls Off Hill, All Safe
The impact was so forceful that it bent the premium hatchback from everywhere. From the sides and the rear, the vehicle is unrecognisable. There were 4 people travelling in Altroz and none of them could make it out alive through this horrific incident. Airbags are seen deployed in the 5-star rated car but this impact was beyond any saving by any safety equipment. In fact, the force of the collision made the bus push back by around 8-10 m, as reported in the video.
You may also like: Harrier-inspired Tata Altroz Facelift Looks on Point!
Prevent Overspeeding
With this latest example, we must strive to be responsible drivers and follow all traffic regulations. Most accidents occur on the road due to overspeeding. Drivers lose control and end up affecting others around them as well. Hence, we must prevent breaking traffic laws at all times and make sure that we drive within the speed limits set by the authorities. That is the only way to reduce the number of car crashes. Do share your thoughts on the matter as well.
You may also like: Tata Altroz x Maruti Baleno Mashup Looks Ridiculously Good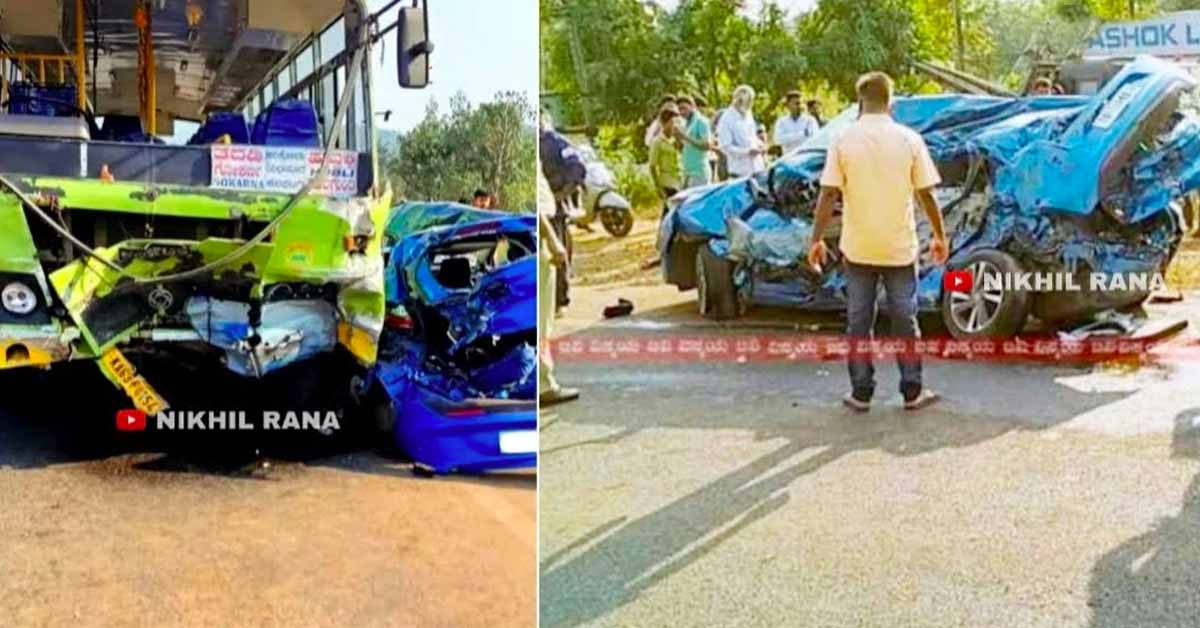 Disclaimer- The embedded videos/ external content is/are being used as a convenience and for informational purposes only; they do not constitute an endorsement or approval by Car Blog India of any of the products, services, and /or opinions of the corporation or organization or individual. Car Blog India bears no responsibility for the accuracy, legality, and/or content of the external site or for that of subsequent external videos/ external content. Contact the external publisher for answers to questions regarding its content.
Join us for FREE NEWS Updates on our Whatsapp Community or our official telegram channel.