Sometime back we shared with you our review of the Tata Zest compact sedan and shared how Tata cars are getting a generation ahead of what they were till a few years back. We test drove Tata Bolt hatchback at a media drive event in Udaipur last week and were really impressed with the way the car performs as an all round performer. In this post, we share with you our experience with the car on around 100 Km round trip we did on the car on city roads as well as curvy highways to Mount Abu in Rajasthan. We share with you all you need to know about exteriors and styling of Tata Bolt. We will also talk about interiors, space and features of the car. We share our behind the wheel experience of this car and how it rides and behaves around the corners and at high speeds. We have also done a video review of the car which you can see below. Lets get started with the Tata Bolt Review.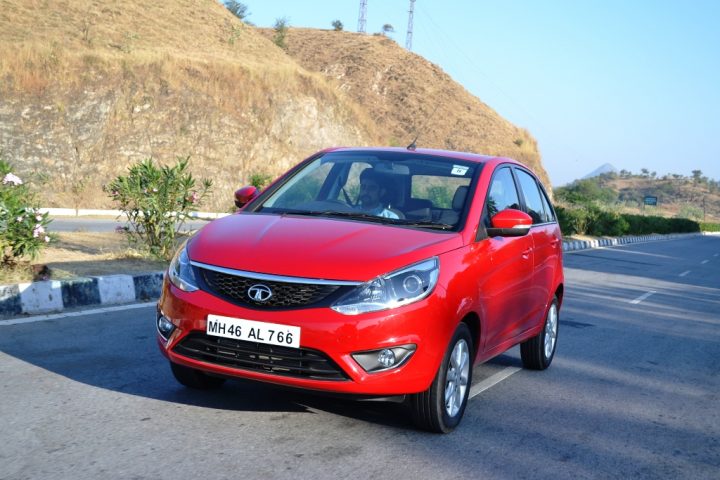 Test Drive Video
Exteriors
The Tata Bolt is based on the improved X1 platform by Tata and does looks somewhat similar to the Tata Vista in outline. On the front, you will see a higher chin, sleeker grille and mean-looking-eyes-like headlamp appearance which gives it a sporty character. There are bonnet lines falling towards the grille, there are blackened projector headlamps to give it an upmarket look. You also get a chrome strip on the top of upper part of the grille and some chrome garnish around the fog lamps housing.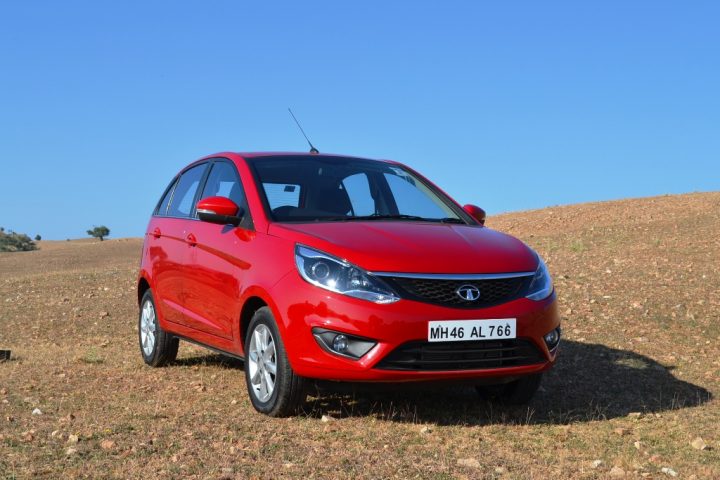 Move to the  side of the car and you will notice chunky allow wheels which looks classy and smart, there are body lines running at the sides at both the shoulder lever and lower lever on the side profile. The wheel arches are subtle but visible. You will also notice body colored door handle, chrome strip running towards the bottom of the windows, blackened B-Pillars and C-pillars  which give the roof a floating appearance.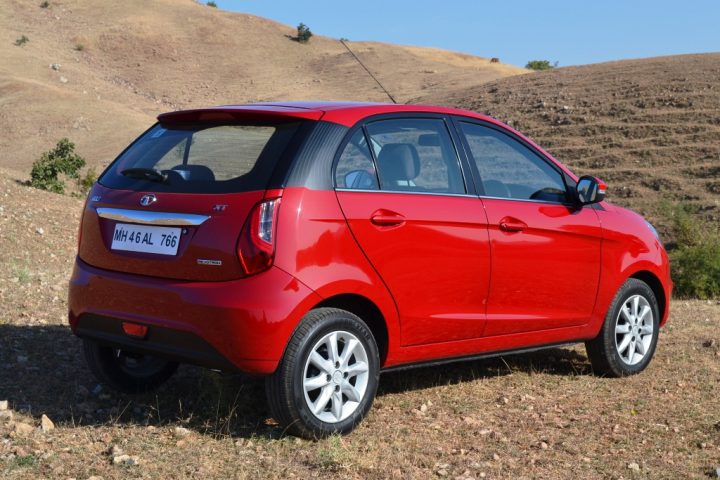 Come towards the rear of the car and you will notice the flame tail lamp cluster, which is a combination cluster, which is sleek and chunky. There is a sporty spoiler with high mounted stop lamp, rear wind-shield which comes with defogger, rear washer and wiper. There is use of chrome at the rear boot door. The bumper also gets dual tone treatment with black and body colour panels and there is also a rear fog lamp mounted there.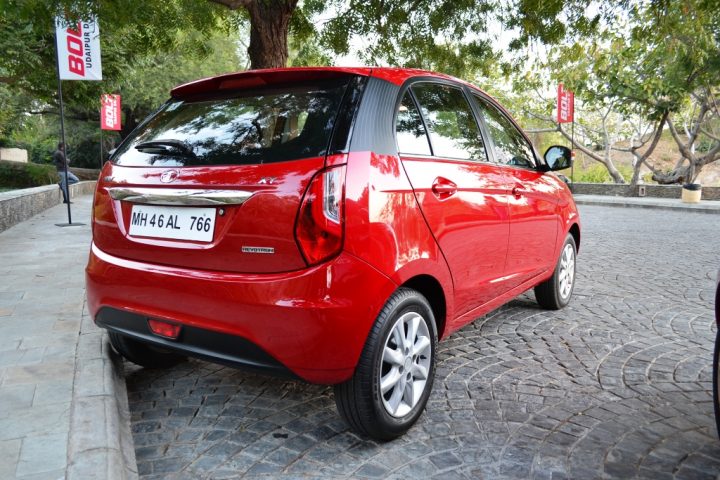 If you look at the car from an overall top view, you will find it to be very sporty at some places and slightly conservative at other. Its neither too modern nor too retro, somewhere in the middle. Its not as curvy or sculpted as the Hyundai's are and not so much rounded as Marutis are. It has a style statement of its own. I would describe the exteriors as slightly conservative as the outline still remains similar to older generation Indicas and Vistas that we have seen from Tata earlier, but the similarities end there.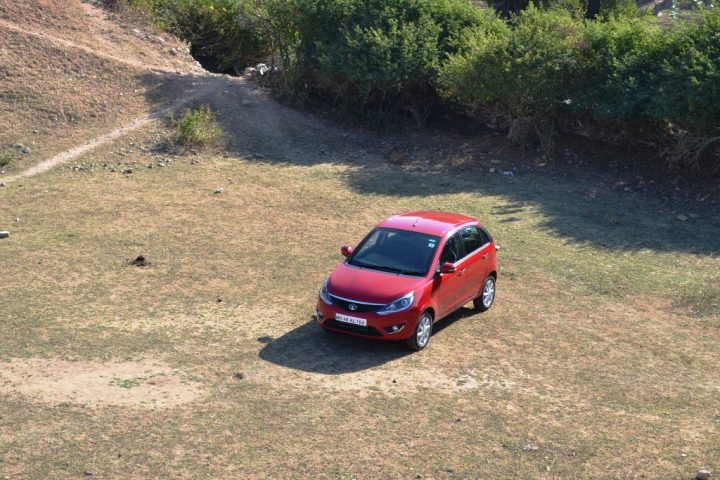 Interiors
As soon as you enter the cabin of the Tata Bolt, you can feel the quality of the car, which we must tell you is impressive. There is nicely finished dashboard, high quality of plastics used all around the car. The steering wheel has a nice 3 spoke design with a dash of silver and piano black. The dashboard also uses a dash of piano black finish inserts near the glove box and central console.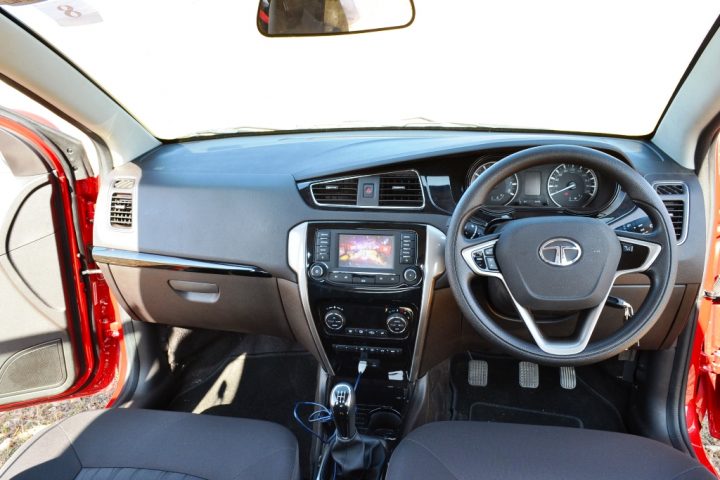 The instrument cluster gets two large analogue dials for speedometer and tachometer, in the middle of these two is a digital MID (multi-information display) which shows fuel economy, odometer, trip meter, temperature, fuel, distance to empty and a lot more.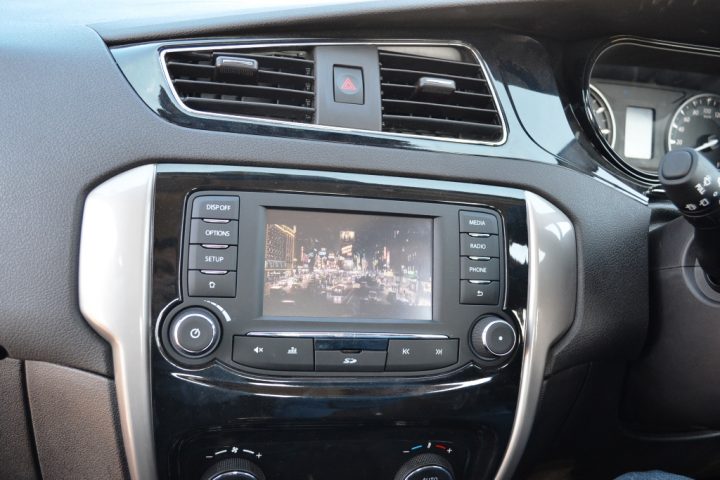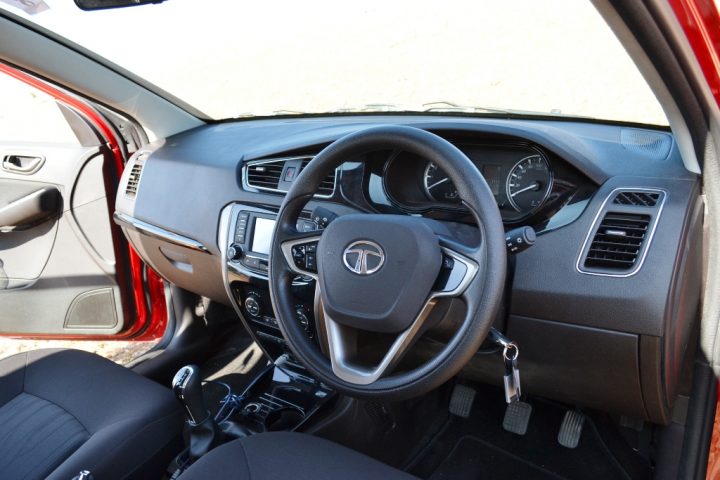 The central console gets a touch screen infotainment system by Harman which also gets display for climate control. It can connect with USB, Aux-input, SD card and is loaded with features. There are voice controls in the car with which you can control the infotainment system as climate control system. It is also equipped with Bluetooth for using the phone with the infotainment system. There are 8 speakers (2 in each door) in the car which sounds amazing. The infotainment system can play videos too, but it is highly recommended that you use it only when the car is not moving.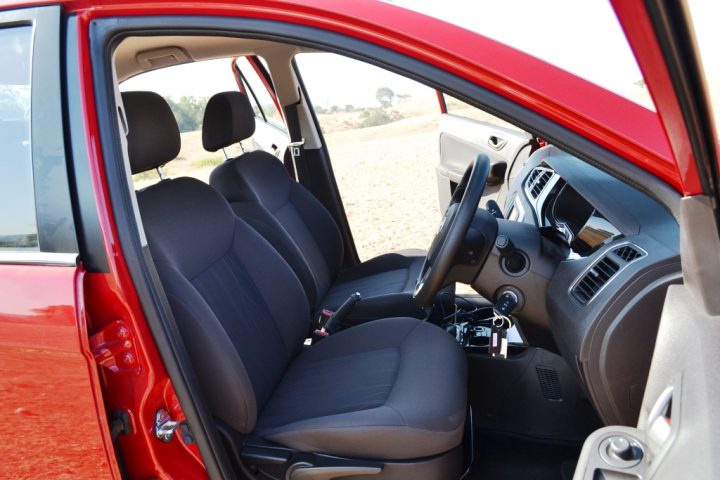 The seating comfort is good with what Tata calls Rugby-Shoulder seats which are bucket seats with driver side height adjust available. The steering wheel is also tilt-adjustable. There are plenty of cubby holes and door pockets to store your stuff. There is also under-seat tray for storage under the passenger seat at front.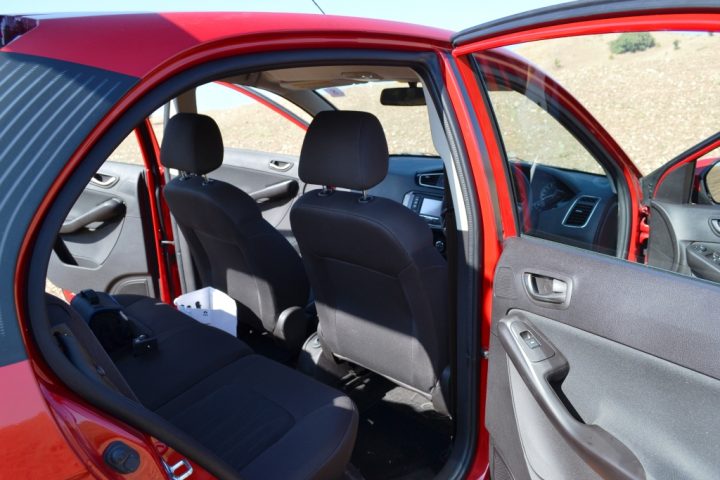 The rear seats are also comfortable and have ample leg-room, shoulder room and head-room. July like any other Indica or Vista, the Bolt also has oodles of cabin space. For comfort and safety of rear passengers, there are also adjustable head-restrains at the rear. The rear seats are 60:40 split seats which can be folded on need basis if you need to carry more luggage in the car.
The boot compartment is around 196 litres and gets a boot lamp for convenience of the users. However, there is no knob or handle to open the boot when you are outside the car, you can only open it with a key or from the remote boot release knob on the floor near driver seat.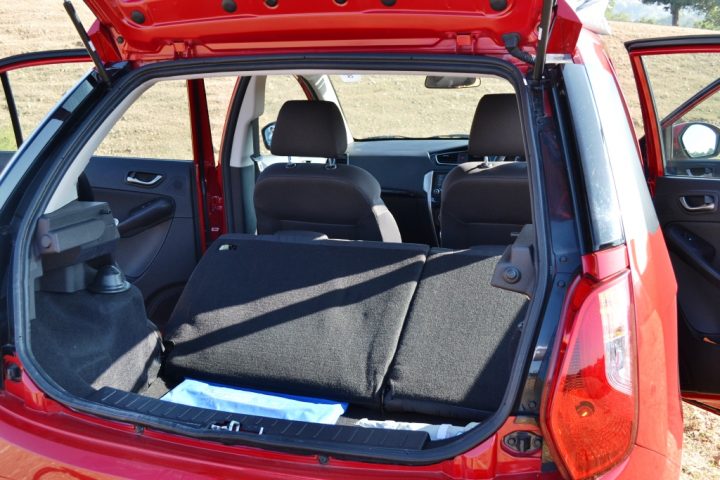 Few things that could have been better were boot space and rear-AC vents could have been provided on the top end.
Performance, Ride & Handling
This is one area where we were pleasantly surprised. I will start with the engine. We drove 1.2 litre turbo-charged petrol engine car which comes with a peak power of 90 PS and peak torque of 140 Nm which starts to deliver around 1500 RPM (there is a turbo-charger involved). The car has good agility, however, you can't pull too much on revs below 1200 RPM, so some gear-shifting is necessary for spirited driving. Once you are past 1500 RPM, the engine becomes a monster of power. It delivers great punchy torque beyond that and it becomes a great fun to drive, you just need to keep the revs higher than 1500 RPM. Gear-shifting is smooth, gearbox has short throw and is well sorted. Once you hit the road, the car is surprisingly silent. At idling (around 600 to 700 RPM as seen on the tachometer), you can't make out whether the engine is on or off by just listening to it. Its so silent on the petrol variant. Also there are low rolling resistance tyres which help improve fuel economy. During our limited 100 Km run, we saw average fuel economy numbers on MID showing 12.7 KMPL which is not bad at all.
The best part about the engine is the driving modes. We saw that in Tata Zest as well. It is like having 3 cars in 1, well it may sound like an exaggeration, but if you change the engine mode, the throttle response changes considerably, the car responds differently to your accelerator inputs. By default, it runs in City mode, where there is moderate response and fuel economy. There is also Eco mode which puts the car in slow response and high fuel economy mode; and when you apply the Sport mode, it changes the engine tune to high response and low fuel economy. So if you want to drive with high agility, Sport mode makes it real fun. It is live hacking your engines ECU to a sport tune, but in this case, its a feature in the car that won't void your car's warranty.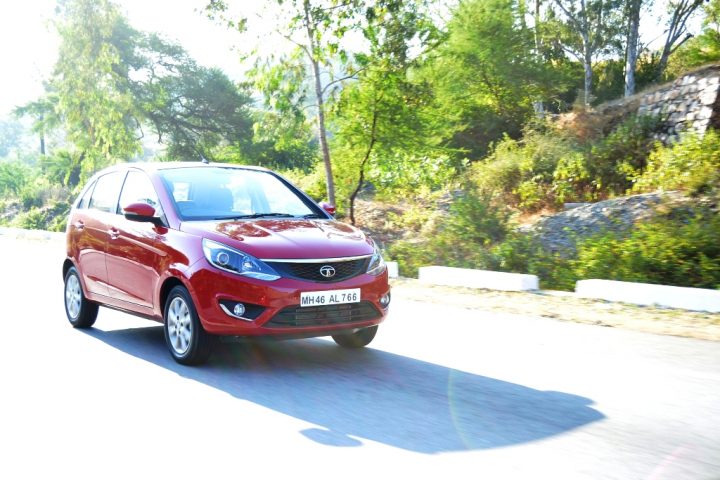 Coming to the handling part, the steering has got good weight and feel to it. It does give you nice feedback and feels confident event at speeds higher than 100 KMPH. The suspension is slightly on the harder side, which makes the driving even more fun. It helps to corner at high speed with ease and a lot of confidence without any drama. The car is extremely planted and silent on the road. After experiencing high speed drive on the Bolt, we can say that it will easily rival the popular Swift and Punto in handling department. So if sporty handling is a turn-on for you, Bolt will not disappoint you.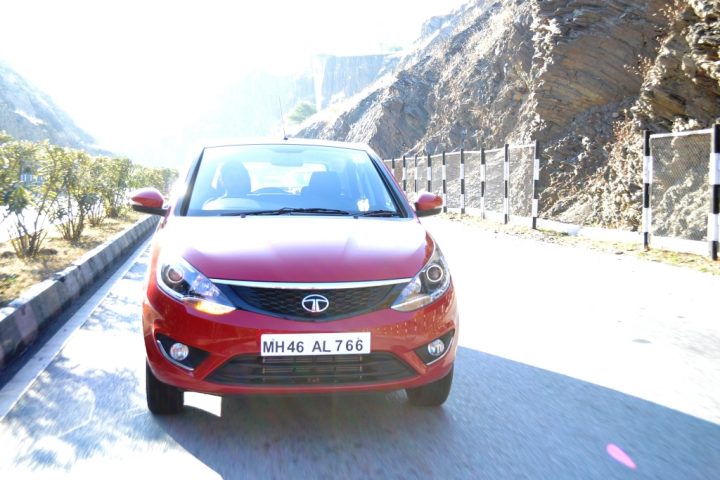 Coming to the ride comfort aspect, Tata has manages to keep the ride quality decent considering that the car is fairly sporty to drive as well. This can be achieved in multiple ways like having stiffer suspension but more suspension travel, better damping in suspension etc. We don't know the exact secret recipe used by Tata, but they have managed to hit the sweet spot between the ride and handling.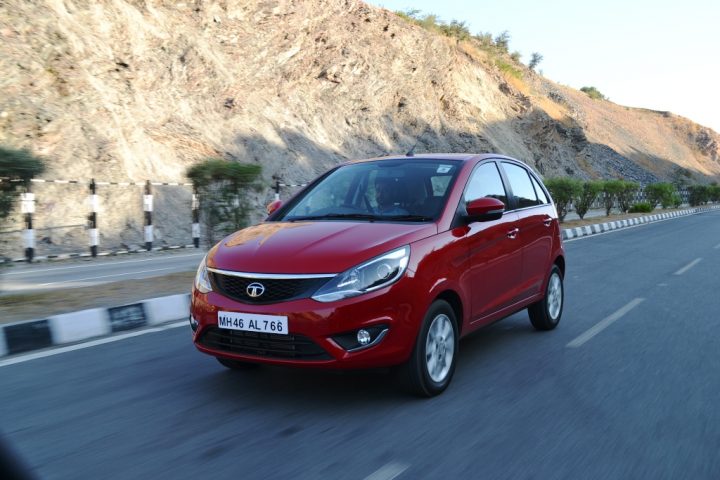 Verdict
What We Like?
Spacious cabin
Loaded with features
Sport / City / Eco Modes
Very good NVH
Well balanced suspension
Great handling at high speeds
What Could Have Been Better?
 Styling is still conservative on the outside, could have been more modern
Boot space might concern some buyers
Low end engine punch could have been better (might be much better on diesel as they have more torque, we will test and tell)
If you see the list of pros and cons, it is a clear verdict that Tata has cracked most pieces of the puzzle correctly for this segment. It has a great car at hand which is compact yet spacious, not so expensive (we believe) yet loaded with features, fun to drive, silent and stable at high speeds. It has got all it takes to be an everyday family car and at the same time it doubles up an an enthusiasts car who loves to enjoy driving. We like the way the car is well sorted in most departments. On a scale of 10, I would give it an 8.5 overall.
[review]
Join our official telegram channel for free latest updates and follow us on Google News here.