You might have heard on a lot of occasions that a car was involved in a crash immediately after the delivery and this is yet another example of that situation playing out.
A brand new Tata Harrier was involved in a massive crash immediately after the owner took the delivery. Now, the Tata products are well-known for being extremely safe, as far as the NCAP ratings are concerned. However, the Harrier has not yet been crash-tested by GNCAP. Nevertheless, its performances in unfortunate scenarios have been overwhelmingly positive. In this latest incident, the SUV proves that it is bound to get a pretty high score at the GNCAP, whenever it will be tested.
You may also like: This Maruti Dzire and Tata Harrier Crash Has Shocking Results
You may also like: Uber Cab 'Touches' Tata Harrier- What Happens Next Will Shock You!
Tata Harrier In A Massive Crash
The video clip has been uploaded on YouTube by Nikhil Rana who keeps posting such videos to raise awareness regarding the relevance of purchasing a vehicle with a higher safety rating. There are not too many details available about this incident. However, it is reported that the owner took delivery a few hours ago and the SUV was involved in a terrible crash almost immediately afterwards. The white SUV collided with a truck and sustained severe damage.
You may also like: 7 Confirmed Upgrades For Tata Harrier Facelift
The entire front section of the SUV has been deformed, the bumper and radiator have been crumpled beyond recognition, the headlight, bonnet and chassis are also affected and the side doors have taken a strong hit, the front windshield and the windows are all broken. But somehow, the side pillars prevented the impact from entering into the cabin thereby securing all the passengers inside the SUV. It is quite impressive that despite experiencing such a massive accident, the Harrier was able to protect its occupants hinting at an imminent 5-star GNCAP safety rating.
You may also like: Overspeeding Tata Harrier Falls Off Mountain, Keeps All Safe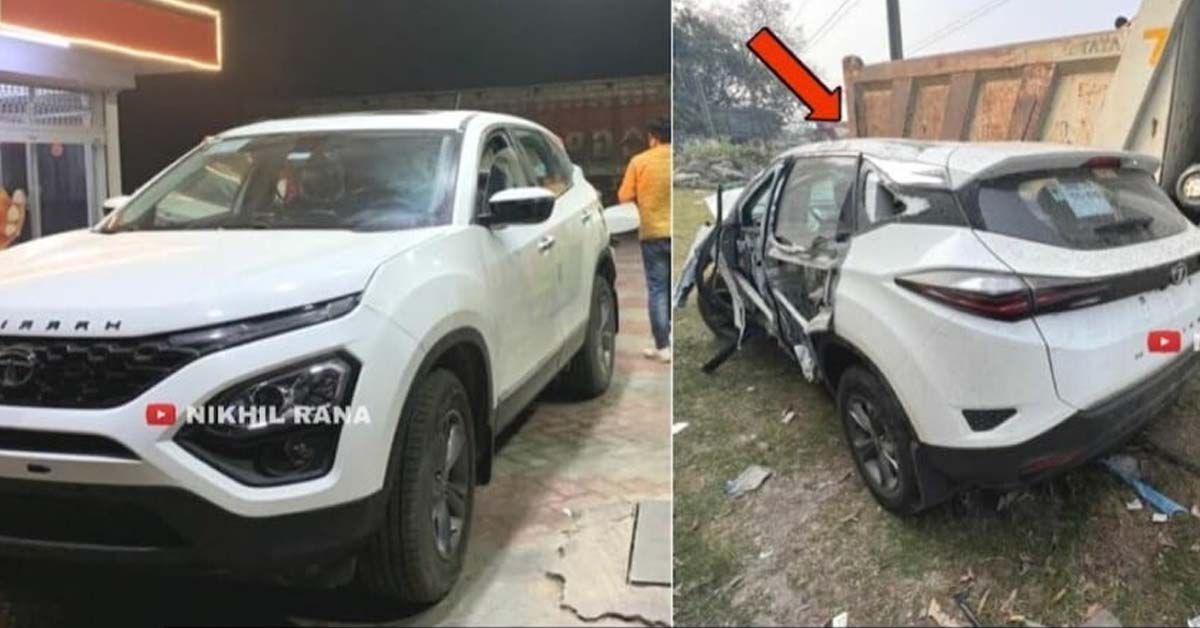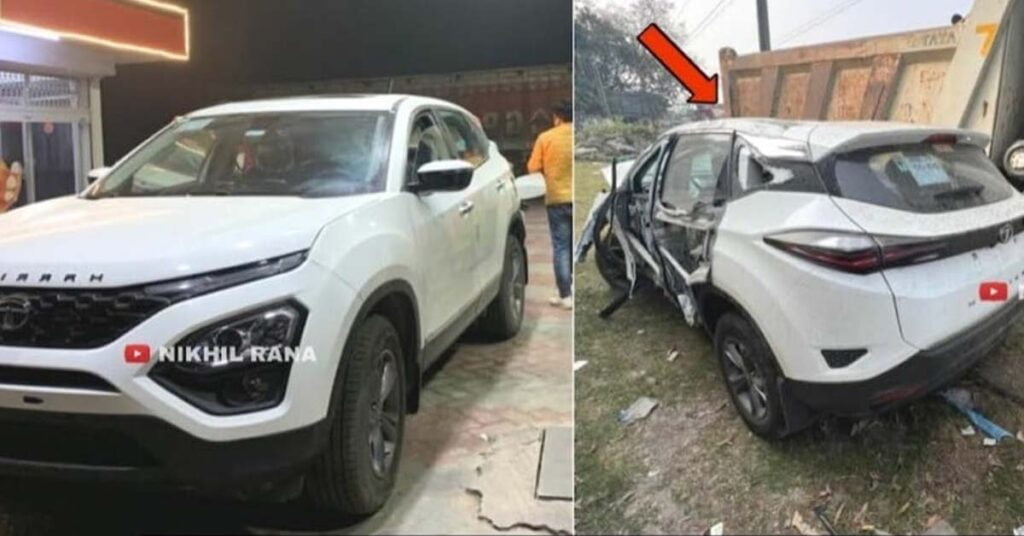 We would like to advise our readers to be extra careful while driving a brand new car. Oftentimes, the calibration and behaviour of the brake, clutch and accelerator are completely different on a modern car, especially if you are upgrading from an old car. Hence, it takes quite some time to adjust according to the new car. It makes sense to get used to the driving dynamics of the new car for the initial few days and drive slowly.
Join us for FREE NEWS Updates on our Whatsapp Community or our official telegram channel.