Unfortunate incidents on the road are a common occurrence and this case has been reported from Karnal where a car in hands of a novice driver hit another car at high speed
A Maruti Dzire recently hit a Tata Harrier SUV, thereby leading to pretty surprising results . Now, Tata products are quite renowned for their rugged build and high safety rating. On the other hand, this is one area where some of the Maruti products need some improvement. Swift, from which the Dzire has been derived has a 2-star safety rating at the GNCAP. This crash highlights the effects of the impact on both these vehicles.
You may also like: Maruti Swift and Zen Build Quality Tested by Knocking on Fenders
You may also like: Hyundai Grand i10 Nios Tests Build Quality of A Pole, Keeps All Safe
Dzire Tests Build Quality of Harrier
According to the details given by the Harrier and Dzire owners, a girl was learning to drive in the Dzire. She might have been underage and she wanted to turn right at the junction. The driver of the Harrier was coming at around 60 km/h on the highway straight ahead. He believes that the driver of the Dzire saw him coming but pressed the accelerator instead of the brakes crashing directly into the vehicle. The damages to both the vehicles are quite severe. On the Harrier, the front right side has taken a hit and the fender, bumper, and headlights are damaged. Because of the frontal impact, both airbags have been deployed.
You may also like: Owner Shares Heartwarming Story of Ford EcoSport's Build Quality
On the other hand, the front left side of the Dzire is quite significantly damaged. In fact, the impact has been extended to the bonnet, bumper, fender, and the tyre has been dislodged. The door panel has also been impacted. Because the impact in the Dzire was not head-on, the airbags were not deployed. Despite the high-speed crash, no injuries have been reported to anyone either in the Harrier or Dzire.
You may also like: MG Astor (NCAP – NA) Tests Build Quality of Traffic Lights Pole!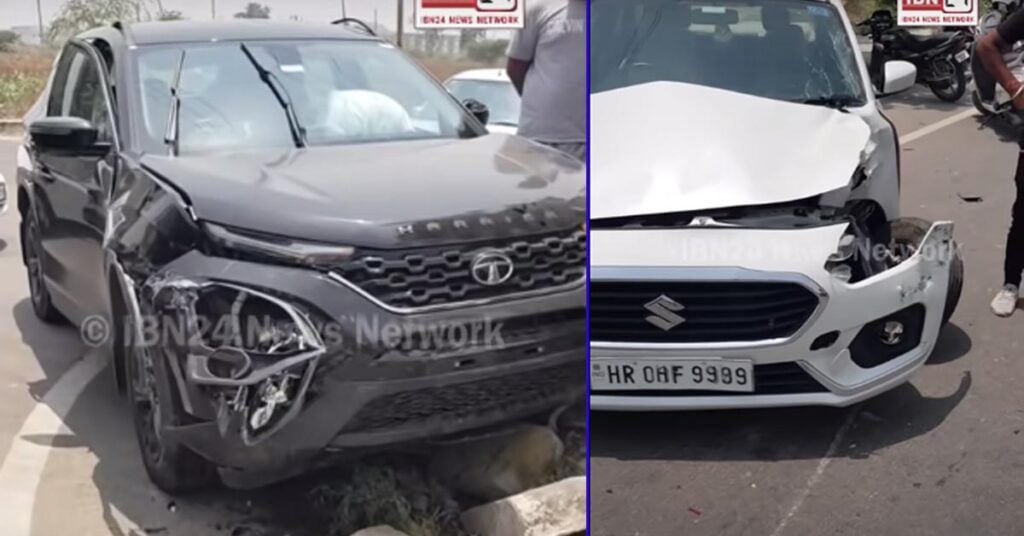 There are two things to be taken away from this incident. One, people should not teach other people how to drive on the road without the person being at least 17 years of age, which is when one can get a learner's licence. The reflexes of the untrained people are not that great which is why such incidents happen. On the other hand, overspeeding is the root cause of any accident on the road. If people drive within the speed limit, there are high chances of people being able to control the situation.
Join our official telegram channel for free latest updates and follow us on Google News here.