The Indian automobile market consists of many cars which generally are not opted by buyers looking for a personal vehicle and therefore they become more of a commercial vehicle. Tata Indigo XL, as the name suggests is a typical Indigo, Indica based sedan, with an extra long wheelbase.
The car is a good choice for many of the premium taxi car buyers and does well in the market. The Indigo is based on Tata Indica and some of the recent spy pictures of an Indica XL have drawn our interest. Spotted in Pune, the Tata Indica XL was all unhidden from the front whereas the rear of the same was heavily camouflaged.
image – Spy Pictures of Tata Indica XL
The camouflage at the rear does adds a lot of confusion about this car. Whether its a long wheelbase hatchbackbased on India or something else, we really don't know. If it is a hatchback then it will be first of kind in India since so far there are no hatchbacks with such long wheelbase.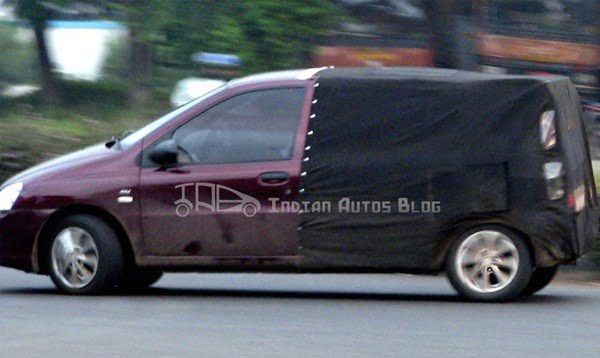 image – Spy Pictures of Tata Indica XL
If you look at the top of the rear  camouflage there seems to be a bent towards the rear edge. This could mean that it is not what we are thinking and the rear could be quite different. Also there is a CR4 badge, i guess, just above the turn indicator meaning that the car would equip the 1.4 Liter CR4 diesel engine which delivers an astonishing 25 km/l of mileage. All we can make are assumptions as nothing seems to be clear as of now. Stay tuned for more updates on the same by liking our official Facebook page and by signing up for our free email newsletter.
Image Credits-IAB
check out more-