Tata Motors India has officially launched the Tata Nano 2012 new model. The Tata Nano 2102 aka Tata Nano V2 has many additional improvements over the previous Tata Nano. The new in Tata Nano 2012 includes new colours, new interiors, a more powerful MPFI Petrol engine (Re-tuned engine) and even better fuel efficiency of 25.4 KMPL as per ARAI tests.
image – Tata Nano 2012
New Model Tata Nano 2012 Official Pictures and Video Commercial
image- Tata Nano 2012 Front Side View
image- Tata Nano 2012 Interiors
image- Tata Nano 2012 Cut Section Top Interior View
image- Tata Nano 2012 Front View
image- Tata Nano 2012 Front Side View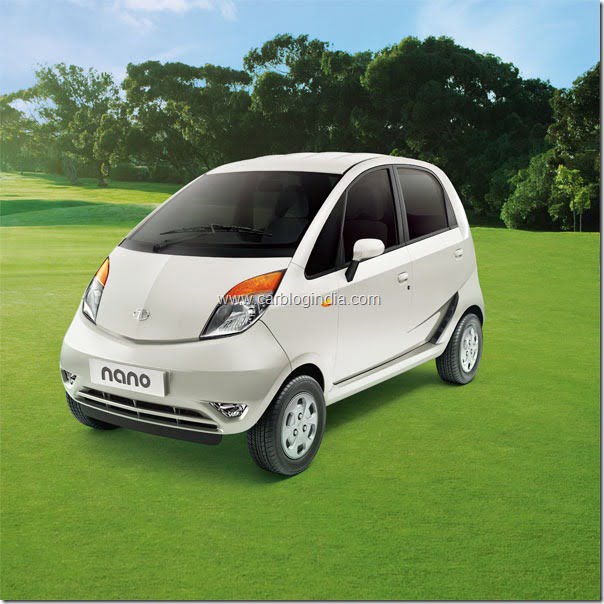 image- Tata Nano 2012 Front Left View
image- Tata Nano 2012 New Green Colour
Tata Nano 2012 Official TV Commercial Video
New Model Tata Nano 2012 Specifications
New Tata Nano comes with increased power and mileage using the same engine with improved tuning and gear ratios on the transmission system of the Tata Nano.  The same MPFI 624cc petrol engine has been made more powerful delivering an impressive 38PS of power (earlier 35 PS) and 51Nm of torque (earlier 48 Nm). The fuel efficiency has also improved from earlier 23.6 KMPL to 25.4 KMPL with new gear ratio and other improvements in place. The high fuel efficiency, with a low kerb weight of 600 kg, ensures that the Tata Nano at 92.7 gm / km has the lowest CO2 emission among cars in India.
Detailed technical specifications of Tata Nano 2012 are as follows:
Dimensions
Overall Length 3099 mm
Overall Width 1495 mm (Without ORVMs)
Overall Height 1652 mm
Wheelbase 2230 mm
Ground clearance 180 mm
Minimum Turning Circle Radius 4 m
Seating Capacity 4 persons
Fuel Tank Capacity 15 Litres
Kerb Weight
Nano 600 kg
Nano CX 615 kg
Nano LX 635 kg
Boot Space With rear seat folded: 500 Litres
Without rear seat folded: 80 Litres
Engine and Transmission
Engine Type 624 cc, 2 cylinder, MPFI
Maximum Engine Output 38 PS @ 5500 ± 250 rpm
Maximum Torque 51 Nm @ 4000 ± 500 rpm
Maximum Speed 105 kmph
Gradeability 30%
Transmission Synchromesh on all forward gears, Sliding mesh on reverse gear with overdrive on 4th gear
No. of Gears 4 Forward + 1 Reverse
SUSPENSION
Front Independent, Lower Wishbone, McPherson Strut with gas filled dampers and anti-roll bar
Rear Independent, Semi Trailing arm with coil spring & gas filled shock absorbers
BRAKES
Brake Type Dual Circuit, Vertical Split operated by tandem master cylinder with vacuum booster
Front 180 mm diameter Drum Brake
Rear 180 mm diameter Drum Brake
WHEELS & TYRES
Tyre Type Radial & Tubeless
Front Tyre size 135/70 R12
Rear Tyre size 155/65 R12
Spare Tyre size 135/70 R12
Wheels 4 B x 12
New Model Tata Nano 2012 Features & Variants In India
The ride and handling has become better with a revised suspension set-up, including an anti-roll bar at the front, and a steering mechanism made easier. While the cabin is quiet, a racier sounding exhaust note now gives the Tata Nano a more assertive road presence. Booster-assisted brakes (Power Brakes), already available in the Nano CX and the LX, have now been added to the Nano Standard as well. The Nano CX and LX now have tip-tap mirrors on both the driver and passenger sides. For the Nano Standard, which already has a driver side mirror, the passenger side one can be installed as an accessory.
The interiors are new with enhanced look and feel – luxurious beige in the Nano LX, rich black in the Nano CX and stunning medium graphite in the Standard version. The exteriors are now a veritable vibgyor of 10 colours, eight of them new. . New half or full wheel caps accentuate the distinctiveness.
The three trim levels and their key features are:
Tata Nano Standard: The standard version comes with three colour options — Rouge Red, Aqua Blue, Serene White — along with clear headlamps, tubeless tyres and tip-tap driver side mirror, booster-assisted brakes and front suspension with anti-roll bar. The interiors comprise dual-tone vinyl seats and fold-down rear seat.
Tata Nano CX: The Nano CX comes in six colour options — Rouge Red, Champagne Gold, Neon Rush, Meteor Silver, Papaya Orange and Serene White. The interiors have been refreshed with trendy black fabric seats, ebony black interiors, fold-down rear seat with nap rest. Besides these, the variant offers best-in-class air-conditioning with heating (optional), parcel shelf, booster-assisted brakes, tip-tap mirrors on driver and passenger side and half wheel covers.
Tata Nano LX: The top-end variant comes loaded with features like premium beige fabric seats, central locking, door handles, front power windows, cup holder in front console, provision for 12V socket, body coloured bumpers, fog lamps, electronic trip meter, rear spoiler, full wheel covers and tip-tap mirrors on driver and passenger side and booster-assisted brakes. The Nano LX comes in six premium colours –  Pearl White, Papaya Orange, Mojito Green, Sunshine Yellow, Meteor Silver and Champagne Gold.
All the variants come with an unmatched warranty of 4 years or 60,000 kms, whichever is earlier.
Tata Nano 2012 Colour Options In India & Official Brochure
image – Tata Nano Colour Options in India
Tata Nano comes in the following 10 colours out of which 8 are new colours:
Pearl White
Rouge Red
Aqua Blue
Neon Rush
Serene White
Meteor Silver
Mojito Green
Papaya Orange
Sunshine Yellow
Champagne Gold
Tata Nano 2012 Official Brochure
Download the official brochure of Tata Nano 2012 from here.
New Model Tata Nano 2012 Price In India
The prices of Tata Nano start at Rs. 1.40 Lakhs ex-showroom Delhi. The detailed price list is as follows:
Tata Nano Standard with BS4 Engine is priced at Rs. 1.40 Lakhs Ex-showroom Delhi
Tata Nano CX with non-metallic colour with BS4 Engine is priced at Rs. 1.70 Lakhs Ex-showroom Delhi
Tata Nano CX with metallic colour with BS4 Engine is priced at Rs. 1.73 Lakhs Ex-showroom Delhi
Tata Nano LX with metallic colour with BS4 Engine is priced at Rs. 1.97 Lakhs Ex-showroom Delhi
check out more-