In this edition of strength test, we have a Tata Nano going head-to-head against 100 layers of plastic foil. Watch who comes out on top!
Tata was launched to revolutionize road travel in India. It featured an egg-shaped body styling with minimal features. The affordable car is powered by a 624 CC twin-cylinder engine that offers 38 PS and 51 Nm of max power and torque, respectively. It came with a 4-speed manual gearbox and an optional 5-speed AMT. The 624 CC two-pot diesel unit produced max power and torque figures of 35 PS and 48 Nm, respectively. It was paired with a 4-speed manual gearbox. Additionally, the company offered a CNG fuelled version of the petrol model. But what happens when these two collide with 100 layers of plastic foil?
You May Also Like: 2022 Hyundai Creta Facelift in First Walkaround by Indian Vlogger
You May Also Like: New Ford Endeavour in First Walkaround by Indian Vlogger
As you can see in the video above by MR. INDIAN HACKER, the Tata Nano seems game for the plastic collision. In a secluded area, the plastic foil was wrapped around two wooden poles. After taking safety precautions, the Tata Nano was accelerated into the plastic wall. It immediately stopped, without breaks. After increasing speed in the second attempt, the wooden pole and car windscreen were damaged. However, there was no damage to the plastic layers. In a third attempt, the results were similar. It is important to note that YouTubers ensure safety while performing races and you should not try such stunts on roads as it could lead to some dangerous consequences.
You May Also Like: Indian Students Invent Electric Bike That NEVER Requires Charging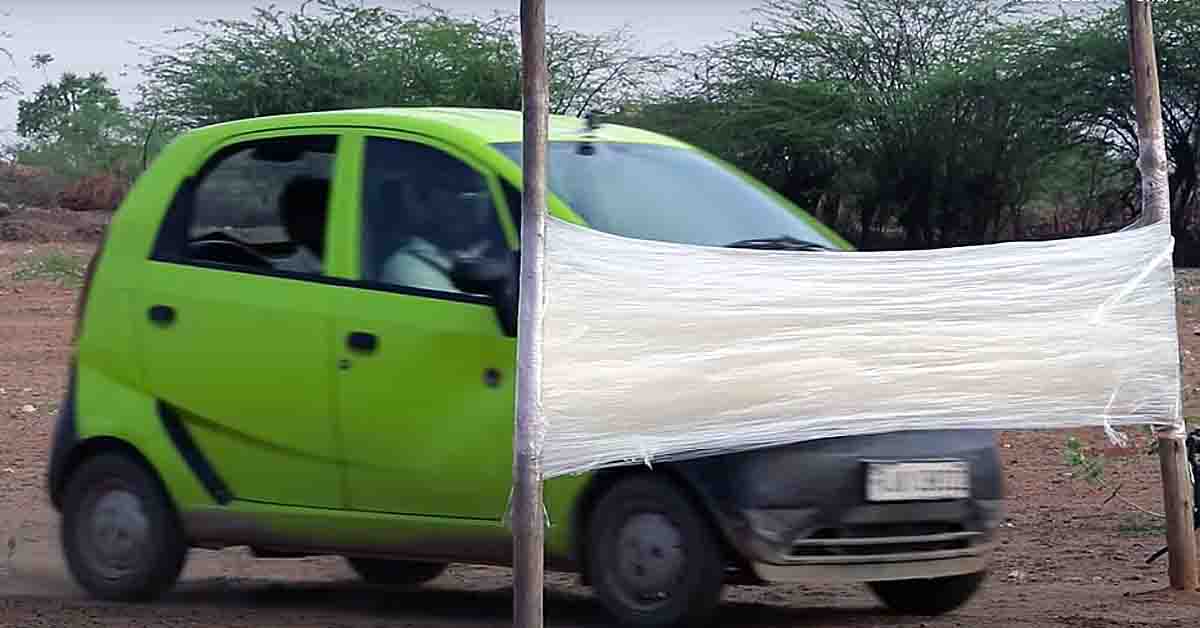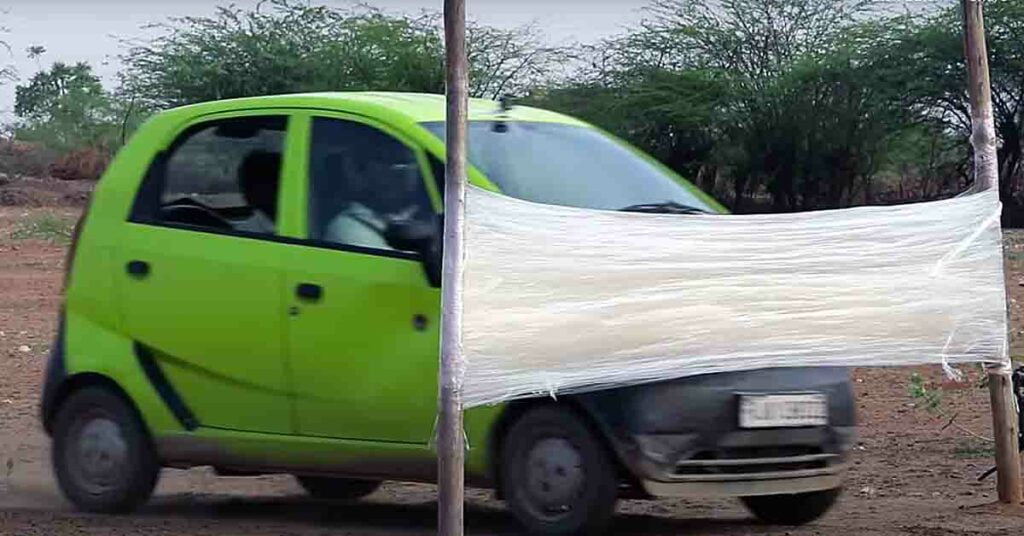 You May Also Like: Watch Tata Nano vs RC Mercedes E Class in Demolition Derby
Tata was launched as the most affordable car in 2009. It was expected to be accessible to almost anyone in India. There was a huge demand for the new car initially. However, it quickly faded from the Indian roads. The affordable car quickly lost customers due to sub-par build quality and lack of safety features. The company also abandoned further plans on any other models. However, an electric version of the Nano for the Indian market is still in the works. The original Tata Nano was launched in India with a price tag of Rs 1.47 lakh (failing to hit the envisioned Rs 1 lakh price tag).
Join us for FREE NEWS Updates on our Whatsapp Community or our official telegram channel.