The advancement in electric vehicle technology has prompted these graduate students create an electric bike that would require no charging at all.
Have you ever heard of an electric bike that requires no charging? Well, neither did we. But these BSc graduate students from Himachal Pradesh have come up with an innovative concept of an electric bike that could run without charging for 3 years. Now, the trend and necessity of electric vehicles are catching on. The entire world is moving towards cleaner sources of energy to power mobility solutions. The traditional bike makers have transformed themselves to stay ahead of the curve. Meanwhile, a ton of new players and startups have cropped up to take a bite at the cherry too. This is what makes this sector so exciting and we keep encountering evolving technologies like the one seen in this video.
You may also like: Honda Activa Petrol-Electric Hybrid Offers Ultra-Low Running Costs
You may also like: WATCH India's First Bajaj Pulsar Electric Review Video
This Electric Bike Needs No Charging
The video has been uploaded on IAS Deepak Rawat's YouTube channel. He is a popular IAS who is well known on social media for visiting government offices to conduct frequent and surprise checks to ensure smooth operation of the offices so that the general public doesn't face any problems. The senior IAS officer is serving as the Commissioner in Kumaon, Uttarakhand. These two young students have approached him from Himachal Pradesh along with their invention. They decided to demonstrate the capabilities of this unique electric bike to IAS Deepak Rawat to take feedback and support from him.
How Does It Work?
The visuals show that this electric bike is very much in the prototype phase and consists of bare minimum components. As a matter of fact, it doesn't even have brakes installed in it. It has a handlebar borrowed from an old bike, working tyres, 5 battery packs and a small electric motor. Out of the 5 battery packs, 3 were charged once when they were bought. Thereafter, there is no charging required until the battery runs its lifecycle of around 3 years. The 3 battery packs propel the bike while charging the other 2 battery packs in the meanwhile due to the voltage difference. Once these are fully charged, the people the bike in motion and recharge the other 3 battery packs due to the voltage difference.
You may also like: CYBORG Electric Yoda, GT 120 & Bob-e Prices Out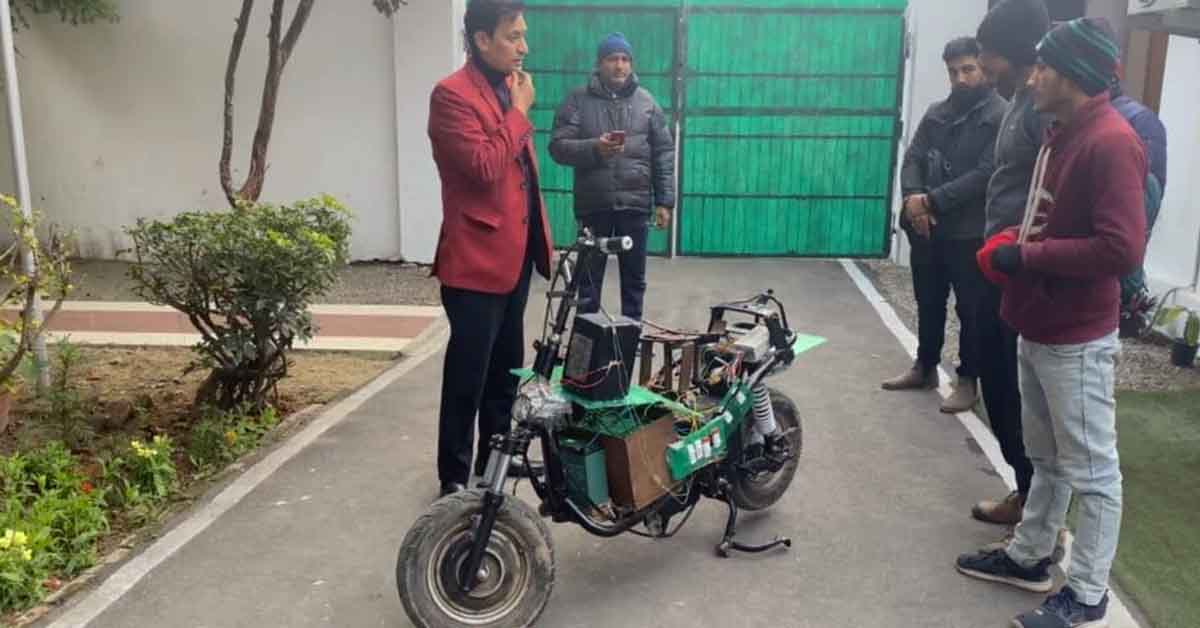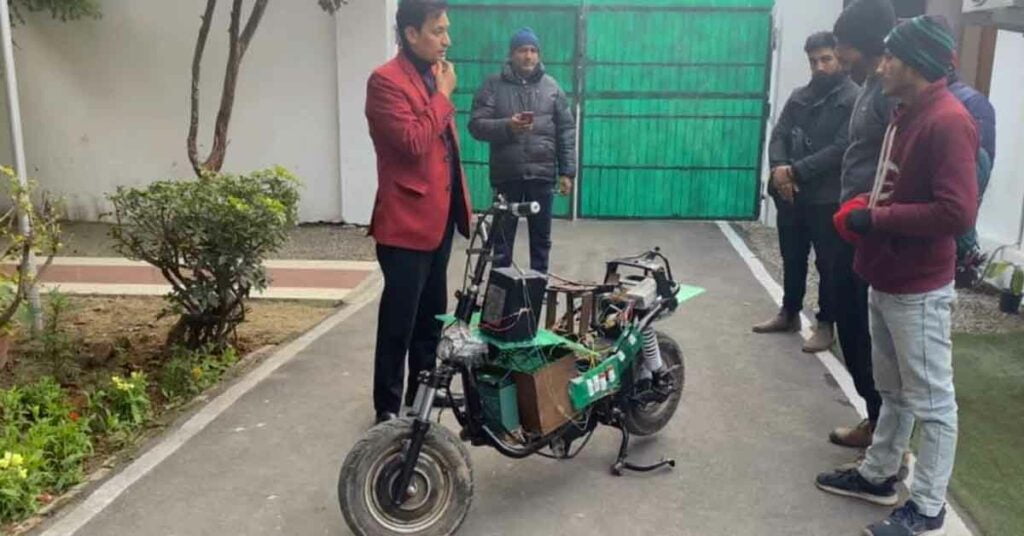 They were successfully able to showcase the change in voltages of the 2 sets of batteries using a voltmeter. Although there are no concrete reports on what they wanted from the Senior IAS, it could be safely assumed that they must be looking for some form of aid to develop this prototype into a production-ready form.
Join us for FREE NEWS Updates on our Whatsapp Community or our official telegram channel.