This Tata Nexon was involved in such a brutal accident that it overturned and the even the engine flew out of the engine bay but driver only walked away with a broken shoulder, highlighting the safety of the Nexon.
Over the last few weeks, we have brought you several accident stories highlighting the safety in cars these days. One of the most frequent subjects of these accidents stories have been the Tata Nexon and for good reasons. The Tata Nexon has already won the accolade for being the first Indian car to receive a 5-start safety rating in Global NCAP crash tests. And here's another reason to believe all those claims about the Nexon being a very safe car.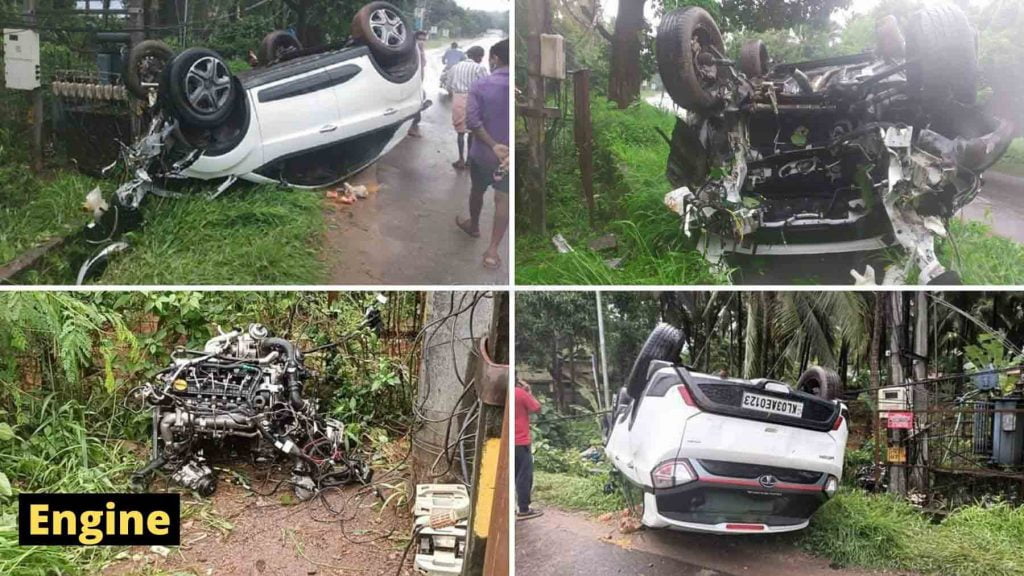 The pre-facelift Tata Nexon had scored a 4-star safety rating at the Global NCAP tests. Tata was not content with that and they made certain changes to the Nexon and sent it for a test again. This time, the Nexon grabbed its 5-star safety rating with all its pride. The Nexon involved in this accident pictured above is also a pre-facelift and you can see from the images that the Nexon has been completely totalled.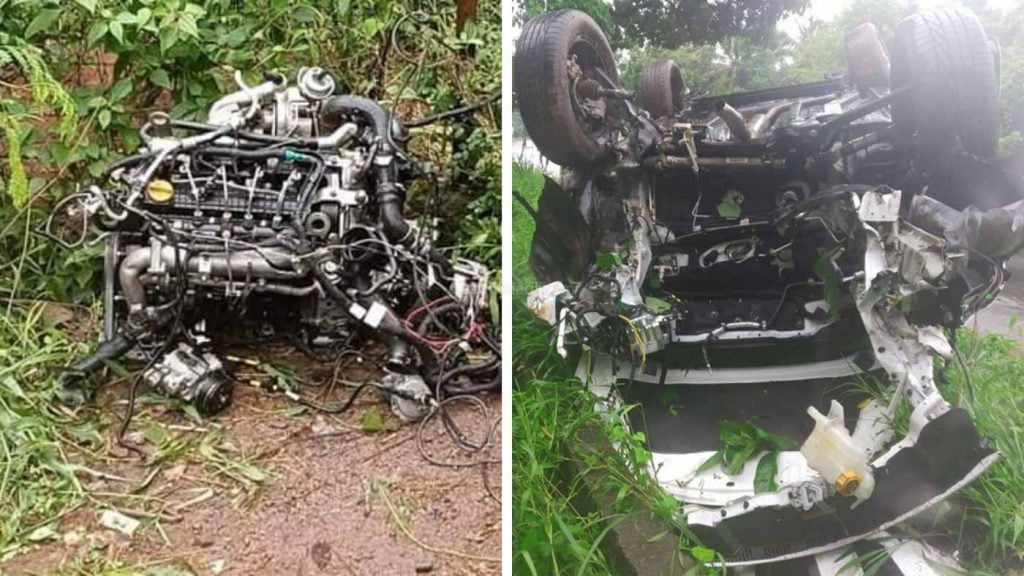 This incident took place in Kerala where the Nexon rolled over on its roof. The driver was reportedly driving the car above the specified speed limit and to worsen the situation, the roads were wet. The driver lost control of the car and banged into something before being turned over on its head. The impact from the crash was so severe that the entire engine of the Nexon flew out of its engine bay and landed at a considerable distance from the car.
Also Read : Go Pro Captures An Audi A4 Going Out Of Control At 140 Km/hr – Video
The driver was the sole occupant in the car and he only walked away with a broken shoulder. This crash could have easily turned fatal but it was the Nexon's superior build quality that saved the driver of his life. The reports claiming about Nexon's great build quality are thus really true. The Tata Nexon also comes very well equipped with safety features and apart from a solid build quality, these features go a long way in saving lives in case of such brutal accidents.
Also Read : Volkswagen Polo Gets Hit By Mahindra Scorpio – See Shocking Results!
Safety features on the Nexon include dual frontal airbags, ABS with EBD, Electronic Traction Control, Electronic Stability Program, reverse parking sensors and camera, Hydraulic Brake Assist, Roll-over mitigation, Hill Hold Control, and Brake Disc Wiping. And these features are offered as standard across the range. Its really wonderful to see how safety in cars have come a long way in India and lives are not lost so carelessly in car accidents, even as brutal as this.