Apart from the official GNCAP 5-star rating, there are enough instances that prove the rugged and impressive build quality of the Tata Nexon and this qualifies as one of those cases.
In an unfortunate incident, a Tata Nexon flipped over while driving as a result of a sudden tyre burst. Nexon has shown, time and again, how it cocoons its occupants during unlucky instances on the roads. People have been flocking to buy the Nexon for mostly that one reason. Nexon has never failed to amaze with its body strength. That has reflected in its monthly sales in the past couple of years as well. Check out the details of this case here.
You may also like: Tata Nexon Ninja Edition is Stealth Fighter-Inspired
You may also like: Tata Nexon CNG Long-Term Review and Ownership Experience
Tata Nexon Tyre Burst
The video clip has been uploaded by Nikhil Rana on his YouTube channel. He shares these posts with the aim of raising awareness among car buyers about the importance of buying cars with a higher GNCAP safety rating. This incident is reported from Kondagaon on NH30 in Chhattisgarh. While driving on the road, the driver's side tyre burst which resulted in the driver losing control of the SUV. As a result, the Nexon hit a pole on the side of the road and toppled over. The visuals clearly show that the vehicle landed on the side of the road on its roof.
You may also like: Land Rover Inspired Tata Nexon Looks Butch
Miraculously, the passengers were able to escape unscathed. The roof and side pillars of the Nexon were able to absorb the impact and prevent damage from entering the cabin. However, the passengers had to be pulled out from the tailgate as the doors were jammed. Luckily, none of the passengers was injured. This is a testament to the immaculate build quality that Tata Motors offers in all its products. Nexon, once again, emerged as an SUV worth praising.
You may also like: Tata Nexon Uproots Electricity Pole in High-Speed Accident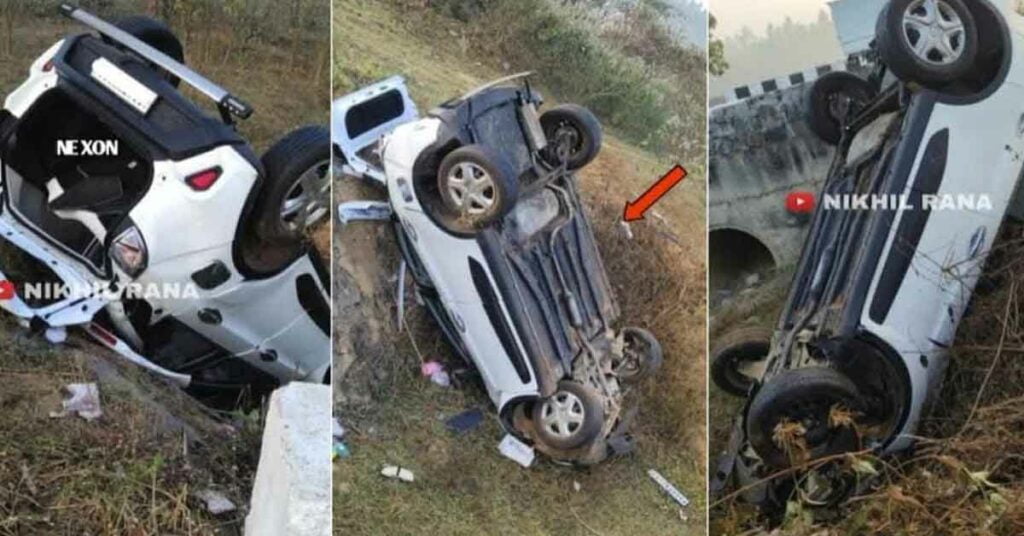 Lastly, we would like to urge our readers to be conscious about following the traffic rules while driving. Most importantly, you must always wear a seatbelt and drive within the speed limit. The most undesirable incidents occur on the roads due to overspeeding, and people not wearing seatbelts cause the injury to become worse than it could have been otherwise. Follow traffic rules and make our roads a safer place to drive.
Join our official telegram channel for free latest updates and follow us on Google News here.